Alice in Wonderland Themed Party Ideas
Alice in Wonderland Party Guide:
Plan an Alice in Wonderland party for your next gathering! One of the most beloved, fantastical and absurd stories ever published, Alice's Adventures in Wonderland, provides a wealth of party theme, costume, food and decoration ideas.  
The book has never been out of print since its publication in 1866, and there have been over 20 different movie adaptations, including the Disney classic from 1951 and the 2010 Tim Burton movie starring Johnny Depp as the Mad Hatter. If your birthday is in the winter, have this party in you backyard in July to celebrate your unbirthday party!
Here's how to plan an Alice in Wonderland party, and incorporate some of the most fun characters and episodes from the books and movies. We've included ideas for kids and adults, so plan a party from our myriad of choices:
A Mad Hatter Tea Party Theme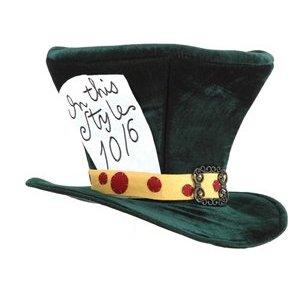 The Mad Hatter hat, available at
Amazon
Alice goes to visit the Mad Hatter for a tea party.  The Mad Hatter, the March Hare, and the Dormouse are all stuck at "tea time," 6:00 pm, for the rest of their lives.  This episode of Alice makes a fun theme for a child's party or an adult party.  Here are the particulars:
Invitations
You could send invitations that look like hats or invitations that look like teacups.  You could even hand-deliver teacups with your invite rolled up inside, or ask your guests to bring their favorite teacups to the party.
Mad Hatter Decorations
You will need a big clock, with the hands stuck at 6:00 pm.  You can make one out of a big piece of poster board and a black sharpie.
Decorate your long tea party table with teapots, tea cups and saucers, and a house of cards (glued together so it doesn't fall down.)
Red and white roses are great for ALL Alice in Wonderland parties.
Dangle a gigantic smile from the ceiling or tree (if the party is outside), using fishing line, so it looks like it is floating.  That will be the Cheshire cat!
Decorate the chair backs with pipe cleaners, ribbons, and fantastical twirling whirlybirds.
Lots of hats!
With decorations for a Mad Hatter party, the more over the top, the better!
Food
Proper tea time food, including tea with milk and sugar, small sandwiches, scones, small cakes (petit fours), cupcakes with the words "eat me," cookies,  and other finger food.
Give each guest a glass bottle of soda with the label "drink me" on it.  Alice encounters a bottle that says "drink me" and a cake that says "eat me," early in her travels through Wonderland.
Games and Activities
Funny games would be most interesting at this theme party.  Here are some activities for kids and adults:
Pictionary: play this drawing game with drawing words from Alice in Wonderland.  Cheshire cat, Alice, Mad Hatter, Cakes, Hearts, Queen of Hearts, King of Hearts, Hats, Teapots, etc.
Decorating hats:  get some inexpensive hats–a variety of shapes–and provide decoration materials.  Paint pens, feathers, glitter, glue, foam shapes, etc.
Face painting:  lots of bright colors and fantastical shapes
Queen of Hearts Croquet Theme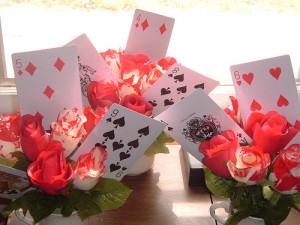 Image by
Crochetpinkprincess
at Flickr
After the Mad Tea Party, Alice heads over to the Queen of Hearts Court.  She finds lots of people dressed as playing cards (or cards dressed as people?) painting the white roses on the rose trees red.  The Queen of Hearts doesn't like white roses.
Invitations
These invitations should be heart-shaped, or have a playing card theme. One idea is to buy a pack of giant playing cards
, write or print out your invite particulars, and glue it to the back of each card.
Decorations
Rose trees with white roses and red roses.  (You can buy REAL rose trees, or make them out of artificial greenery and silk roses.
Cans of red "paint" tipped over, with paint brushes.
Houses of cards
More giant playing cards
Hearts of various sizes taped all over the walls, or hung by string from the ceiling
Giant clocks
pink flamingos (they play croquet with live flamingos in the story!)
Topiary shrubs shaped as hearts, diamonds, clubs and spades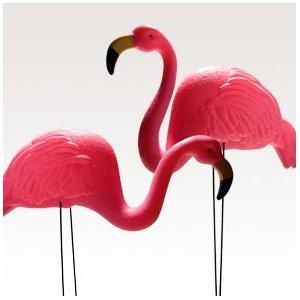 Every Alice party needs
Pink Flamingoes!
Games and Activities
Croquet (of course!) – set pink flamingos around the lawn, and use toy hedgehogs instead of balls!
Play chess on a giant lawn board – use people as the pieces! Sprinkle flour to make a grid – it'll get messy near the end, but the flour will dissolve into your lawn over the next couple days)
Ring toss over the flamingo heads  (use different sized rings, including hula-hoops)
The Compleat Alice in Wonderland Theme
A Compleat "Alice in Wonderland Party Theme" would combine elements from every aspect of Alice in Wonderland.  (Compleat is the archaic and Victorian spelling, especially for old book titles.) Here are some top activities, foods and decorations for a party theme that brings together the best of everything.
Invitations
You could make "through the looking glass" invitations with foil, glue and construction paper.  Or, a "down the rabbit hole" invitation.  (Lift the rabbit hole flap and see the party details.)  A playing card invitation works, too!
Costumes
Invite your guests to dress in costume.  Here are some potential characters: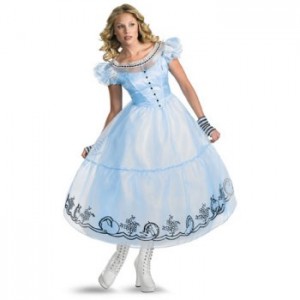 The classic
Alice in Wonderland dress
, available at Buycostumes.com
Alice
March Hare
Mad Hatter
Queen of Hearts
Playing Card
King of Hearts
Cheshire Cat
White Rabbit
If it's going to be a large party where not everybody will know each other, let them all wear name tags – but spell their name backwards, and everybody has to address each other with their backwards names! (Sorry, Bob and Anna.)
Games and Activities
Croquet
Corn hole (paint the corn hole receptacle as a big playing card
Pin the grin on the Cheshire Cat
The "Queen Says" (Like Simon Says) – Instead of saying "You're out!" to the unlucky participant, yell "Off with his head!"
Card toss (toss the playing cards into a big green top hat.  It's harder than you think!)
Alice in Wonderland Party Decorations
The White Rabbit's giant pocket watch
Signs that say "this way" "that way" "over here"  "over there" "down the rabbit hole"
Pink flamingos
Giant playing cards
Red and white roses.
Topiary shrubs
A sign on the mirror that says "through the looking glass"
Party Food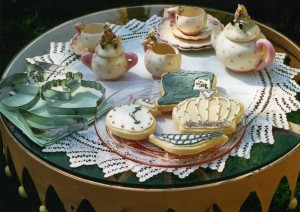 Use similar food to the other themes:
Small cakes and cupcakes
"Drink me" and "Eat Me" foods
Tea
Sangria (looks like blood!)
Wobbly cakes
Heart-shaped cookies
Heart-shaped sandwiches (use heart cookie cutters)
Alice in Wonderland cookie cutters (Available at Sentimental Celebrations – see picture at right)
There's so many fun things about Alice in Wonderland! Regardless of which party theme you choose, make sure your decorations are over the top, colorful, a bit nonsensical and plain fun! Just like the story itself.