J.D. Salinger, the First Emo Kid and a Twilight Party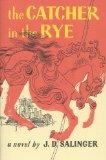 I just heard that J.D. Salinger died today, at 91 of natural causes. Ever since I first read the book in the late 1980's (and yeah, I was the typical mopey teenager), I've always been wondering if I would miss the news of his death, since, well, there never is any news about this reclusive writer. As a teen, I only thought of how Holden Caulfield bravely lashed out at a phony world, but re-reading it as an adult, he is a completely different and far more profound and confused "young adult" in an even more confusing and brutal world.
I love Catcher in the Rye, but the part that really stuck with me as a teen wasn't Caulfield's teenage angst or moping, it was him watching Phoebe on the carousel at the Central Park Zoo. Holden thought of himself as trying to protect children from the evils of adulthood (being a "catcher in the rye", a misinterpretation from a Robert Burns poem), but while watching Phoebe trying to grab the ring (a prize on the carousel), he realized in her competitiveness and will that everybody must grow up anyway, and, more importantly, so does he.
At the risk of cheapening the depth of Salinger's primary character, I immediately thought of the modern-day versions (bastard offspring?) of Caulfield – Twilight, mopey vampires and the whole emo sub-culture. (Was it a coincidence that one of my party merchants announced new Twilight party packs
the same day? Hmm…)
So, to celebrate with a wake the brilliant but troubled life of one of my favorite authors, invite some parent friends with mopey teenagers in black lipstick over, have a couple copies of Catcher in the Rye handy, and rent New Moon – or My Foolish Heart, the only film adaptation of a Salinger story. (Yes, Hollywood made bad adaptations even back then!) All your guests will hate you for it, and say how phony and superficial it all is, then roll their eyes and stomp out, which is exactly the spirit we are looking for here.
R.I.P., Mr Salinger. I respect your decision if you don't want anything you wrote in the last 40 years published, but boy am I curious. "Don't ever tell anybody anything. If you do, you start missing everybody."