Time for a January Backyard BBQ!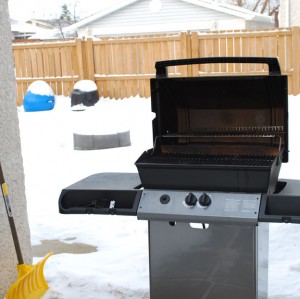 That's it, I've had enough of winter! Christmas is over, the bills are coming in, and the tree is gone. It's all so chilly and depressing here – and where I live, winter isn't even half way over. Luckily, every few years, there's a week in January known as the "Pinapple Express," where a warm southerly breeze swoops into town, raising temperatures to slightly above freezing and bringing out the swimsuits. (No kidding, our local paper hosts a bikini contest on an outdoor patio! It only lasts ten minutes for the photo op, and there's plenty of heaters surrounding the girls.)
For me, it's time for my January backyard BBQ party! If you live up north with heavy snow, there's certainly no reason not to have an outdoor barbeque anytime – it's just that flipping some steaks with icicles hanging from your nostrils puts a bit of a damper on things. Besides, winter is for chicken chowders, chili, stews and lots of crock pot goodness.
It's time to rub your eyes from the post-Christmas hibernation and have a breezy, frost-biting summer party! Here's what I do:
Bring out the summer supplies! Find your bright, colorful plates, look for those fruity and tropical cocktail recipes, and pull out those leis. I usually do a quick Amazon order of Hawaiian party supplies
Buy your summer foods, if available – pinapple, kiwis and cherries. Usually these are quite expensive, so I go for orange or mandarin slices and maraschino cherries
Decorate your house with summer, luau-type themes – palm trees, pictures of beaches, coconuts, etc. Have a table with party snacks, and another table for dinner (I don't expect everybody to eat outside, or if they do, not to eat the entire meal outside.)
If you have a fire pit, clear the snow around it and start a small fire. I don't have a big one, as guests would have to sit too far away, where the nippy temperatures outweigh the warmth of the fire
Pull out the barbecue (mine's in the garage) and let it heat up a good ten minutes. Check your propane supply! I usually refill every spring, so there's not much left by the time winter approaches
Grill your steaks, burgers or what have you as normal. This year, I'll likely make bbq pizza, since I bought some special pizza grill pans last spring. Trust me, pizza tastes so much better due to the crispier, slightly smokey flavor of the crust
Have somebody inside prepare the side dishes – baked potatoes in the oven, salads, pastas – also the fruity, tropical drinks. Margaritas, long island iced teas, screwdrivers and cosmopolitans are great choices. Top with fruit wedges and those little umbrellas.
Once the fire has been going and the food is done, invite everybody else out to your backyard. I don't expect everybody to go outside, or even to stay outside for long, but do your best! Since I'm making pizza this year, it's a lot quicker to eat than, say, a big steak. Toast everyone with the fruity drinks! Also, grill with flair – sunglasses, wide-rimmed hat, Hawaiian tee-shirt and lots of smiles! (After ten minutes I definitely need a coat, but my guests get a good laugh at this!)
If you don't have a fire pit, dare everyone to quickly go outside for a couple minutes and raise a toast with rapidly freezing fruity drinks! (I bundle my kids up and let them go outside too, with their apple juice-in-mitts)
When all is done and all is cold, turn off the bbq, let the fire outside die (I have a heavy grill to cover it), and continue your party in the warm indoors. Serve hot chocolate with Baileys or other creams to warm everybody up.
My friends immensely enjoy this party – there's just something about the contrary nature of having a cheery summer bbq in the dark, frozen depths of winter.