Birthday Party Roundup – Barnyard Theme Decor
All kids love animals, and a trip to a farm or petting zoo is a fun experience. This happens to make for an excellent party theme, and kids can share their love of barnyard animals together! This is especially fun for kids growing up in a city who don't often get to experience the ambiance of a farm and farm animals.
We looked around for some creative and inspiring ideas for your own barnyard party. Whether it's centered around the animals specifically or the barnyard scene as a whole, you can pull this together with great ease. Here are a couple of prime examples that just go to show that a little bit of creativity and some well executed details can carry it off with perfection.
Farm Sweet Farm 1st Birthday Party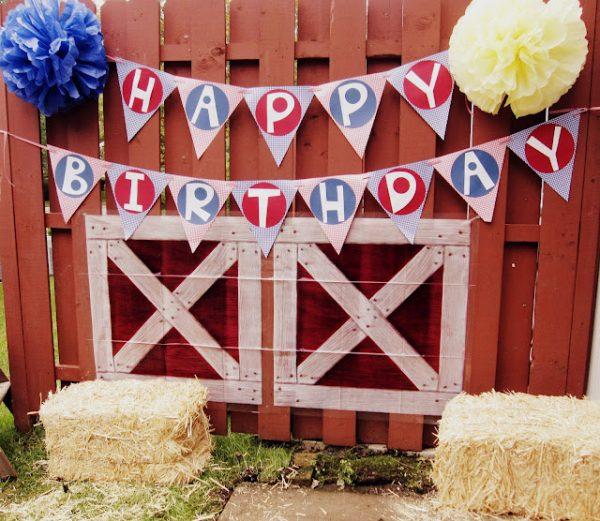 The Bridal Party – Farm Sweet Farm: The greeting that a guest gets when they walk in the door can really set the tone. The décor is a big part of that and in this case it's a few well done elements that add up to decorating perfection.
A couple of key sayings in "Farm Sweet Farm" works as a great setting and it's carried out so well through these individual plaques hung together. The colors work perfectly and immediately transports you to a farm setting. The straw hat in matching "farm colors" is almost like the cherry on a very decorative ice cream sundae. I love this for the entryway as it helps to set the tone of down on the farm instantly!
Moo Moo Choo Choo Party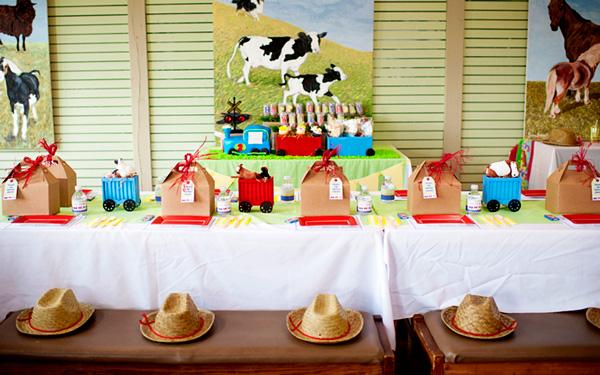 Hostess with the Mostest featured this party from Xiomara, owner of A Styled Fete. Just look at this table! This is how you set a table and incorporate all the best party décor for a farm themed birthday party. It's simply gorgeous and it incorporates all the right touches.
You instantly have a favor as each guest receives their own straw farmer's hat, and it just so happens to make for an adorable decoration. Simple colors through the red plates and the green placemats mark each spot quite nicely. Even having the goodie boxes tied in red ribbon works as a nice functional and decorative touch. I can't say enough how they married together the themes and the various party aspects in such an eloquent way. Sometimes less really is more as a few simple but highly effective touches make this table and the décor within it really stand out.
Farm Birthday Favor Placemat – Great as Decor Too!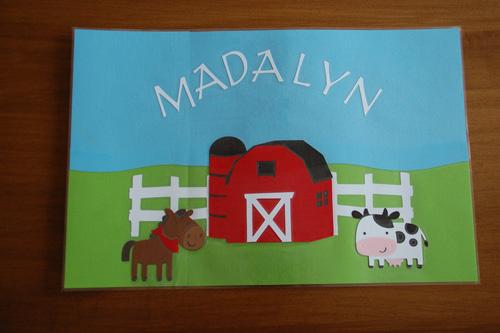 Here's a fun craft from Bright Horizons Mom to Mom for a farm birthday theme. This was referred to as a favor but I must say that I love it as part of the décor. Kids love things that are personalized so imagine their surprise when they come to the food table to eat and see a farm placemat adorned with their name!
I can say that my kids would love this as it's festive, cute, well decorated with animals and a farm landscape in bright colors, and then has the child's name on it. Once you find out the names of the kids that will be attending, you can easily have these made up or create them yourself with some puffy paint (you can also then get them laminated at Staples or a print shop). Not only do they help to really bring the farm table to life but they also serve double duty by making for a nice favor that guests can take home and enjoy.
Even better, as a craft, draw and cut out a variety of felt farm animals, barns, suns, hills, white fences, etc. The kids will then assemble and glue the components to create their own farm scene. Have them add their name, and after the party go to get them laminated. Then send them to each of the parents along with a thank you note!
Duck Pond and Farm Birthday Theme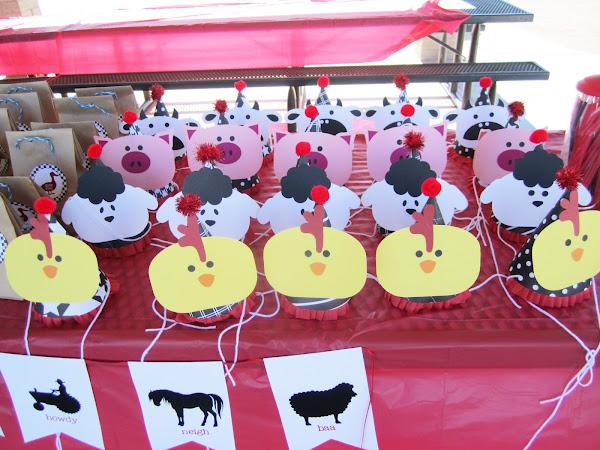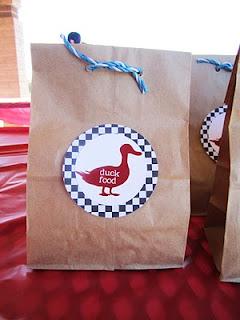 A party from The Diary of Dave's Wife. Talk about simple details totaling to a great success—this is creativity at its best! The centerpiece of this fun decoration is an old vintage barn lunchbox that has stayed in the family for years. You can't get much cuter and more traditional than that. It also happens to make for an excellent decoration. The small toy animals are easy enough to find just about anywhere. They make for some really nice decorations that partner well with the barn. I can see carrying out these small toy animals throughout the venue as they bring you down to the farm in your mind as soon as you see them. This just goes to show that one single element can really help to carry off a theme with the right look, and this definitely works.
"Dave's Wife" originally thought of her son's favorite location, a local duck pond. This was incorporated into the farm theme as an inventive party favor – a bag full of cheerios to feed the ducks! What a great idea, and a refreshing option from the usual candy-and-stick favors!
A farm or barnyard type of birthday party is all about the décor and these are some of the best examples out there. Whether you go for an elaborate decorating spree or just keep it simple, the details in the décor are what really brings people down to the farm.