Barnyard Birthday Party Ideas
Celebrate your child's birthday with farm animals! A big part of the purpose of a child's first birthday is to delight parents, grandparents, aunts, uncles and guests.  A barnyard party is equally well suited for boys and girls and appeals to grown-ups just like it does to children.
There are delightful decoration options for this cute theme, and lots of fun food choices, too.  Here's how to plan a fun first birthday party with a barnyard theme.
Barnyard Birthday Invitations
Grab an animal or barnyard themed piece of clip art and create a simple invitation using clip art and word art in MS word.  Here's an example: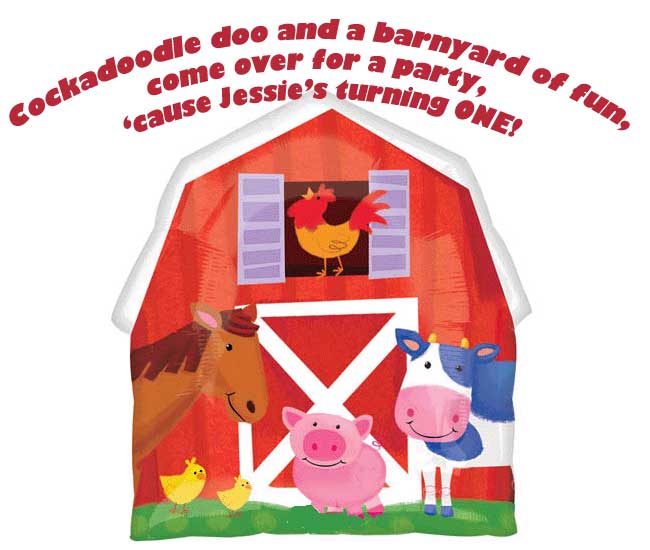 The First Birthday Party invitations are keepsakes, so it is also worth splurging on custom-printed keepsake barnyard themed party invitations.

Barnyard Party Decorations
Part of the fun of a farm or barn yard theme is the decorations.  Before your child is mobile, you can decorate to the hilt!  Here are some decoration ideas for a farm animal themed party: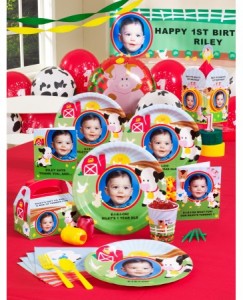 For mementos, choose
personalized barnyard supplies!
Add toy farm animals around the room (out of reach of your child – for now), and in one area of the room, or a separate room, decorate the door frame or walls and ceiling with crepe paper overhangs. This will be the "barn" – inside could be the food and drink area, or the dining room where the cake will be presented. Add barn scenes on the walls such as peel-off animal decals, or hang red ribbons and other decor to act as vertical "boards" of the farm. (Don't trail it to the floor – children will inevitably find and tug on them!)
Animal-shaped Mylar balloons add an extra touch.  Find cow balloons, horse balloons and pig balloons, and take them to your local grocery store to fill with helium.
Get a special bib for the birthday baby!  Find a bib with farm animals, and they'll match their party decorations!
Go all the way with some straw bales placed outside the front door, and a rustic sigh that says "party's here!"
Tie balloons with raffia ribbon to add a farm-like feel to the decorations.
Make a barn-door background that can do double-duty as a decoration and a photo backdrop for pictures of the birthday child with the guests.
If you're having it outside, your imagination is the limit! Cover your garden shed with rustic red paper to turn it into a barn, stack hay bales around the yard, complete with a pitch fork (again, make sure children can't reach it), and place a rooster Weathervane on top of your garage or shed.
Barnyard Birthday Cakes
The centerpiece of the party food should be the birthday cake or birthday cupcakes.  This traditional food is central to your party and will appear in many of the pictures, not the least of which is the picture of the birthday child digging into his or her first birthday cake. You don't need to be an artist to create an awesome farm birthday cake. Here are some quick ideas:
Buy little rubber or plastic farm animals. Bake a batch of cupcakes; cool completely. Frost in either white or green and then shake green and brown sprinkles onto the icing for hay and grass. Place one animal on top of each cupcake. After the party, you can send each guest home with his or her toy animal.
Order a fantastic barnyard cake from your local grocery store bakery. I find these to be much cheaper than cakes from stand-alone bakeries and the choices are excellent. Check this option out.
Pick a favorite barnyard animal and ask your local bakery whether they can bake a cake in that animal's shape. We've seen some really cute choices.
Look for a farm theme cake topper on ebay, amazon or etsy. Bake any style cake — the easier the better, we always say! — and let the cake topper be the decor. It will look fantastic.
For more inspiration, here are some beautiful pictures of barnyard birthday cakes::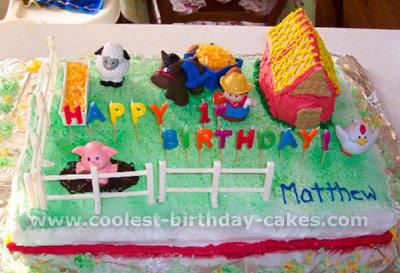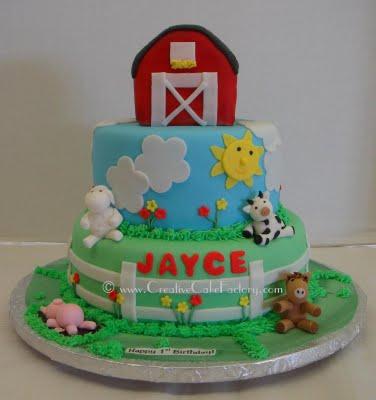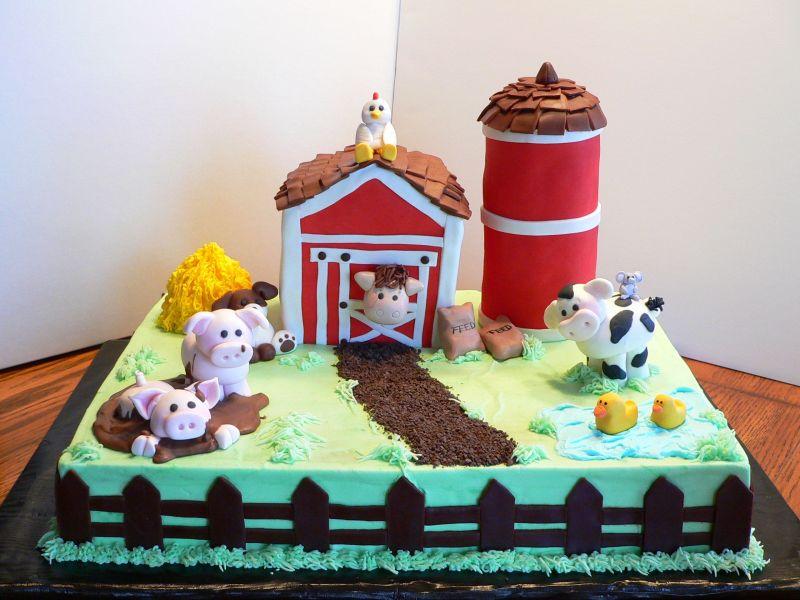 Farm Party Food and Appetizers
You can go in many different directions with barnyard birthday party food.  Here are some sample menus, or themes within the theme.
Backyard Barbeque
A barnyard theme lends itself well to a backyard barbeque.  Serve lemonade and iced tea for drinks, and hot dogs, hamburgers, baked beans, corn on the cob and coleslaw for the main meal and sides.
Fun Barnyard Recipe: "Straw" Pasta
If you're having a mid-afternoon party with snacks, only, serve some barnyard-inspired cuisine.  Horses just love apples and carrots.  A nice apple tray with caramel dip and some carrots with dill dipping sauce are both best bets.
Straw and Hay pasta is an adult dish that isn't very "farmish" but is quite yummy and easy!  The name goes along with the party theme.
Boil 1/2 pound of linguine and 1/2 pound of spinach pasta
Toss with olive oil and freshly grated Parmesan cheese
Add cubes of ham or bits of bacon.
Tasty!
Barnyard Appetizers and Treats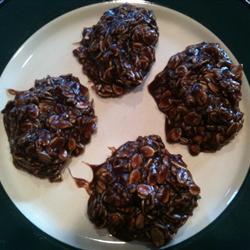 Appetizers for a barnyard party are easy because "farm"-type foods are loved by everyone. Here are some ideas:
Pigs in blankets
Brown cows (root beer floats)
Chicken fingers
Animal crackers
Tater tots
Corn on the cob or creamed corn
Chocolate haystacks — mmm! (Make sure guests don't have peanut allergies before making these. Serve to children over the age of 2 only)
Things to Do: Farm Fun
The birthday girl or boy will be thrilled with the colors, fun attitude and yummy cake. But what if you have older guests? It's easy — just be sure you have a few activities for older siblings, cousins and friends.
Pony Rides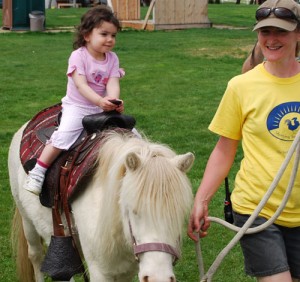 Remember when the kid with pony rides at his party was THE most popular kid on the block? That's because at one time, renting ponies for rides was expensive and difficult to arrange.
Not any more! Pony rides are becoming more and more popular for children's parties. You have two choices: have the ponies come to your house (if the ranch offers that service) or take the guests there. If you have the room, I highly recommend having the ponies come to your house. There's something amazing about "the kid with the cool animals" at his or her home. (It's also much easier than getting all the guests together in several cars.)
But whichever you choose, be sure you check out the stable in advance. Generally, the stables will have insurance against problems. The staff will be well-trained with children. You'll get a guarantee that you'll have a certain amount of ponies on your party date. Check the ponies out yourself. The animals need to have very calm dispositions and not shy from sudden motion or a reasonable amount of sound (DON'T shout in the ponies' ears or wave wildly at them).
Then book your animals and be "that cool house" for your little one's first birthday!
Farm Style Games for Preschoolers
For toddlers and preschoolers, think simple and fun. Don't get too complex with any activity when it comes to this age group. You want to keep things lighthearted. If little guests are shy about joining in, don't force them. Let them watch the fun and then jump in when they're ready.
Duck, Duck, Goose: Turn this into a barnyard party game by switching the animals. "Horse, Horse, Cow" or "Pig, Pig, Chicken" are examples.
Pin the Tail on the Piglet: Draw a large pig on a sheet of butcher paper or on several sheets of paper taped together. Cut out little curly-Q tails. Buy velcro with sticky backs at WalMart or your local fabric store. Put one velcro square on the back of each tail. Put the opposite sides on all different places on your pig. Blindfold little ones and let them feel around for the matching velcro piece where they think the tail should be. Big fun, very easy and you can give everyone a little prize at the end.
The Farmer Says: Play this like "Simon Says." Wear a big straw hat (check your local dollar store or rough up an old hat you're no longer using). Stand facing the party guests. Say, "The farmer says…put your hands on your hips."  Go through different fun and silly motions using "The farmer says…" at the beginning of each motion. Then just give a direction without saying "The farmer says…" first. Guests who do the motion anyway are out.
Make farm animal puppets:. Buy inexpensive paper lunch bags, construction paper, glue, glitter, yarn and child safety scissors. Sit guests down at the table and have them lay the paper bags flat with the folded square bottom facing up. This should be at the top of the animal. Now help them cut out and glue shapes for eyes, snout, ears, etc. for the barnyard animal of their choice. Make sure you place a little tongue or teeth underneath the square bag bottom flap so that when the child's hand is in the bag, she can make the mouth open and close.
Old MacDonald Sing-Along: Sing "Old MacDonald" and have each child pick an animal for one verse. ("And on that farm he had a rooster…") Keep going and having children select different animals. Eventually they'll run out of ideas; that's when things get very funny. "And on that farm he had a…unicorn" or "seahorse" or "stuffed animal" are some hysterical ones we've heard out of children's mouths at parties!
Party Favors
You don't, technically, need to pass out favors to adults, but beautifully decorated barnyard animal sugar cookies wrapped in cellophane bags and tied with raffia make nice favors.
For child guests, a barnyard themed coloring book and crayons is a nice gift.  A barnyard board book or puzzle would also make nice party favors for the under-five set!
With plenty of decorations, tasty food and good company, everyone will enjoy your child's barnyard-themed first birthday party!