Celebrate a Magical Occasion on Harry Houdini's Birthday
The date may have escaped you, but March 24th is Harry Houdini's birthday. Born Erik Weisz in Hungary in 1874, he emigrated to the United States when he was 4, and was already performing as a trapeze artist at 9. He began performing escape acts in 1891, first with handcuffs, then with more and more elaborate acts, his most famous being suspended upside down on a crane or building, in a strait jacket, from which he would struggle and escape.
Magic as we know it today is all thanks to him. David Copperfield, Criss Angel, David Blaine and every other modern magician all pay homage to his legacy. Far from being just an escape artist, Harry was a visionary who brought magic into mainstream America, united magicians into a strong nationwide society, was one of the first performers to use mass media tie-ins, wrote books and also starred in movies.  This therefore makes for the perfect occasion to celebrate everything that is magic!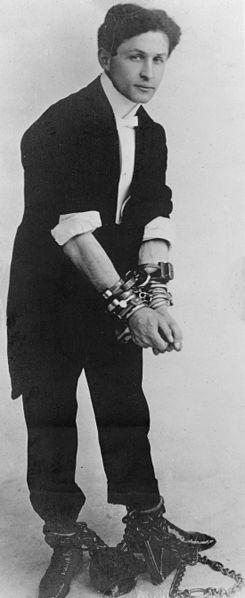 You can create a delightful magic party in your very own home with ease. It's about a fun environment and somebody who can serve as masters of ceremony at your event. Magic is a theme and an idea that so many of us enjoy and so it works well as the perfect theme for a party. You want to leave guests guessing and so you need to create an ambiance fit for the best tricks.
A Magical Environment
Set the tone starting with the lighting. You want a dimly light room as you would expect at a true magic show. You want to set up some of the very props that so many of us remember from fun magic shows we've attend in the past. Put out a big black top hat as the centerpiece on the table and then have a stuffed bunny coming out of it.
You can find some magic accessories
and decorations that fit within this theme. Plates, napkins, tablecloth, and actual decorations with a magician's hat or decks of cards are all a perfect fit. You are setting the scene and tone for a fun magic show and so you want to think through the environment first and foremost.
Bring in a True Magician
To celebrate Harry Houdini's birthday in style, you will want to recreate your very own magic show at the party. This can be done by hiring a local magician that you can find through an entertainment company. If you are on a tight budget then just work with a friend or family member who has a few proven tricks up their sleeve. Or learn a couple fun magic tricks via Youtube.
Alternatively you can reach out to guests in advance and ask them to bring their favorite trick. It may be the penny game, a card trick, or something more elaborate. Magic is a subject that many people love, and you may be surprised be the number of guests who have a trick or two up their sleeve! It's always a fun addition to let guests bring along some of their favorite tricks and gets everybody excited for this fun celebration.
Magical Touches at Your Party
Magical touches should be used in every aspect of the party, from the food to the atmosphere itself. Start by creating fun little magic wands that also happen to be edible. Dip pretzel rods in dark chocolate and voila—you have delicious magic wands! Make sandwiches and Jello figures out of cookie cutters shaped as magical elements. Find top hats, rabbits, and stars and you have yourself a magical feast.
Go the extra mile and set up some steam or magical mist in the background. You can do this with dry ice and when guests come in they are greeted with a mist in the air that leads to wonderful mystery. There's something magical about this type of party and no better reason to celebrate than the birthday of the very celebrated and amazing Harry Houdini himself.