Dr. Seuss' The Lorax Birthday Party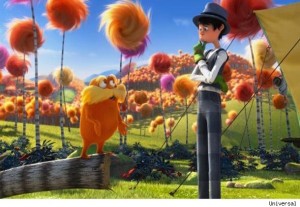 I speak for the trees! Remember "The Lorax," Dr. Seuss' adorable eco-conscious book you loved as a child? It's back, and this time in movie form. The Lorax came out on March 2, Dr. Seuss' birthday, and it's a worldwide hit.
We often forget to celebrate the earth, and how we need to care for it. Earth Day comes once a year, but it's something we need to do everyday. With this party, you can absolutely thrill your little guests with everything magical in Dr. Seuss's forest, while also remembering the Lorax's message. Let's begin!
What the Movie is About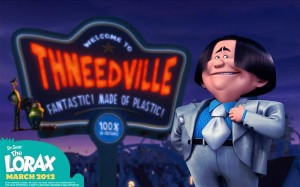 The movie expands on the book, with the young boy now given a name (Ted Wiggins), a girlfriend (Audrey, an artist) and a mission. The children live in Thneed-Ville, an entirely artificial city. Audrey tells Ted she wants to see a real tree, and this sparks Ted's adventure to find one to grant her wish.
The Once-ler is back and in the same role; he tells the tale of the Lorax, an earth-loving creature that resided in and looked after the woods. The Once-ler takes the blame for the downfall of the town; he brought in industry, plus a gaggle of greedy relatives. Over time they depleted all the land and water, including the ultra-cool, fluffy Truffula trees.
Of course, Ted gets involved in the cause of healing Thneed-Ville. Challenged by the efforts of the town's mayor, Mr. O'Hare, to keep things as they are, Ted and Audrey set off to make things right again.
Making Your Own Lorax Party Invitations
Start by making your own Lorax party invitations. Have your child help out; she'll love it.
For an easy Lorax party invite, download an image of the book cover or of the movie poster. Where the lettering says "The Lorax," insert "party" immediately after. Use a cool Dr. Seuss-esque font; this one is great.
For the remainder of the text, type "Starring (your child's name) — and you!", "coming to a Truffula tree near you," the locale, date and time of the party.
Because it's a movie as well (and it had a tv special
in the early 70's too), you may wish to purchase "movie ticket" invitations. These can be bought on Ebay
from artists who will personalize and print out these types of invitations for you!

Having the Party in the Natural Outdoors
If the weather is nice where you live, hold your party outdoors. If you don't have a lot of greenery (especially trees) in your yard, call your town and find out about reserving space at a local park.
The entire idea of The Lorax is that nature is important, and that it's our job to protect it. After the party, ask guests to clean up their plates, wrappers, etc. in order to keep the earth beautiful. If possible, used recycled party supplies, such as biodegradable plates and other supplies.
Of course, you can hold the party at your house indoor or in your backyard, too. The following are some decor ideas to "grow" a cool Thneed-Ville or Forest in your own home.

Magical Lorax Party Decor
Try these ideas to set the mood of your Lorax party:
For general decor, choose lots of stripes in crazy Dr. Seuss colors. These don't need to match; in fact, it's way more Dr. Seuss-esque if they don't.
Make helium balloon Truffula tree centerpieces. Tie small filled balloons onto pipe cleaners (twist two cleaners together if you want a longer trunk). Carefully stick pieces of crumpled tissue paper in fanciful colors to the balloon with glue (glue the paper, not the balloon, and press lightly). Place a small block of floral arrangement foam in the bottom of a flower pot. Stick the pipe cleaner into the floral foam so the tree stands up.
Here's a fantastic tutorial on making your own Truffula trees using feather boas – this would also be great for a kid's craft to take home!
Scan and enlarge (or download) pages from the original Dr. Seuss book. Frame; hang at funny angles on the wall.
There is no Lorax-themed table ware, so go for orange! Orange plates, cutlery, cups and napkins. Or, go for a variety of other Dr. Seuss products, such as Cat in the Hat.
So So So…We Will Show You Another Fun Game That We Know
Garden Planting
Make some plans in advance to keep guests hoppin'. One wonderful idea that ties in with the theme perfectly is to have a "springtime garden party." Turn over some soil in your yard in advance of the party. Buy starters of veggies, herbs or flowers that you'd like to plant. During the party, have each guest plant one living thing. Make sure to have gardening gloves handy and an old t-shirt for each guest to wear over clothes while s/he plants.
Truffula Trees
Truffula trees are among the most fun icons of The Lorax. Hand out "Truffula tufts" (pom-poms) for kids to play around with. For a cute party craft, make Truffula tree pencils; simply have guests glue mini craft pom-poms or pieces of craft maribou to the tops of pencils. (Or try the craft linked above in Party Decor)
Lorax Pinata
The Lorax himself, as well as all his friends, are also a great jumping-off point for party activities. How about a Lorax Pinata? Here is an awesome tutorial that should be a hit (yar har) with guests.
Lorax Mustaches and Hats
A more sedate activity is to make Lorax mustaches; cut mustache shapes out of yellow felt and glue to a pencils or thin dowels. Here's a template to use from an elementary teacher who thought up some crafts and activities.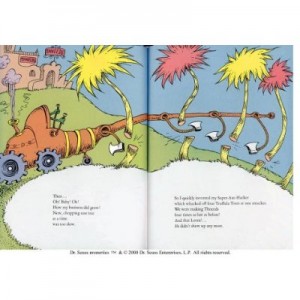 Reading Time
For toddlers and preschoolers, read aloud from the book. A few guests may have the book memorized; allow them to "read" along with you. For kindergarten and first graders, let the birthday boy or girl do the honors instead. Kids this age are usually proud of their expanding reading abilities and will enjoy showing off for guests.
We're not above buying an item or two to keep kids busy as well, so go ahead and check out Lorax puzzles, the One Fish, Two Fish game and other Dr. Seuss games, books and movies.
Watch the Movie
Of course, once the movie goes to DVD (in August), you can play it for guests during the party. This is also great for a Lorax sleepover party; show the movie with the lights dimmed and have plenty of pop corn and drinks around so guests can relax and enjoy the show.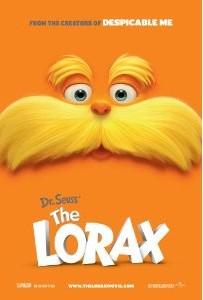 Munch, Munch, What's for Lunch?
You're going to want to feed your hungry little characters at some point. Try these fun Seuss-inspired snack ideas:
Thneeds Treats
Hand out pieces of cotton candy and let guests shape them into their own "thneeds" (the thing that everyone needs made from Truffula tufts). Make sure guests line up to wash their hands before this activity. After their thneeds are done, have the kids eat their artistic creations.
Babybel Lorax Cheese
Check out this: Babybel cheese Lorax. Too darned cute!
Truffula Fruit Smoothies
Make fruit smoothies in a variety of pastel colors to represent the Truffula top colors (pink for strawberry, blue for blueberry, etc.) Place a striped pastel-colored straw in each. This is every parent's secret for getting something healthy into children at a party.
To make four kid-size smoothies:
1.5 c. milk
1/2 c. vanilla or fruit flavored frozen yogurt
1/4 c. frozen fruit of your choice
Blend until drinkable. Easy and yummy!
Truffula Tree Cupcakes
Make these adorable  truffula tree cupcakes using cotton candy and pretzel sticks!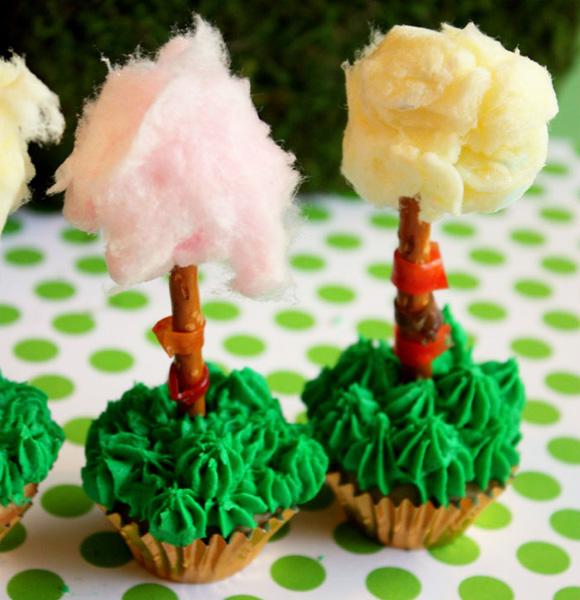 Lorax Cake Pops
…or if you're really inspired, try your hand with these Lorax cake pops. (Wowsers.) Not too hard, but make sure you devote an afternoon for them! The outcome is so worth it.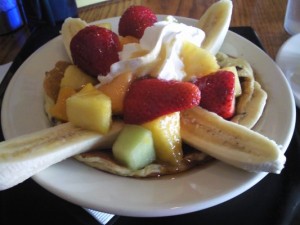 Truffula Berry Pancakes
In the movie, Ted loves Truffula berry pancakes. So, whip up some blueberry mini-pancakes; add chopped strawberries, blueberries, apricots and/or bananas. Drizzle with blueberry or raspberry flavored syrup. Top with a squirt of Redi Whip and hand out to guests. This is also perfect for a morning-after-the-sleepover treat. Mmmmm!
Lorax Munchies
For ready-made, inexpensive Lorax style munchies, buy chocolate flavor Teddy Grahams for Pip and the Bar-ba-loots, Truffula fruit gummies (any fruit flavored gummies) and goldfish crackers, for the book's Humming Fish.
Seriously, is this not the cutest party idea ever? Soooooooooo much fun. By the way, don't hesitate to ask your child for help with setup, cleanup and directions for guests during the party. He'll love it, and it's a great lesson for him in being a good host.
After the party, send guests home with candies in crazy Dr. Seuss colors; Skittles, gummies and flavored Twizzlers all work well. Don't forget to let us know what you come up with and to send in pictures of your own awesome Lorax party!