The Very Hungry Caterpillar Party Ideas
One of the quintessential books for children that we all read with our parents before bed was Eric Carle's "A Very Hungry Caterpillar
". This book has been around for years and continues to hold a place in our hearts. It is a beautiful story put very simply so kids of all ages can understand and appreciate it.
This cute book  also happens to work tremendously as a theme for a party! Many parents have found that A Very Hungry Caterpillar party makes for an excellent baby shower or 1st birthday party theme. So if you have a child that loves this book and you want to center your party around it, here are some creative and fun ways to bring this book to reality in your very own home.
Caterpillar Decor Ideas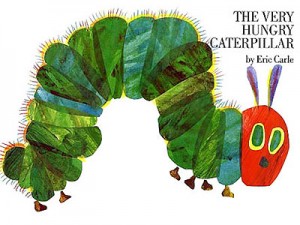 If you want to pull off one of the most popular themes based on such a classic book, then you're going to need one really important thing — caterpillars! They are what the story is all about and at the center as a pivotal character in the book. So it's time to find as many caterpillars as you can and decorate your space accordingly. (Real caterpillars need not apply, unless you're not the squeamish type! Perhaps if you have a butterfly garden, you can show off your munching critters?)
Start with caterpillar tablecloths and napkins, or a general "garden and butterfly" theme. It need not be The Hungry Caterpillar directly, but just keeping with the theme. Then find some other cute ways of incorporating this beloved insect into every aspect of the party:
Buy red and green balloons. Blow up about eight green balloons, and tape them on the wall in a wavy pattern. Blow up one red balloon and draw eyes and a nose as a face. Tape two purple strips of paper to the balloon. Finally, tape it to the "head" of the balloon wave. Viola, a balloon caterpillar!
Draw all the fruits used in the book and paint them in a similar style, on poster board. Then, using a saucer or cup (depending on how big you made the picture), draw a circle in the middle. Cut out a circle in all the food. Hang them in the party area. Munch munch!
If you have kids old enough to make crafts, create a paper chain caterpillar – using green and red paper, cut strips of paper and make loops, and fastening with glue. Create one red strip of paper into a loop. Then, with a full sheet of green paper, draw and cut out a leaf. With a hole punch, cut out some holes to show the caterpillar munching on it. Glue all the loops into a chain and onto the leaf, with the red loop as the head. Paste purple antennae, eyes and a nose on the head. See this craft and more here.
Munch on the Caterpillar's Favorite Food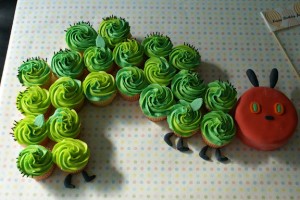 If you know anything about the book then you know that the foods that the caterpillar munches on are a very important part of the story overall. So take cues from those favorite foods and serve them up in a fun little caterpillar buffet. Start with some simple favorites such as watermelon, strawberries, and oranges and then move onto the really good stuff.
Don't forget that The Hungry Caterpillar ate his way through other yummy treats such as sausage, lollipops, cupcakes, and chocolate cake. If you just follow cues from the caterpillar then you've got your menu planned out for you! If you put out the little book inspired buffet on a bed of perfect green leaves that adorn the table, then you've got yourself an excellent way of serving food and delicious treats for all to enjoy.
Check out this cute Very Hungry Caterpillar party train from Coco Cake Cupcakes! (Image on left)
Bringing the Book to Life
Even if the kids are young at your birthday party, they are sure to want to feel a part of things. One of the perfect ways to make everybody feel as though they are a part of the book or theme is to assign them a part. You want to be sure to read the book aloud for the guests and then you can make each child an important element of the book.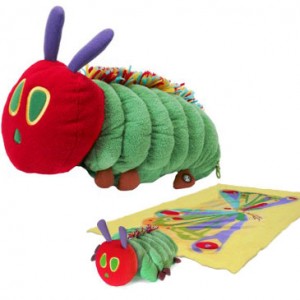 A great way to do that is to give each child their own badge. You buy buy a set of badges, or you can make your own – simply photocopy and cut out the various images of food from the book, then take them to a store where they can create buttons for you. You can hand out the badges and assign them their own part in the book as you read along.
When the part of the story comes along that matches the child's badge, that child can make their own caterpillar munching impressions. The kids will love to hear the story read aloud and then be thrilled to see which part they play in it. These badges make for a fun way of bringing the story to life and to really carrying out the theme well.
You can even let the kids dress up as their assigned character or let them act out their part for a fun little twist. No matter what, making each child a part of the story and allowing them to bring the book to life is a well executed and unique way of carrying out this fun children's theme. You will all develop an even greater appreciation for the book and for this classic aspect of childhood through a really fun party for all!
P.S. Check out this adorable plush toy – a Zoobies Very Hungry Caterpillar plush pal. It can be a plush toy or a pillow. There is also a zipper that reveals a blanket inside!