Celebrating Our Forefathers with a Fun President's Day Party
Many look at President's Day as one of those holidays that just gives kids a day off of school. The truth is that this can be a fun occasion to celebrate with your kids. This is a holiday rich in history and therefore you can turn some history lessons into the perfect mid-winter party.
It's not hard to turn this holiday into a fun and educational occasion. The key is to decorate your house in red, white, and blue for starters. You want to set a patriotic undertone and the setting is pivotal in that. Then it's time to enlist some presidential food and of course some fun activities. This makes for the perfect way to spend a day off of school and a great way to teach some history lessons in a super fun setting.
A Flag to Pay Homage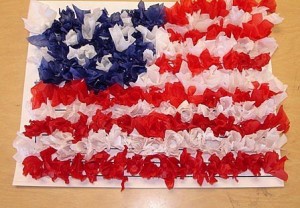 American flag craft, from
ehow
One of the first things you think of when you think of all that is presidential is of course the American flag. You can recreate your own flag with the help of some paper mache. This is an easy activity to put together and the kids will love to be a part of it.
Start with a good base like a box top or something made of sturdy cardboard that the kids can use for the foundation of their flag. Then it's time to get out some red, white, and blue construction and tissue paper. They can use the paper mache mixture to attach the colored paper and create their own flag.
This will keep them busy and makes for an excellent craft for kids of all ages. It helps to set in the patriotic feeling and the kids end up with their own craft to take home and show off to their family.
Food for Thought
What's a party without food? Start with the All American theme and work your way from there. A patriotic party should include some favorites like hamburgers and hot dogs, chips, and of course soda pop.
Then work the appropriate color theme into your food for a nice touch. You can put out red, white, and blue cupcakes, candies, and even fruits and veggies. Kids will gobble up favorites like bananas, blueberries, and strawberries. They will also love favorites like marshmallows, red licorice, and some blue jelly beans.
No patriotic party is complete without some good old fashioned apple pie — nothing is more American, right? You can also toy around with an associated food like cherries. After all our forefather George Washington did chop down the cherry tree (it's actually a myth, but still a great story!), so you just have to incorporate some fresh and dried cherries into your menu.
Test Your Knowledge with Presidential Trivia
If you really want to get in a good history lesson but incorporate it in a fun way then there's nothing like a good trivia game. Set up the questions so that they are easy enough to get the kids interested but challenging enough that they have to really think.
Kids are happy to play a game and this is a fun way to learn and recommit these important history lessons. Test the kid's knowledge on presidents through the centuries and throw in some fundamental history questions too. This is a fun way to pay homage to our forefathers and the kids won't even mind that they're learning because they'll be having too much fun!