Preparing your July 4th festivities? Need some food ideas? Here's a couple recipes that will complete your Independence Day bbq or picinic:
Jello Jigglers
Prepare red (cherry, strawberry, watermelon) and blue (raspberry), Jello according to package instructions for a thicker set-up.  Then, use star cookie cutters to cut out the Jello.  You'll have a fun, star-shaped treat.
Trifle
Layer in a clear glass bowl, or a trifle bowl, alternating layers of blueberries, strawberries, pound cake chunks and cool whip.  (You can also use angel food cake for a healthier treat.)
Flag Fruit Kabobs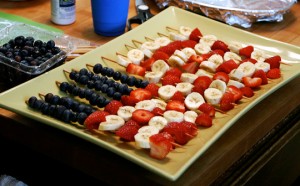 You'll need bananas, strawberries and blueberries for these kabobs.  Simply use bamboo skewers and alternately slide strawberries, blueberries and banana slices onto the skewers.  Stand them upright in a class, and they'll look like fireworks.
Sugar cookies
Have star-shaped, flag-shaped, and bell-shaped sugar cookies available for kids to decorate.  Also, stock up on white icing, red, blue and silver sugar sprinkles, and red-hots for decorating.
Flag Cake
1 package white cake mix
1 8-ounce container frozen whipped topping (thawed)
1 pint blueberries rinsed and drained
2 pints strawberries rinsed and sliced
Directions:
Bake cake in a 9×13 inch pan. Cool completely.
Frost cake with whipped topping. Place blueberries in a square in the top left corner, and arrange sliced strawberries as stripes to make an American flag.
Red, White and Blue Potato Salad
Ingredients:
4 red-skinned russet potatoes, cut into chunks with the skin left ON
4 blue-skinned russet potatoes, cut into chunks with the skin left ON
6 strips of bacon, cooked, cooled, and crumbled
1/2 onion, chopped
1/2 cup mayonnaise
1 teaspoon of mustard
Salt and pepper
Directions:  Prepare ingredients, and let the potatoes and bacon cool.  Then, mix all ingredients together and let chill overnight.