Mardi Gras Party: The Creole and Cajun Connection
You can't have a Mardi Gras party without cajun or creole food. Wait, didn't we just write that you can't have Mardi Gras without a King Cake? Well, both are true! Celebrate Fat Tuesday with a Mardi Gras party full of delicious Cajun recipes. But first, learn how Mardi Gras and creole favorites like Jambalaya became inextricably intertwined.
History of Cajun and Creole Food in New Orleans
Cajun and creole foods are similar, and related in terms of origin, but there are some distinctions. Both types of food have French influences in their background. Cajun food is a style adapted by French Canadian immigrants to Louisiana, while Creole food is a blend of French, Spanish, Italian, Native American, and African food. Both styles were influenced by ingredients and methods from their origins, but usually use local ingredients — hence the popularity of okra in dishes like gumbo and jambalaya.
Historically, creole food developed from the aristocratic classes, settled directly from Europe, and Cajun developed from exiled French Canadians, a peasant class. Today, both types of cuisine are equally beloved in New Orleans and beyond.
Popular Creole and Cajun Food
Creole food, as a type of cuisine, developed on the southern plantations and on the tables of wealthy aristocrats in town. Cajun food developed in the kitchens and pots of working-class immigrants. Both types are delicious! Popular Creole and Cajun dishes to serve at your Mardi Gras party include:
 Jambalaya
Red beans and rice
Oysters Rockefeller
Crawfish bisque
Oyster stew
Bananas foster
Gumbo
Shrimp creole
Quiche
Recipes to Make your Own Mardi Gras Food
Gumbo
Ingredients
1 lb. turkey sausage
1 lb chicken breasts, cubed
3 tbsp. cooking oil
1 red pepper, chopped
1  onion, chopped
3 celery ribs, chopped
3 cloves of garlic, crushed
1 tsp. dried marjoram
1 tsp. dried thyme
1/2 tsp. cayenne pepper
3 (14.5 oz) cans chicken broth
2/3 cup uncooked brown rice
1 (14.5 oz) can diced tomatoes, undrained
1 lb peeled uncooked shrimp
2 cups frozen sliced okra
Directions
In a heavy pot, brown the chicken and sausage in the oil. Remove to an oven-safe pan and keep warm.  Saute red pepper, onion, celery and garlic in the drippings until tender. Then stir in the seasonings. Cook the mixture for five minutes and stir in the chicken broth.  Then add the rice and sausage mixture to the pot and bring the mixture to a boil. Lower the heat and let it simmer for 20-25 minutes, covered, until the rice is tender.
Stir in tomatoes, shrimp and okra; cook for 10 minutes or until shrimp turns pink, stirring occasionally.
Pralines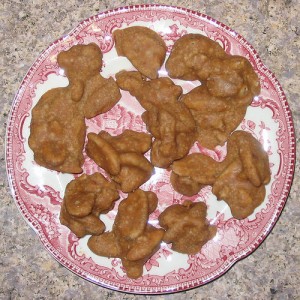 Mmmmm … pralines – Photo by
Kevin Trotman/Flickr
After you eat the spicy, you're going to need some sweet. Pralines are a sweet creole treat. This recipe will guide you through making your own pralines for Mardi Gras.
Tip: You have to have a candy thermometer
to make this recipe.
Ingredients
1 c. white sugar
1 c. brown sugar
1/2 c. evaporated milk
1 1/4 cups pecan halves
2 tbsp. butter
1/4 teaspoon vanilla extract
Directions
First grease a baking sheet. Then, using a heavy saucepan, turn the heat to medium and combine the sugars and milk. Bring the mixture to a boil. Stir in the pecans, vanilla, and butter. Let the mixture heat to between 234 and 240 degrees Fahrenheit. (This is where your candy thermometer comes in handy. You can also measure the correct state of "doneness" when a bit of the mixture dropped into cold water forms a soft ball that you can flatten on the cookie sheet. At this point, remove the pot from the heat and let the mixture cool for five minutes.
Next beat the mixture until it has thickened and then pour it onto the greased cookie sheet. Let it cool and then cut it into pieces.
Don't Forget the Drinks
You can't do Mardi Gras without Bloody Marys. Add a cajun twist and you're all set. Here's a tasty Bloody Mary recipe for a pitcher.
Ingredients
32 oz of Bloody Mary mix
12 oz of Pepper vodka
1 tablespoon Worcestershire sauce
1 tablespoon horseradish
1/2 cup beef broth or beef stock
1 teaspoon celery salt
1/4 cup Pickled okra juice
Pickled okra, olives and celery for garnish
Old Bay seasoning for glass rim
Directions
Mix all ingredients except for the Old Bay and garnish in a pitcher with ice. Wet the rims of the glasses and dip in Old Bay Seasoning. Fill glasses and garnish with a celery stalk and a skewered olive and pickled okra.
Inspiration for Creole and Cajun Cooking
There are plenty of resources for Creole and Cajun recipes. Here are some of our favorite cookbooks:
Just remember, while you can read recipes, part of the fun of Creole and Cajun cooking is adding your own flair from local ingredients. These cuisines developed and were influenced by the environment around the cooks. If you have something in the fridge that would be great in your stew or soup, throw it in!
Happy Mardi Gras!