You can't have Mardi Gras without a King Cake. Where did these traditional pastries come from, and why are they so popular? And why are they always covered in gold, green, and purple sugar? Unlock the mysteries of the Mardi Gras King Cake and incorporate this sweet treat (or a version of it) into your Mardi Gras celebration.
History of the Mardi Gras King Cake
King Cakes have their origins in France. The cakes you buy today, however, are much sweeter and richer than the original King Cakes. Originally these cakes were made from bread dough. Now they're made from the same dough that danishes are made from, and many of them have fillings, similar to danish fillings.
The three colors of Mardi Gras are purple, which represents justice, green, which represents faith, and gold, which represents power. The "King" aspect, along with the colors and their symbolism, is from the origination of the cake as part of the Epiphany celebration, or the arrival of the "three kings" in religious history.
There are all sorts of variations on the legend of the origin of King Cakes, but they all start with immigrants from France relocating to the New Orleans area. While King Cakes have been traditionally associated with Epiphany, they are now part of the Mardi Gras celebrations. The earliest King Cakes shared in New Orleans have been documented back to the mid-1800s.
It's a Cake Walk: A King Cake Walk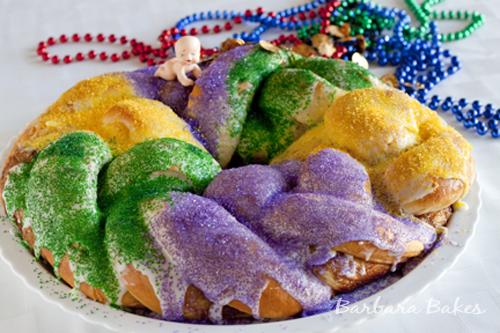 At the end of epiphany, but before lent, people started having King Cake Parties. A bean (now a plastic baby) was baked into the cake. Whomever got the piece with the baby was responsible for making or buying the next King Cake, or hosting the next King Cake party. Today, some people make King Cake cupcakes or mini King Cakes (in keeping with the trend of "mini desserts" sweeping the US) and bake a baby into each one.
Special Delivery: King Cakes in the Mail
You can make your own King Cake from scratch. It is quite an involved process! (See our recipe below.) If you don't feel up to the task, there are numerous bakeries that ship. Hurry, though, time's running out to order before "Fat Tuesday" the official last day of partying and eating before Lent.
Haydel's Bakery in New Orleans is a popular place to order cakes. You can also buy a mix online to make it easier to bake your cake. Here's one choice: Mam Papaul's Famous New Orleans Mardi Gras King Cake Mix with Praline Filling, available at Amazon
.
Make it: Baking the King Cake
Nothing tastes better than homemade. Here's how to make your Mardi Gras King Cake.
Ingredients for Dough:
1 cup milk
1/4 cup butter
2 (.25 ounce) packages active dry yeast
2/3 cup warm water (110 degrees F/45 degrees C)
1/2 cup white sugar
2 eggs
1 1/2 teaspoons salt
1/2 teaspoon freshly grated nutmeg
5 1/2 cups all-purpose flour
Cake Filling Ingredients:
1 cup packed brown sugar
1 tablespoon ground cinnamon
2/3 cup chopped pecans
1/2 cup all-purpose flour
1/2 cup raisins
1/2 cup melted butter
Cake Icing Ingredients:
1 cup powdered sugar
1 tablespoon water
Directions:
1. Start by scalding the milk. Then remove the milk from the stove and stir in one-fourth cup of butter. Let the milk/butter mixture cool until it's room temperature.
2. In a large bowl, dissolve the yeast into warm water with one tablespoon of white sugar. Let this stand until the mixture is creamy, about 10 minutes. The yeast is activating.
3. Once the yeast mixture is bubbling you can add the cooled milk mixture. Then whisk in the eggs, being careful not to over-beat. Stir in the remaining white sugar, salt and nutmeg. Beat the flour into the milk/egg mixture one cup at a time. When the dough is sticking together, turn it out onto a lightly floured surface and knead until the dough is smooth and elastic, about 8 to 10 minutes.
4. Lightly oil a large bowl, place the dough in the bowl and turn the dough ball to coat with oil. Cover with a damp cloth or plastic wrap and let the dough rise in a warm place until doubled in volume, about 2 hours. When it has risen, punch down the dough and divide the dough ball in half.
5. Preheat the oven to 375 degrees F (190 degrees C). Grease 2 cookie sheets or line with parchment paper. (You can also use silpat mats)
To Make the Filling:
Mix the brown sugar, ground cinnamon, chopped pecans, 1/2 cup flour and 1/2 cup raisins. Pour 1/2 cup melted butter over the cinnamon mixture and stir the mixture until it is crumbly.
Roll the dough halves out into large rectangles (approximately 10×16 inches or so). Sprinkle the filling evenly over the dough and roll up each half tightly like a jelly roll, beginning at the wide side. Bring the ends of each roll together to form 2 oval shaped rings. Place each ring on a prepared cookie sheet. With scissors cut halfway through the rings at 1 inch intervals. Let the dough rise in a warm spot until it has doubled in size, about 45 minutes.
Bake the cakes in a preheated oven for 30 minutes. Then, put the plastic baby into the bottom of the cake. Ice the cake while it's warm with the confectioners' sugar blended with 1 to 2 tablespoons of water. Then top with the gold, green, and purple sugar. You're ready to eat!
Variations on the King Cake Theme
Have you thought about King Cake cupcakes? Those would be made with cupcake batter, but colored with King Cake colors. How about Macarons? What about painting your finger nails for Mardi Gras? We've gathered those ideas and more in our King Cake Traditions board over at Pinterest. Check them out here.
One thing is for certain–there's for a real Mardi Gras celebration, you need a King Cake.