Mardi Gras – The Story of the Ultimate Party
We recognize the party atmosphere, parades, and partygoers willing to do anything to get beads — but do we know what Mardi Gras is all about? If you have ever wondered how this celebrated tradition came about, you may be impressed with how old it actually is, going back all the way to the Romans and Greeks.
Just like Christmas, Halloween and Easter all coincide their dates with older pagan festivals (what better way to subtly convert the masses to Christianity by hosting them at the same time?), Mardi Gras comes out of the mid-February Luperci, a celebration of Rome's birthday and ushering in the New Year (which was March 1st). Though that Roman festival took place the same time as Valentine's Day, the merrymaking, wearing of masks, drunken revelry and even orgies that took place during this period are much more characteristic of modern day Mardi Gras (wink wink).
Eventually, it morphed into Carnival, the "last fling" before Lent, as meat and dairy could not be consumed during Lent. Without refrigerators, a lot of this food would spoil. So, it had to all be eaten! Each country in Europe celebrated it their own way – in Venice there were masked balls, in England a big pancake dinner, and most countries had parades, circuses and street parties.
Mardi Gras in the New World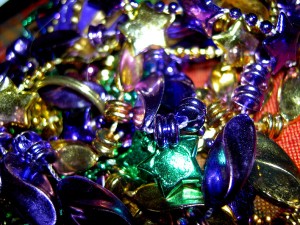 The French brought Mardi Gras to the New World in the early eighteenth century, landing the same day as the festival in Europe, and thus founding a colony called Point du Mardi Gras near present-day New Orleans. Another settlement nearby, called Fort Louis de la Louisiane (modern day Mobile), celebrated the New World's first Mardi Gras in 1703. Elegant society balls were held in the early 19th century, and grand parades, Krewes, the king cake and elaborate floats all became the norm by the end of that century. The tradition continues to this day, and Mardi Gras is a state holiday in Louisiana.
Honoring the Tradition and History
Whether you want to honor the history or just want to get in on the fun, you can create your own little Mardi Gras celebration. First and foremost there must be beads
— lots of different colors, sizes, and types of beads. Any party for this occasion must feature beads that guests can wear and they can even work well for a fun little decoration.
You can pay tribute to the area that the French called "Louisiane" by cooking up a little bit of New Orleans fare. If there's one thing that this area of the world is known for it's their delicious food. Cook up a pot of gumbo with some traditional sausage, whip up some shrimp 'Po Boys that have become the sandwich of choice here, or spend some time creating a jambalaya full of the fresh seafood that the region is loved for.
To complete your own little taste of Mardi Gras party put on some jazz music. This is a region known as much for its music as it is for its food. That gritty, earthy, sentimental jazz music is the perfect type to play in the background.
Have guests come dressed up in masks as that is what you see in every Mardi Gras parade. They will love to have a reason to dress in a costume and be excited to find some of the coolest masks around.
If you can't make it to Louisiana you can certainly have your own little Mardi Gras celebration for everyone to enjoy — you'll never enjoy a more historic and fun occasion!