Mario Kart / Wii Party Ideas
If your child considers the Wii an additional family member that needs to be fed with fresh games every couple of months, he'll absolutely love a Mario Kart birthday party. So will all his guests — and (shh!) you'll love putting it all together. Here are some of the most fun and economical ways we've found to hold an awesome Mario Kart & More Wii party.
Come Roll With Us: Mario Kart Invitations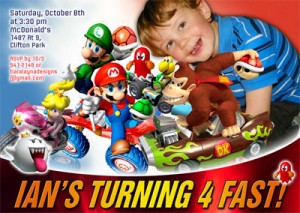 Mario Kart party invitations are a huge amount of fun to make. You have your pick of great Mario, Luigi, Yoshi, Princess Peach, etc. images on the internet to choose from.
Our favorite idea for a Nintendo party invitation: print the familiar puffy yellow star rising above some girder-like construction or above a fanciful, cartoonish planet (this is so easy — use Word or any docs program). After the cards are printed out, cut around just the top of the star through both thicknesses of paper. This gives your invitation a "pop-up", whimsical and very game style look.
You can also get custom printed invitations. Artists on Ebay
can design a Mario Kart birthday invitation. Just select the package, upload your child's picture, and they will be mailed to you. I've done this before, and they looked fantastic! Of course, make sure you do this a few weeks beforehand. Look for Tiara Layna Designs for some exceptional invitations.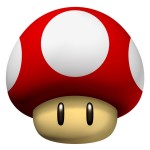 Another cute option is to print out a rectangle of racing checkers in black and white (like a racing flag). Or print out the shape of a wavy checkered flag as your invitation; very cool!
Here's some free clipart to get your creative juices flowing. Remember, these are for personal use only; private home-made party invitations are fine.
Use your wit when it comes to the text. This party theme just begs for something campy and game-like. How about "Bring your thumbs and come on over!" or for a racing invitation theme, "Get ready, get set, go…to a great party at my house"? Be sure to include concrete info too: the date and time of the party and whether guests should dress up as a favorite Wii game character.

Cool Mario Kart Party Decor
Set up the party area so that guests feel they've entered one of their favorite video games. This is easier than you may think (and cheaper, too). A few decor ideas: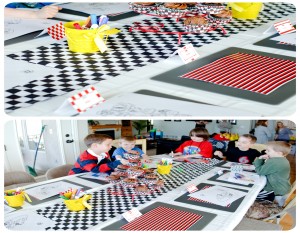 Mario Kart birthday party, by
Paisley Petal Events
Wall decals. Mario, Luigi, Yoshi, Princess Peach and the whole Nintendo character range look even better on your walls than they do on the screen. Put up these easily removable decals and you won't damage your wall paint or paper.
Iconic imagery from the game(s). Print out or draw and cut out images of mushrooms, stars, bananas, planets, "bad guys" and black and white checkered flags and hang them. You can either suspend these from the ceiling with ribbon or put them up on the walls; use double-sided sticky tape and test an inconspicuous area first to make sure it won't affect your paint or wallpaper.
For colors, go with the Mario Kart familiar theme of light blue, black, red and white.
Put down a race track themed tablecloth, or make your own with a length of paper and a black and white checkered racer tape.
The Mario games are very campy and eye-popping, so use tons of color, lots of balloons and streamers and oversize images.
Set up a Mario doll in the center of the table as a centerpiece.
Mario and More: Other Wii Suggestions for Your Party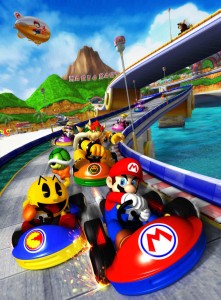 Of course, you can include other Wii options at your party in the form of decor, the games themselves (give each guest a certain amount of playtime) and/or with the invitations. Some Wii favorites for kids are:
Fun 'n (Video) Games
Time to get moving, folks! Try these ideas for your Mario Kart party:
Have a Race. If you have a "race track and cars," set it up and let teams go one-on-one down the line for a fast paced Mario race. Have the winners of each "heat" face off until only two are left. The grand winner gets a small prize, such as candy. For younger kids, give everyone a little prize. This is great for a backyard activity. The activity is in quotation marks, because I doubt very many people have a go kart track in their yard! Instead, mark the sides of the "racetrack" with flour. The go karts can be kids holding make-shift paper steering wheels.
Time guests on the Wii and have a Mario Kart race. Additional Wii game suggestions are above. For an older, small group — for instance, a sleepover — you can make the game playing the majority of your party. Young children with shorter attention spans will need you to mix things up a bit.
Set up a game of Pin the Mustache on Mario. Print out an oversize image of Mario using several pieces of paper if necessary; check to see if you have a banner program in your documents. Draw or print images of black mustaches. Cut these out; place double-sided tape on the back of each, along with a number. Have guests take turns walking blindfolded toward Mario and trying to get his 'stache somewhere near his face!
Make award ribbons (write "You are a winner!" or "#1" on circular luggage tags; run ribbon through the hole at the top of each tag and tie so it hangs around the recipient's neck) and hand out to everyone as they leave the party. Or use them as rewards for winning a particular game.
Have an egg toss competition. Hard boil several eggs; cool completely. Dip a q-tip into green paint and draw on dots (a la Yoshi); have kids do an egg toss divided into two sides. A guest is out when he or she doesn't catch, or cracks, the shell of his or her egg.
Mario Munchies
Snack time! We've seen some pretty ambitious Wii-inspired food creations on the web. To save you time and energy, we found these fun ideas that are easy yet look awesome.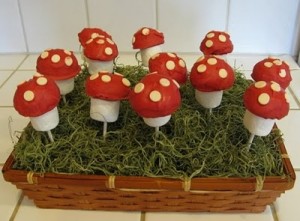 Ice any rectangular cake to look like a racetrack; use green frosting for grass, black or very dark brown/chocolate in a thick stripe as a racing track and white icing dashes down the middle. Place a Mario figure in his "kart" on top. Check out Amazon for cake topper figurines.
Make mushroom-style cake pops. These were actually created for a Smurfs party, which is also an excellent idea, but they fit in perfectly with a Nintendo theme.
Again using green icing, bake a round cake and frost to imitate a grassy planet. Place Nintendo mini figures on top. Give out one figure to each guest in goody bags (pick at random or give each guest a number and a pick).
Hand out Nintendo controller candy tins.
If you're having a lunch or dinnertime party, keep main foods simple. No child is going to say "no" to pizza bagels, chips, pretzels, Pringles, pigs in a blanket or chicken tenders with barbecue dip.
Try to keep the excitability level down a hair: don't serve caffeinated soda! Juice boxes, bottled water and even caffeine free soda are all better choices. (You'll thank us.)
Because Nintendo games are so colorful, if you're offering candy, choose items like Twizzlers, jelly beans, Skittles and Sunbursts. Older kids can have Jolly Ranchers. Avoid these for the younger ones, as they could pose a choking hazard.
If the party is a sleepover, have a definite cutoff time for getting to bed (if not necessarily getting to sleep). For a day or early evening party, note the start and end times on the party invitations so there's no confusion.
Use your imagination and creativity to add to any of these ideas. You really can't go wrong with a video game party; you have built-in entertainment (the game itself) and the decor is going to be eye-grabbing no matter which game you choose. If your child is old enough, ask him or her for help setting up. She can also write out addresses for the invitations or hand them out during class. There's no reason for you to handle every step of this party alone.
That said, you're going to love putting together your child's Mario Kart party — so have fun, and remember to submit your stories and pics!