Down Home Barnyard Fun in Your Own Backyard
There's something about a farm that just draws appeal from kids of all ages. Most of us don't grow up on the farm but sure love to visit. It's all about the barnyard, the adorable animals, and all of the activities that goes along with it all. Farms are a great place to visit—and they happen to make a perfect theme for a kid's party too.
The barnyard is where it all happens and kids are in awe when they see all the sights and get to witness animal living up close. So take what you would see at the farm and turn that into the perfect backdrop for your tiny farmer's party. It's easy to do and so much of it is based on the décor that you use.
Though you may think that creating your own barnyard is hard, it's all about the little details and you can pull this together in no time at all. So gather up the animals and get out your overalls as this party is about to be some good old fashioned down home fun for everyone!
Hay Stacks and A Garden Fit for a Farm
If you want to create a barnyard party fit for farm royalty then it's all about recreating that true farm feel. What makes you think of a farm more than hay? Sure you may think that this can get messy and that it will take up far too much room—but you can make it work more easily than you think.
Look for mini hay stacks
as they are sold at a lot of supply stores and they work just perfectly. They set the scene and since they are miniature versions and bonded together, they won't make the same mess.
You also want to try to recreate a little garden and this too can be far easier than you think. You can tie in the food that you are serving into a bit of a working decoration too. In this instance recreate a farmer's garden with a bunch of fruits and vegetables like broccoli, carrots, cauliflower, strawberries, grapes, and apples.
You can even put up a sign as kids enter the food area and that will turn it into a fun little "tour" of a real farmer's garden. A barnyard is as much about the garden as it is about the animals and so this doubles as food and decoration all at once.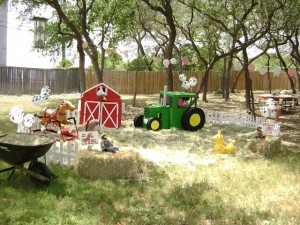 Cool backyard farm party, by
The Party Wall
Animals, Animals Everywhere
It's all about the animals in the barnyard and you of course need to incorporate plenty of them to pull of the right feeling. If you have the ability to bring in a few animals from a local petting zoo then that's perfect, but not everybody has that at their disposal. If you can't gain access to real live animals then it's time to get creative.
Gather as many stuffed animals as you can and get to work lining the room with them for the perfect little barnyard in your own home. Surely your little darling has plenty of stuffed animals and you can even buy a few extra if needed. You want some cute stuffed cows, chicken, pigs, and horses.
The more the merrier to make this feel like a farmer is in the house. Place the animals strategically throughout your home or backyard and you can even give them their own little gated in areas so that it feels like you are walking through a real barnyard. This little detail will make the party "farm-tastic"!
The Right Decorations for That "Down Home" Feel
If you want to turn your home into a farm that your child can be proud of then it's all about the decorations. Put up a fun little "barn" that the kids can play with, and this can be as simple as a red and white striped cardboard box.
If the kids brought swimsuits, strategically place a big mud puddle in the corner of your backyard that the kids can splash and slosh around in—then complement this with a local "watering hole" that they can clean up in (or the parents won't appreciate it!)
Part of the décor is all about you as the farmer of the house. You need to dress the part in some overalls, a plaid shirt, and a big straw hat. You are the farmer of this barnyard and your décor needs to match that of the theme. No barnyard is complete without picnic tables for the kids to eat at with the red and white plaid tablecloths.
Every little detail needs to be in place to turn your ordinary home into an extraordinary barnyard. With you as the farmer and your animals all in tow, the kids will never forget this fun little theme or party!