New York Giants Football Party Ideas
Get ready for a big game! The New York Giants are going to the Superbowl! While the Giants are playing in Superbowl XLVI, host a party for your friends and family to enjoy. After all, there are no bigger NY Giants fans that you and your crew, right?
Giants Party Decorations
Start your party planning with an official NY Giants party pack. This will give you all of the plates, cups, napkins, streamers, and basic party supplies that you need.
Don't stop there, though!
The official colors of the NY Giants are Red, White and Blue. You can easily find tons of great add-ons for your decorations in these colors. However, even though red and white are part of the color scheme, Giants fans lovingly refer to their team as "Big Blue" so make the majority of your decorations a bright royal blue. (Think the same color as those blue tarps you can get at hardware stores.)
New York Giants Party Decor Ideas: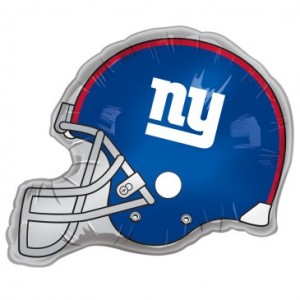 Bring the football field inside: Use big numbers to mark the "field" in your house. You can also create the two end zones (use foam "pool noodles" to make the goal posts), the "locker room" and the "concession stand" (the buffet table).
Indoor tailgate setup: Set up a tailgate extravaganza indoors. If you have the ceiling height, go all the way and set up a tailgate tent over the food! Wander through the MetLife stadium parking lot, and you'll see tons of tailgaters grilling and chilling under blue pop up tents.
Logos logos logos! Make sure everyone knows who to cheer for by hanging up NY Giants team logos around the house.
"Team Jerseys": Get some inexpensive blue t-shirts online and create your own team jerseys. You can wear them or hang them on the wall. Either way, you'll brighten up your party decor.
Football football football! Don't forget the footballs! Hang Football balloons, football signs, and various football trinkets around the house.
Giants Party Food
Giants fans enjoy two types of food at their games: Grilled ANYTHING and Italian food. You just can't have a New York Giants football party without either of these. Here's what to serve at your party.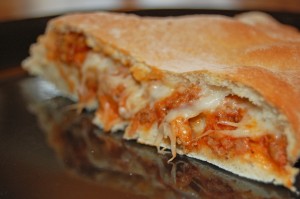 Grilled Burgers, Brats and Dogs. Fire up the grill outside (no matter how cold the weather) and grill up some of your tastiest treats. Before throwing the meat on, slice up some onions and peppers for some grilled toppings. Drizzle a bit of olive oil on the veggies and shake them in a grill basket to give them great flavor.
Mini meatballs: Make meatballs manageable by serving them with a slotted spoon to drain the sauce. Provide forks or toothpicks for spearing them.
Mini calzones: Buy pizza dough or make your own and then stuff mini pockets full of cheese, sauce, pepperoni, and meatballs. Bake them until they're golden brown. Here's a really yummy recipe on making them from scratch.
Antipasto plate: Make an antipasto plate with pepperoncini, cubes of mozzarella, salami, olives, and Italian dressing for dipping.
Order a New York Giants Football Cake for the big game from Blue Sheep Bake Shop in New Jersey. You need something sweet after all that pasta!

There's no football without other munchies. Have on hand plenty of chips, a veggie tray, hot wings, dips, and more! And, don't forget the beer! Whether you get a mini-keg (fun for a large party) or ice down cans, provide plenty of choices for your guests.

Giants Party Activities
Here are some activities to keep you and your guests occupied and having fun during your NY Giants party.
Giants trivia: There's a great Giants history Wiki here. Look through it to find trivia questions for your guests. Have on hand some fun prizes like Giants coozies, pom poms, and decals.
Betting pool: You can let people guess who will be the MVP of the game, how many yards the Giants will rush, how many yards the Giants will pass, the final score, the number of touchdowns, the number of field goal kicks, and more. Make guest pony up $1 per guess. The winner of each category takes home part of the pot.
Corn hole: You can play this fun beanbag game indoors or out. Anywhere that you can throw a bag of beans. For extra spirit, get a cornhole set that's personalized to the team.
Pinata: Whack the stuffing out of a New England Patriots pinata during your New York Giants Superbowl party. Fill the pinata with treats. Your youngest guests will enjoy this party game!