Love Your Valentine One Tasty Morsel At a Time
Anybody can give candy or flowers for Valentine's Day, but why not try something unconventional and yet so delicious? This year it's all about the cupcakes! Or maybe it's just because I had some, and I'm inspired to find some more!
If you want to make something for your sweetie and want to keep it simple but cute, then cupcakes are the perfect way to go. Here are a few ideas to get you inspired and in the mood for your most delicious Valentine's Day yet.
1. The Will You Be Mine Cupcake? How many of us love those delicious candy hearts that come out only at this special time of year? If you happen to be one of those who can't resist the candy heart, then turn this into a fun little them for your Valentine's Day cupcakes. You can decorate them in frosting to match the cute pastel color palette. Then the best part comes by placing your special messages in frosting for your Valentine to read. "Be mine", "Love you", or anything that you can dream up and that can fit onto the top of a cupcake. Cute and so easy to do!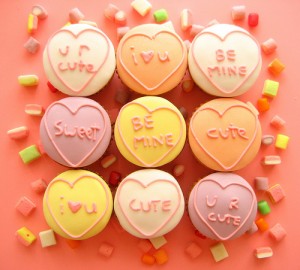 2. A True Work of Art: The fun part about these cupcakes is that you let the art do the talking and therefore it's all about cute little accessories. You can use fun little decorations that you find in the store or even create your own. All you need is a popsicle stick and some stickers to create your own little heart shaped masterpiece. When you have the art coming out of the top of the cupcake that really draws attention to it. Not only that but it will make for a fun conversation piece while they are gobbling up your culinary masterpiece too.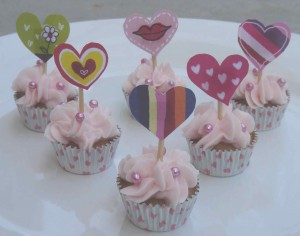 3. An Edible Bouquet: Sure anybody can give flowers for Valentine's Day, but those aren't exactly what you would call delicious, right? If you want to give a bouquet that can last a few days and that they can enjoy every delicious bite of, then create one out of cupcakes. Decorate the cupcakes in the standard red, pink, and white colors and really have fun with this. Put them together in a bouquet form using something as simple as pipe cleaners to keep them in place. Then you can even decorate the tops of them with some pink sprinkles and red hot candies for extra effect. Now that's a bouquet!
4. Simple But Elegant: Sometimes a little bit of detail can really go a long way. Rather than getting caught up in all the bells and whistles, go for simplicity that speaks volumes. With this type of cupcake it's all about a simple layer of frosting and then one well executed frosting or candy heart placed on top. It doesn't need to be over the top to say "I love you". In this cupcake it's all about the taste and the elegance that this simple but well executed cupcake can portray. If this fits the personality of your loved one, then consider yourself lucky.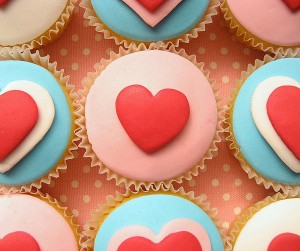 5. Sweet In Every Sense of the Word: We all love cupcakes because they are the perfect sweet treat and that's what this particular one plays off of. It's not over the top with detail but has just enough to be special. In this cupcake you want to pipe the frosting on for a fancy little detail. Add just a little bit of sprinkles for effect and then the perfect little heart to signify your love. It's not overly sweet with frosting but it has just enough to decorate the top. It speaks to love and yet it's not so complicated that only a baker can pull it off. This is a great way to have fun with making this most popular dessert.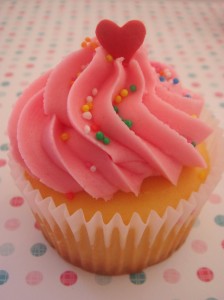 Cupcakes are the perfect dessert for Valentine's Day and they happen to make an excellent gift. If you are looking for just the right sweet treat to say "I love you" then try making any one of these yourself. They are all different but they are easy enough that you can pull them off and show that you really care.