New England Patriots Party Ideas
Your favorite NFL team is going to the Superbowl! How do you celebrate if you're a New England Patriots fan? Throw a New England Patriots Superbowl Party! The Pats are playing at Superbowl XLVI in Indianapolis, but you can bring their home stomping grounds, Gillette Stadium in Foxborough, Mass. to your home for a football matchup to remember.
Here's what you need to know to throw the Superbowl party of the year in honor of the New England Patriots.
Party Decorations
It's easy to decorate for a New England Patriots party because their team colors–red, white, and blue–are easy to find at every party store. You can also get a running start with a complete Patriots Party Pack. With cups, plates, silverware, tablecloths, balloons, and more, you'll be off and running for your themed football party.
Don't just stop at a party pack, though. Here are some other fun ideas for your Pats Party:
Tailgate Central: Patriots fans are famous for their tailgates. It's a sport in and of itself. As part of your decor, set up the buffet table as a tailgate. You can use this tape to designate your "tailgate zone." If you want to get really creative, slide the buffet table against the wall and use colored poster board to make the back of a truck. The buffet table can be the actual "tail gate!"

Tricorn Hats: The mascot of the Patriots is, well, a Patriot! A Pat Patriot is a Revolutionary War minuteman. Decorate for your party by using felt tricorn hats around your house as accents. String crepe paper across doorways and use the tricorns at the corners.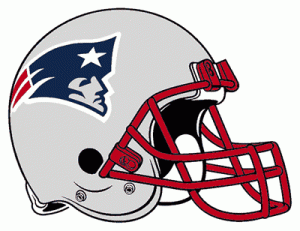 Football Field in the Living Room: You're not just throwing a New England Patriots party, you're hosting a football party. Bring some of the gameday ambiance inside by re-creating important football field hallmarks indoors. Mark the yard lines throughout your house with big numbers. Put up "Goal Posts" around the television. (You can use "pool noodles" to make your own goal posts! Put the 50 yard line in the middle of the action.
Team Numbers and Jerseys: Re-create the starting lineup. Cut shirt-shapes from large pieces of poster board and put the top players' numbers on them.
Snow: Well, they won't be playing in the snow at the Super Bowl, but it isn't an uncommon occurrence on their home field. Use cotton batting to create some fake snow around your indoor football field. You'll feel right at home!
Pats Party Food
Football parties are all about the food! You can't watch football without food (and beer)! Here's what to serve at your New England Patriots Party.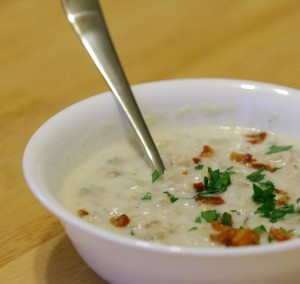 Chowda and oyster crackers: It has to be the creamy New England clam chowder, not the tomato-based Manhattan. You can find a great recipe here. Make sure you have plenty of oyster crackers for munching.
Sam Adams beer: Gillette Stadium found itself in a bit of a "beer war" last year, but all of the hard core fans know that Sam Adams is the "official" beer of Pats fans, regardless of what they serve in the stadium.
Lobster rolls: Make your gameday lobster rolls as minis so that people don't fill up with their first bite. Check out this recipe.
Hand pies: Make miniature apple pies to serve as a quick dessert. Take advantage of local apples to make these treats.
Assorted munchies: You can never go wrong if you have these foods on your buffet. Chips and salsa, french onion dip, a vegetable platter, and, of course, wings.
"Patriotic" Traditions
Not everyone who comes to your party will be a die-hard football fan, but you can still involve them in fun traditions and activities throughout your event. Here are some ideas for party activities.
Betting pool: Of COURSE you're all going to want the Pats to win, so there's no point in betting on that. But, you can set up some pools for the number of touchdowns, field goals, yards passed, and yards rushed. Everyone puts in a dollar per guess. The winner for each pool takes the haul.
Pinata of the opposing team: What's more fun than beating the stuffing out of the opponent? ACTUALLY beating the stuffing out of the opponent. For your Super Bowl party, you'll need a NY Giants pinata. Fill it up with treats and snacks. Kids at the party will enjoy that one!
Whenever the Patriots score a touchdown at home, 10 militiamen line up and fire a salute. We don't encourage this as an indoor activity, so instead, give everyone noisemakers to blow when the Patriots score!
Pats trivia: Play a game where your guests have to answer questions about Patriots trivia. Look up the answers on the official New England Patriots website, or on Wikipedia. Your questions can include the team logo, history of the stadium, questions about the current team roster, and more!