Throw an Anti-Valentine's Day Party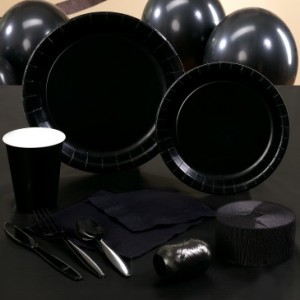 Black is the new red?
Click here for party supplies
Would you like to turn the arrow the other way on cupid? Well, you're not the only one! Gather your friends for an Anti-Valentine's Day party! You're going to want to hold this party at home, though. Why risk going out and watching lovey-dovey lovebirds at restaurants? It's more fun to play darts with paper hearts as the target. Here's how to throw a top-notch Anti-Valentine's Day party so fun that your friends will break up with their boyfriends just to make sure they're invited next year!
Bleak Invitations
You can always go the online invite route, but if you want to go all out, deliver your invitations in a way that sets the tone for the entire party. What are we talking about?
Balloons! Write a note with the invitation details on it. Then, take your stack of invites to the local party supply store and have them blow up the balloons with the notes inside. Deliver your invitations by tying them to the doorknob or car window of your recipients. They'll have to burst the balloon (burst their bubble, ha ha) to get the details on your smashing party.
Anti-Valentines Decorations
You can't go wrong with black everything — balloons, crepe paper, streamers, ribbons, etc. Broken hearts are another great theme. Simply grab some Valentine's decorations and "muck them up." Cut the hearts in half. Put the arrow through cupid's heart. Primarily, though, if you get the food, booze, music, and activities right, you'll have a great party!
Who Needs Love? Party Soundtrack
Set the tone for your Anti-Valentine's Day party with the right tunes. A mix of "moving on" and "girl power" are in order. Here's what to spin to get this party started:
Every Rose Has Its Thorn – Poison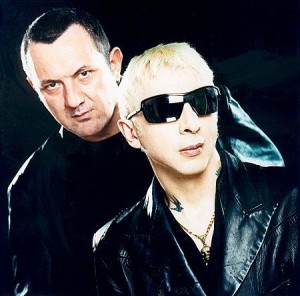 Single Ladies – Beyonce
Tainted Love – Soft Cell
You Oughta Know – Alanis Morissette
Love Will Tear Us Apart – Joy Division
It's My Party – Lesley Gore
Miss Independent – Kelly Clarkson
What's Love Got To Do With It – Tina Turner
Firework – Katy Perry
You're So Vain – Carly Simon
I Will Survive – Gloria Gaynor
Girls Just Wanna Have Fun – Cyndi Lauper
Eat Your Heart Out: Party Foods
The buffet table is where you can really let your creativity run wild. Take your angst out on the menu. Here's what to serve at your Anti-Valentine's Day Party.
Broken Heart Cookies
Use a heart cookie cutter to cut heart-shaped sugar cookies. Then, use a sharp knife to cut them apart on a jagged edge. Or, bake whole and break. Ice with black icing!
Skewered ANYTHING
Duh! Stabbed in the heart! Strawberries are kind of heart-shaped. Make strawberry kebobs drizzled with dark chocolate. Chicken kabobs with peanut sauce are another tasty choice.
Garlic Knots and Marinara Sauce
No kissing here! Chop up garlic and roast it until it is golden brown. Mix it with olive oil and spread it on crescent rolls. Bake until golden brown.
Onion Dip
Stir a pound of sour cream with one packet of dry onion soup mix. Nobody has to kiss anyone tonight, so we're good to go. Serve with ruffled potato chips.
Nachos
These are the ultimate guilty-pleasure food, but they're NOT fit for date nights. Goo them up with liquid cheese, shredded cheese, and chili.
Chocolate cupcakes
Cupcakes are incredibly messy. Who knows why these are party staples? They're much messier than cake that you eat with a fork. Serve gooey delicious chocolate cupcakes with extra icing, and no fork!
The theme for food is anything you wouldn't want to eat on a date: too messy, too fatty–everything you love to eat but can't if you're trying to impress.
Drown your Sorrows: Booze
No Anti-Valentine's Day party is complete without booze. The right drinks make any party fun. Make sure to keep some libations around for the designated drivers. For everyone else, there's alcohol.
Bloody Mary
Everyone has their favorite bloody mary recipe. Here's ours.
Ingredients: Tomato juice, pepper vodka, pickled okra juice, Olives, splash of beef broth.
Love on the Rocks
Who needs to specify amounts when you're pouring cherry vodka? Not us!
Ingredients: Ginger ale, cherry vodka, grenadine, large ice cubes, cherry for garnish.

Shot Through the Heart: Party Games
Passive-Aggressive Candy Hearts
Get a bag of candy hearts and encourage your guests to make passive-aggressive valentine messages.Vote for the best one!
Darts Through the Heart
Instead of a bulls-eye put a heart in the middle of the target and throw away. (Please do this before hitting the booze too hard.)
Pinata
While technically not a game, who won't have all kinds of fun beating the crap out of a pinata shaped like a heart? We thought so. Just make sure to fill it with lots of chocolate before you knock it to bits.