Christmas Cocktails to Make the Season Bright
'Twas the night before Christmas, and all through the house, the adults were sipping festive cocktails, even the mouse! So much of the holidays are about the younger set and sometimes you just want to kick back and be an adult.
These cocktails are sure to please and show off some of the most festive elements of the season. You can serve them up at a holiday party, at the family dinner table, or just enjoy with the ones that you love. Smooth, festive, and oh so delicious – here's a couple ideas to warm your holidays:
1. Bailey's Minty Mistletoe: Tis' the season for a delicious minty concoction and this one doesn't disappoint. You simply mix together 2 ounces of Bailey's and a quarter ounce peppermint schnapps.
Put together in an ice filled martini shaker and shake vigorously. Then place into a martini glass and enjoy this smooth and delicious drink.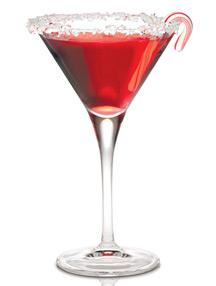 2. Kicking Cranberry Punch: Everybody loves a festive holiday punch and this is one of the most traditional and popular. If you are having a holiday party then this can serve many and go a long way as it tastes good and still has a little edge to it.
Mix together equal parts Ginger Ale, vodka, and cranberry juice. Then mix in a slightly defrosted container of raspberry sherbet. You don't even need ice as the sherbet melts and keeps it cold. It's pretty, it's festive, and it's so yummy that you won't even feel like you're drinking.
3. Candy Cane Swirl: It doesn't get more festive than a candy cane and this takes it into a very adult direction. Mix together 1 ounce of raspberry flavored vodka, 3 ounces of cranberry juice, a half ounce each of grenadine and peppermint schnapps, and a splash of lemon lime soda.
When you put this together into a shaker and shake vigorously all of the flavors and colors really blend together well and make for a taste sensation that you've never quite experienced. Put together in a sugar rimmed martini glass and then accompany with a candy cane. (Source: http://www.whattodrink.com/drinkrecipes/10854-candy-cane-swirl.asp)
4. Red Wine Spritzer: This is literally so easy and yet the vibrant red color really gets people excited. Mix together equal parts of dry red wine (like Shiraz or Cabernet) and seltzer water.
If you want to give it a nice little festive element then throw in some fruit, particularly cranberries, limes and strawberries that fit the color scheme of the season and add a nice little bite. Mix together and put into large red wine glasses. The fizz combined with the fruit and wine make a delicious drink choice which is like a Sangria with a more festive twist.
5. Poinsettia: It's not just a flower anymore! This festive drink gets its inspiration and name from the traditional and beautiful red flower that we all enjoy. It's a very simple drink to make and yet anything with the fizz of champagne can really go a long way.
Mix champagne,a half ounce of Cointreau, and 3 ounces of cranberry juice. Serve in lemon rimmed champagne glasses and toast to a new and wonderful holiday tradition. (Source: http://mixthatdrink.com/poinsettia/)
6. Simple but Traditional Cosmo: You can never go wrong with a Cosmo and it just happens to have the perfect colors for this holiday season. With this oldie but goodie you mix 1 ounce of vodka, a half ounce Triple Sec, and a half ounce of both lime and cranberry juice.
Shake up in a shaker and then place into a martini glass. You don't even need anything else as the gorgeous and vibrant color embodies what the season is all about.
Even the most discerning taste won't be able to resist these rocking holiday cocktails. So why not enjoy a little break from the mayhem and kick back with the perfect adult beverage tonight? These will add a little pep to your step and be the talk of the holiday party!