Goodnight Moon First Birthday Party
"In the great green room, there was a telephone, and a red balloon . . ." and a first birthday party the guests will never forget.
"Goodnight Moon
" by Margaret Wise Brown is a timeless children's classic. Perhaps you even have your own childhood copy. If you've never read it (gasp!), the book starts out with the light outdoors waning and proceeds to full nighttime — and sweet, happy sleep — as the narrator gently notes and repeats the various items in the room.
This beautiful book has lulled children to sleep since 1947, so it's perfect for new parents who are always looking for ways to make bedtime soothing and successful rather than a chore. Choose "Goodnight Moon" for your or a friend's child's first birthday and kids and adults alike will adore it. Here's how to put together a wonderful birthday party theme.

Goodnight Moon Party Invitations
Interestingly, as popular as the book has always been and continues to be, you'll have a hard time finding premade Goodnight Moon party invitations on the average store shelf. This is a good thing — it encourages creativity and a unique invite every time!
There are so many icons of the book and story you can choose for your party invitations. Here's a couple fun ideas to try:
A copy of one of the pages with the bunny in his/her bed is perfect. Scan or download the image. Take a picture of baby while she's sleepy. Download the image of your baby's face in the picture and size it to fit the face of the bunny on the book cover. Erase the bunny and put in Baby.
Scan an image your child loves from the book, such as the picture of the cow jumping over the moon (that always seems to be popular, and it really is an enchanting image) or the comb, brush and bowl full of mush. Print the image on one side of cardstock weight paper and the party information on the other.
You can also print a picture of the bunny and glue a cotton ball where the tail is so invitees can touch their party invitation — children are very tactile and love to "read" things that involve their senses.
Enclose moon-shaped stickers or a moon-shaped cookie (we don't recommend lollipops or other candies for this age group) along with the invitation for an extra special surprise.
Here's a fun site that has the book in its entirety, with some great images to use in your invitations and decorations.
Gentle Goodnight Moon Decorations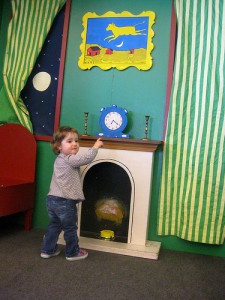 Fun Goodnight Moon Decor –
Davidsilver
/Flickr
Decorating for a party is half the fun, and a Goodnight Moon theme offers lots of pretty color and imagery to choose from.
Fill red balloons (of course!) with helium; have them float around the party room. Give one away to each guest later when the party is over. You might want to secure balloon weights to each before letting them go out the door so there are no tears when the door is opened and a balloon floats away. (Ask us how we learned this lesson…it wasn't pretty, we assure you.)
Choose the bright, fun colors that make the book so visually appealing. Red, green, yellow and blue are perfect.
Buy glow in the dark stars, a moon and planets and put them up on the walls; at the end of the party, flick the lights off for a few moments and allow little guests to enjoy the wonder. If you're worried about the adhesive damaging your paint or wall paper, tie these up with fishing line instead for invisibility and hang them from the ceiling.
Cut a big yellow moon and lots of stars; hang or tape to the walls.
Make green and yellow faux curtains out of scrap material from your local sewing shop, or you can cut these out of large pieces of colored cardboard. Attach to your windows. Glue on yarn for the curtain tie-backs, or tie if you're using scrap material.
Scan or download pages from the book, enlarge and hang around the room in inexpensive frames from your local dollar store. Later, you can use these to decorate your child's bedroom so he or she can keep great memories of a special day.
Draw or print an image of a cow jumping over the moon; draw a big "1" underneath (or however old your child is). Hang, or stand up on the table as a centerpiece. For this idea, fold the very bottom backward and place something heavy on the folded tab so the centerpiece stays standing up and doesn't fall or blow off the table. Another great centerpiece idea is a stuffed bunny holding the actual book, with a helium filled balloon tied to her hand.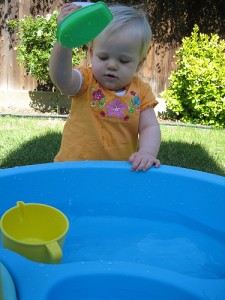 Set up a water table and toys in Goodnight Moon colors. Photo:
Tedsblog
/Flickr
Party Activities
The age of your guests may vary, but in general, you want to keep things light, fun and easy to do. You can "walk" your little one through some of these activities, or let big kids help the littler ones.
"Find the Mouse" is a fun game; divide this into two different activity times if the ages of your guests varies widely. Hide a construction paper or plush toy mouse somewhere in the area. Take your little one and her guests around the area and say "Where's the mouse?" Make sure you haven't hid the mouse too well…then give everyone a treat when someone finds the mouse.
Another way to play "Find the Mouse" is to read the book aloud to guests and have them try to spot the hidden mouse on every page.
Babies and toddlers love water play, so if you're having your party in the summertime or if you have an area indoors that can get a bit wet without being ruined, set up a water play table or a small inflatable pool. Place plastic toys that are emblematic of the book — bunnies, mice, balloons, moons and stars and the colors green, blue, red and yellow — in the pool or table and have guests fish around for them. ALWAYS supervise water play with very young children.

Fun Moon Party Foods
Keep foods simple, but make sure they look delicious — toddlers tend to take things literally at face value. The more colorful and/or interesting, the better! Here are some simple ideas kids love for the party foods table:
Moon and star shaped cookies. Look in your local dollar store bin. You may also find other playful images toddlers will enjoy. Cut out shapes, bake and decorate with pretty icing (go easy on this part, though; you never want too much sugar at a party full of under-5s!).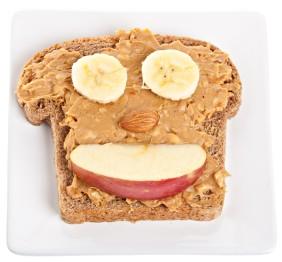 Cuteness alert: Make fun sandwiches for kids to much during the party. Get creative with this idea.
For kids over 2 and those that don't have nut allergies, cut slices of bread into moon shapes. Toast. Add a layer of peanut butter. Cut banana slices; cut into these to make star shapes. Place on top of the peanut butter. Get creative with raisins, apples and other fruit. (Note: Do not serve peanut butter or any nuts to guests under 2, and ask parents about nut allergies.)
Bake or buy mini cup cakes. Draw a moon or a star on each in icing; these shapes are so easy to do. Individual servings are always better for babies and toddlers as they limit the amount and Mommy can say "all done!" at some point, rather than the child asking for a bigger slice, a slice with more icing, etc.
Another option if you do want a cake is to buy a star, moon, balloon or rabbit-shaped baking pan. Wilton carries thousands of novelty baking tins, and your local bakery may also have ideas on where to find these.
For kids over 4, serve kid-friendly, grab and go snack items, like mini pizzas, pretzels, granola trail mix, Cheerios and cut up pieces of fruit.
Send guests home with goody bags. A copy of the book is, of course, a great choice for a thank you gift to guests. Look on Amazon or ebay for deals. Other options: mini plush bunny toys, sets of glow stickers, glow bracelets, mini flashlights and other fun nighttime-style items.
See? Easy — and fun! Goodnight Moon is perfect for any little one's first birthday party.  Take lots of pictures — this is a birthday you'll want to remember every part of.