Reusing Holiday Décor to Create a Gorgeous Christmas Atmosphere
Looking to save money this year on your Christmas décor? The solution may only be one storage closet away.
That's right, your stashed décor from other holidays can be the perfect fit for creating a seasonal atmosphere in your house. And it's amazingly easy (and fun!) to recycle decorations to fit a Christmas theme. Here's how to take your best stashed-away finds and give them seasonal flair.
New Year's Eve Decorations: Sparkle and Style
New Year's Eve décor is full of sparkle, glitter and stars, making it the perfect tie-in for Christmas holiday décor.
Take gold or silver New Year's Eve "star spray" arrangements and wrap the weighted bottom in a red or green foil or wrapping paper. Arrange on tables with a few Christmas ball ornaments for beautiful holiday centerpieces.
Cover the band of a New Year's Eve party top hat in red and white striped ribbon. Build a cheery snowman near your front door and place the top hat on his or her head. Hang a cardboard sign around your snowman's neck stating "Come right in!" for a whimsical and welcoming lawn decoration.
Use plastic champagne flutes or goblets around your Christmas table. They're unbreakable, you almost certainly have leftovers from last New Year's Eve and they add a pretty touch to the table setting.
Gold and silver are traditional colors for Christmas in addition to the much-loved red and green. Gold is also a frequently used tone for New Year's Eve party décor. Have gold colored plates, cups and a tablecloth left over from last year? Bring them out and set them up for your Christmas buffet table.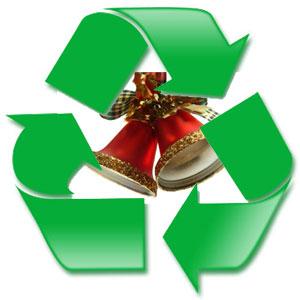 Mardi Gras: Feathers and Flair
We LOVE reusing Mardi Gras home accents and costume pieces for Christmas décor. There's so much to choose from…and everything is shiny, bright and full of class.
Green and gold are two of Mardi Gras' traditional colors. If you have streamers left over in these colors from last year's Mardi Gras bash, twist them together to make a pretty Christmas garland. Wrap the garland around your front gate or outside bannister.
Use Mardi Gras costume pieces to spruce up your home. For example, Mardi Gras feather boas look kitschy and amazing draped around your Christmas tree in place of tinsel and garland, particularly if the color is Christmas-y. Feathers from a Mardi Gras mask can be beautiful in a table arrangement along with other natural based materials, such as pine cones and berries.
Gold or green Mardi Gras balloons that went unused last year can find new life this Christmas if you fill them with helium and allow them to float dreamily to the ceiling during your holiday party this year.
Take plastic Mardi Gras necklaces in gold, silver or green. Tie a pretty red ribbon to each. Hand out as holiday necklaces to guests as they enter the party.
St. Patrick's Day: Get Your Green(ery) On
Didn't think your St. Paddy's décor could double as Christmas cheer? Think again!
Make a star pattern out of construction paper; cut out. Trace onto gold foil St. Patrick's Day decorations multiple times. Cut out star shapes. Hang from the ceiling using pieces of red ribbon.
Sprinkle the plastic "gold coins" you filled your pot-of-gold decoration with last year inside a cornucopia (horn of plenty) or other Christmas container. Add faux or real fruit, nuts and berries. Altogether, these signal bounty during the cold weather holidays.
Help your children make a big snowman decoration for the bedroom wall. Cut three circles out of white construction paper in three sizes. Tape together to form the body of the snowman. Cut out the buttons from a cardboard leprechaun wall decoration; have the children glue these on the snowman as its button eyes and mouth. Cut the hat off the same leprechaun decoration and glue it to the top of the snowman's head. Now cut a length of foil or ribbon in pretty Christmas colors and glue over the buckle band of the leprechaun's hat.
Pull out those green and white striped tights you wore for your St. Paddy's Day costume last March and re-wear them this year; voila – you're an instant Christmas elf.
Halloween Reusables: So Easy, It's Spooky
It's frightening how well some Halloween décor can fit in with a Christmas theme with a simple tweak or two.
If you made or purchased a Halloween wreath last year that has easily removable parts, take everything off and add red bows, sprigs of greenery, mini pine cones and berries. Hang on your front door.
In addition to the traditional orange and black, purple has become very popular as a Halloween color. If you used purple mini lights last year to decorate your front yard cemetery, deck the halls with it this year. It's a gorgeous color addition for Christmas.
For the Christmas play, dye that long brown "crypt keeper"-style cape in purple, deep brown, glue or forest green. Use fabric glue to close all the way up to about the collar bone area. Cut a small hole in either side where this area separates. String yarn through both holes. Put over the little actor or actress's head, let the hood fall in folds behind, and tie the strings together. It's amazing how much this simple fix turns a creepy getup into an adoring holiday shepherd.
Float the leftover flameless tea light candles you used in your faux cemetery last October in pretty bowls of water on the Christmas dinner table. Set up flameless taper candles in your windows; this look is very much traditional Christmas.
Natural materials you may have used for Halloween such as twigs, sticks and strips of rattan actually look quite beautiful in a winter landscape decoration theme. Scatter winter berries, a crafts store winter bird or two (cardinals are a great choice) and some evergreen sprigs inside a semicircle made of wintery twigs. Circle with white mini-lights so the entire arrangement glows softly.
Great Christmas décor finds are everywhere – including your own attic or closet. Don't overlook the other holidays as a fantastic resource for decorating with Christmas cheer…without denting your budget a bit.