Turkey Bowl Thanksgiving Party
We're pretty sure you've heard the phrase "turkey bowl." But just in case, here's the scoop: Turkey Bowls are football games played on Thanksgiving Day, from pee wee leagues to high school ball right down to the pros. You've probably attended one or two…and if you're a die-hard fan, you may pick up tickets annually to watch your college alma mater play.
Thanksgiving and football have gone together since….well, since there's been both! Why not combine the two this year? Have an awesome (and oh so yummy) Turkey Bowl Thanksgiving party.

Get Those Invitations Out, Turkey!
You have quite a few cute options for your Turkey Bowl Thanksgiving party invitations. Obviously, putting a turkey and a bowl together, along with a football, is a popular choice, and we'll cover that below. If you don't want to be that obvious, we've chosen some other ideas too. Feast your eyes on these: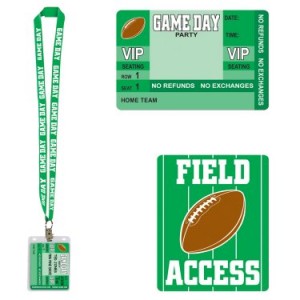 Write guests' names on individual Game Day party passes. Write the time and locale on the back. Have guests wear their passes to the party. This is fun for both adults and kids, so get everyone in on it.
Google a great game ticket template. Insert the appropriate text for the time and location. Print and mail. You can combine this idea and the one above if you wish. Send as a packet; your guests will love it.
Enclose a menu with your party invitation, or print a rundown of the eats on the back of your invite. We have some fun ideas in the Great Foods for Game Day section below.
Here it is — the turkey in the bowl: It really couldn't be easier, so go for this fun option to give guests a giggle. Google or Bing! a cartoon style image of a turkey holding a football (or use this one, which you can see below). Print and cut out. Find an image of any bowl that will fit the size of your turkey, or resize an image yourself. Print out. Glue the turkey behind the bowl so it is sticking up from the bowl, football in tow. Print the party information out in repeats down a printer page, cut them out and glue one on the back of each invitation to cover the seam where the turkey and the bowl meet. Simple!
SPECIAL NOTE: If there will be some sort of group participation at the party (we recommend a game of touch football, of course, and we've outlined the rules at the end of this article for you), add this information to your invitations. Encourage guests to bring a change of clothes for dinner if you like.
Great Foods for Game Day: Planning Your Party Menu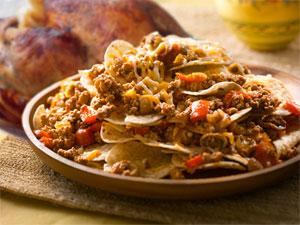 It's Thanksgiving, so do serve plenty of traditional eats; just give them sports-style nicknames and present them to guests with a football flourish. A great way to do this is to print the names of the party foods on a sheet of paper, cut out, glue or tape to a toothpick and place at jaunty angles into your yummy dishes. Here are some suggestions:
Blitz biscuits (dinner biscuits of your choice, home made, baked from pre-rolled in the refrigerated aisle at your local supermarket, or purchased bre-baked and then reheated at home)
Blitz bread (an alternative to blitz biscuits above; sliced multigrain bread — make your own if you have a machine, or purchase from a great local bakery)
Sideline sausages (cook these with onions and green peppers, tailgate party-style, and put out as appetizers, or as a side dish)
Second String beans
Mash-You-Up potatoes(mashed potatoes, any variety; try adding a little garlic and rosemary, mmmm)
Quarterback sack stuffing (sausage stuffing, traditional bread stuffing or cornbread stuffing)
Super (Bowl) salad (salad of your choice)
Pack a Big Punch (berry juice with sparkling water or with clear-colored soda such as 7-Up or Sprite; add alcohol of your choice for the grownups if you wish, or keep it non-alcoholic and family friendly)
Ali Mac 'n cheese (macaroni and cheese)
Pigskin potatoes (baked potatoes in their jackets; serve with butter, sour cream and chives)
All Sunday game foods: chicken wings with a fabulous tangy dipping sauce; nachos piled high with plenty of olives, cheese and guacamole (try ground turkey as an ingredient instead of beef); a cheese and crackers plate with fresh grapes and a handful of uncracked nuts on the side for garnish; chips and dip
Setting an Inviting (and Fun!) Turkey Bowl Party Table
Float helium-filled football, turkey, leaf-shaped, etc. balloons around the party area for instant "game's on!" atmosphere. Now set the table with a game day table cover. (Alternately, you could choose any fall or Thanksgiving-theme table cover.)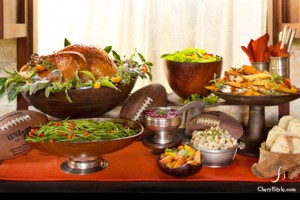 Thanksgiving Bowl table spread, by
Cherylstyle.com
For a centerpiece, choose a fold-out crepe paper and cardboard turkey; for laughs, place a toy football next to it. Surround this all-American Turkey Day scene with autumn leaves, either faux or collected from your own front yard.
Serve the food items in bowls of all sizes. Wood or autumn color bowls are perfect. So are pewter or glass. If there will be lots of little hands at the table, you might opt for something unbreakable and, even better, disposable; look for autumn colored or football-decorated bowls. Match them with place settings that are equally easy and you have a table setting that goes easily from game-in-the-living-room to grab-a-bite-at-the-quarter.
If your kids love to help and are creative, get them busy with scissors and construction paper. First, draw several different shaped leaves as patterns (say, a maple, oak and ivy leaf). Now hand off the patterns to your children and have them trace, then cut out in brown, red, yellow or orange construction paper. On each leaf, have your child print one guest's name. When finished, there will be one place setting marker for each guest.
For the TV area, be sure to put up a "Game On!" banner or football style decorative Game Day tape.
Different Ways to Get Guests in on the Fun
If there will be kids at the party, enlist one of the oldest children, or an aunt or uncle, to man a face-painting station and paint the team colors of each child's choice in hearts, football shapes or the team mascot.
Have a turkey pinata or football pinata.
Play Madden
for those not interested in literally getting down 'n dirty with touch football (see how to play touch football, below).
Have guests wear a favorite team jersey, the team of their choice. If the sit-down will be more formal, ask them to bring a change of clothes for dinner. Remember to print this information on the party invitations so your guests will know how to dress for the occasion.
Hand out gift boxes to the kids in your group. They will love this, and you'll have some instant entertainment so you and the other grown-ups can sit back, digest and take in the big game.
Have guests wear a favorite team jersey, the team of their choice. If the sit-down will be more formal, ask them to bring a change of clothes for dinner. Remember: note this information on the party invitations so guests know what's expected of them.
How to Play Touch Football
Many families who play touch football on the holidays have their own rules for the game. So we'll give you just the basics for playing touch football, and you can add or remove rules to fit your situation (but stick with your rules once you've made a decision…no cheating there, Uncle Mike!).
Here are the basic setup and rules for touch football:
1. Set up your play zone on a level, grassy area. Set up two end zones and mark them with lawn chalk or with flags.
2. Divide your party guests into two teams. Be fair as regards size, age and general ability.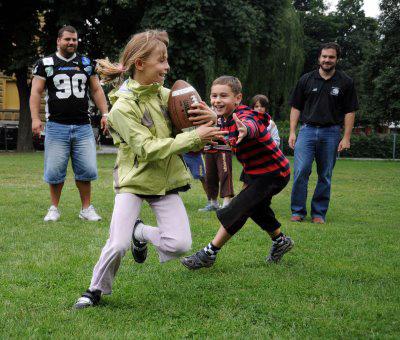 3. Choose a team quarterback. Do not be fair with this choice. In all familial love we recommend that you choose a Q-back who will crush the opposition and lead your own team to Turkey Day victory. (Admit it, you never really liked your cousin's wife anyway.)
4. Decide whether you'll be playing one-hand touch or two-hand touch. One-hand is easier and means exactly what it says: you only need to grab the opponent with one hand, not two. For more competition/harder play, choose two-hand.
5. Give the game a play time limit rather than four traditional quarters. You don't want to exhaust your guests. Assign someone to be time keeper and start and stop a stopwatch when the ball is in and out of play.
6. Ready to play? Good! Place the football in the middle of the field.
7. Toss a coin and have someone call heads or tails to see who will start off being the offensive team.
8. Line teams up parallel to the end zones and facing each other. At the front center of the offensive (starting) team will be a person playing Center. Behind him or her will be the Quarterback. (You may allot time beforehand — say, one minute — for each team to put their heads together and strategize a play.)
9. The Center pitches the ball under his or her legs backward to the Quarterback.
10. The Quarterback catches the ball if all goes well (otherwise, he fumbles and it's the offensive team's second down). He or she looks for someone who is open to catch the ball and throws to him or her. The other team defends, matching up with the offensive players to block them from catching the ball. If no one seems open, the Quarterback may choose to run the ball herself.
11. Few people have the length of an actual football field on which to play, so make your downs shorter…perhaps three yards or so, or whatever space will reasonably permit. Assign someone at the party to measure where the ball ends up after each play; use a snap-back style measuring tape — these are easiest and very accurate.
12. The defensive team "tags" the runner with the ball — whether the Quarterback or another player — by touching her with one hand for one-handed touch football, or two hands for two-handed, which is more of a challenge. The ball is then out of play.
13. The ball is also out of play if the runner holding it drops the ball or runs out of bounds.
14. Set the ball down in the center of the field at the point where it went out of play. The offensive team tries for its next down. Each time a first down distance is achieved, the offensive team starts again with a first down, then second, etc. until the fourth down. At this point, if the ball has not been run the distance to achieve the down, the ball is now in the other team's position as the new offensive team.
15. Repeat until the time limit is up. That's it! Have fun, and eat lots of turkey!