Monster Mania Kid's Halloween Party
Looking for a way to entertain your little monsters this Halloween? Then hold a Monster Mania party! Little kids love monsters (at least the cuddly/funny version of them), so we have just the ideas for you.
A Monster Mania party is perfect for a playdate, a birthday or Halloween. We'll be focusing on All Hallow's Eve as it affords you the best opportunity to be creative, spooky…and just a little bit silly! Come on — let's scare up some fun!
"Monster Foot" Party Invitations
This theme is meant to be a lighthearted take on monsters, so it's appropriate even for very young children.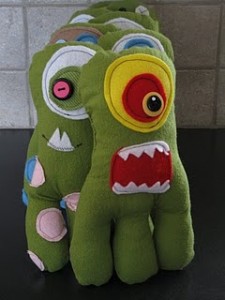 Ah, cute monster dolls! By
Twin Dragonfly Designs
If you're planning on making your own invitations, have them fit the feel of the party. One fun idea is to print the party information on colored cardstock and cut the paper in the shape of a monster's foot. (You'll need to have the dimensions the text will take up so you know how large to make the foot shape; use the ruler guide on your text document.)
Choose a paper color that goes with the shape you'll be using. Green for a Godzilla or dinosaur-like shape is perfect. Or how about red or purple and a shaggy, "hairy" cutout shape? Use your imagination or ask your child to use his — he can probably come up with better ideas than any three adults he knows! And while we're on the subject, let him help make the invitations if he's three or older; kids love to say "I did it myself!"
As for the text, spice it up with a little monster-y fun. For a Godzilla-shaped footprint, type "It's coming to YOUR town. Our monster mania Halloween bash, that is!" Or choose something simple like "Happy Halloween! Come join the whole group of li'l monsters at [location, date and time]."
Seal the envelopes with a monster or Halloween sticker or draw an open monster mouth around the area, complete with big yellow teeth.
If you're crafty, here's a fun tutorial on stitching together some monster dolls to go along with your invitations!
Monster Mania Party Decor and Music
How spooky you want to get with your decor depends upon the age range and personalities of your guests. We recommend sillier and friendlier for little ones; heavier on the teeth and claws for older kids.
With that in mind, here's a range of ideas for Monster Mania Halloween party decor:
A blacklight and glow stickers. Blacklights are inexpensive and can often be found at dollar stores, as well as uber-cheap locales like WalMart. Buy glow-in-the-dark stickers such as stars and planets or for bigger children, spooky Halloween shapes. Turn the blacklight on so the stickers glow eerily.
Monster cutout shapes. Print out your child's favorite monsters on a color printer. Cut out shapes and hang them around the party area, or trace the shape onto a piece of cardboard, glue the shape to the cardboard, bend the bottom backward and stand up as a table centerpiece.
Create a creepy walk-through entrance. Hang long streamers in monster-y colors (green and yellow; purple; black; etc.) at the entrance to the party area. Make sure they overlap so the streamers are making a solid curtain. Have kids walk through with the streamers tickling them.
Buy monster or Halloween cups, plates and napkins. Setting a cool party table really creates atmosphere. Look for monster theme tableware and table cloth.
Include traditional Halloween monsters in your decor — but don't make it too scary. A silly Dracula, a goofy Frankenstein and some friendly ghosts are great for preschool kids. Draw images yourself, or download, print, cut and hang.
Set the mood with music. Choose Halloween kids'
dance tunes with a funky groove. Spooky songs are great for your background music too.
Monstrously Good Fun 'n Food
Dress up contest: Have kids come to the party dressed as their favorite spooky monster. Have a contest during the party. Award each child a prize in a silly category; "goofiest monster," "monster most likely to eat bugs on a dare," etc.
Play dress up at the party: Have monster dress up items at the party for kids to try on. Wild wigs, monster masks and tattered clothing will get you off to a good start. Another idea: Print out a basic face shape for each child and have them draw/color their own monster faces. You cut holes in the sides of each mask and string a piece of ribbon through each hole, then knot so it won't come loose. Help guests tie their masks onto their faces and let them run around to scare up some fun.
Dance Contest: Play Halloween party music (see above) and have kids go wild on an open space in your living room. As with the Costume Contest above, award a prize to each child; choose small bags of candy or playtime goodies like sheets of monster stickers as prizes.
Monster Paper Bag Puppets: Give each child one paper lunch bag. Set out school glue, glitter, googley eyes, magic markers, pieces of string and felt shapes. Have guests glue monster faces and hair onto the folded square that is the bottom of the bag, facing so that once the faces are done, guests can stick their arms into the puppet, place their hands inside the "face" and make their monsters' faces move around.
Spooky Halloween Story Hour: Turn on your blacklights and turn off the room's regular lights (leave a light on in the hallway if guests are very young and prone to be a bit too frightened). Read a spooky kids' monster book aloud in the "dark" to guests.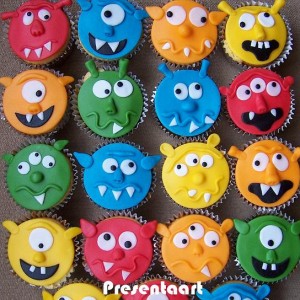 Cool monster cupcakes, by
Presentaart
Monster Cupcake Decorating: Bake cupcakes before the party using any recipe you'd like. Allow the cupcakes to cool completely if you're making them the day of the party; otherwise, cover and refrigerate the day before. Mix creepy monster colors into store-bought icing to save time by adding food color drops. During the party, set out icing in bowls, squeezable tubes of colored icing in funky colors, and candy bits. Give each child one cupcake and allow them to go crazy decorating their own cupcakes as "monster" faces. Then let them eat the evidence!
Kid-friendly party foods: For toddlers and preschoolers, make sure the foods you serve are easy to chew and swallow, low on the sugar factor and are not choking hazards. Ask parents in advance about any food allergies. Preschoolers and elementary school age kids alike love easy munchies. Buy Cheese Whiz or another brand of squirtable cheese; squirt monster eyes, mouth and hair onto oval-shaped crackers. Cut pieces of fruit and arrange on individual mini plates in monster face shapes; for example, grapes for the eyes, half a banana for the nose and a row of raisins for the mouth. (Be sure to cut very small or serve mashed fruits, like applesauce, if your guests are toddlers.) Party basics like pizza or hot dogs are always a hit, too. For drinks, serve no sugar added juice and bottled water.
Send guests home with goody bags filled with Halloween candy or set up candy bowls at different "stations" and have kids "trick or treat" around the party area just before they leave. Happy Halloween!