Cars 2 has arrived, the Disney Pixar sequel to the 2006 release. It features old buddies such as Lightning McQueen and Mater, plus some new international associations as the cars race in Japan, Italy and England for the Grand Prix. Big fun! Get it in gear with a Disney Cars Party. Here's how.
Cars and Cars II Party Invitation Ideas
Pick up a cute set of Cars party invitations, or make your own. Try one of these suggestions:
Download a picture from web of a racing sign/pennant. Have "On your mark, get set…come on over for a great time!" on the front and the party information on the back.
Download a map of your neighborhood with "Radiator Springs" printed over your street and house, and "The party's here!"
Download a Nascar-style or Grand Prix ticket image. Also, artists on Ebay sell personalized party ticket invitations. Be sure to note that guests are to keep their "tickets" for entrance into the party. As guests arrive, have them hand in their tickets. Then put all the tickets into a bowl and randomly draw one at the end of the party; that guest wins a prize.
Cool Cars Party Decor
Think black and white checks (racing-flag style) or red, yellow and blue (for the Cars movie theme) for party decorations. Pick up the color scheme with your tablecloth, napkins, cups, plates and plastic forks and spoons.
Hang loads of streamers in these colors as well; they'll give an awesome effect to the party area.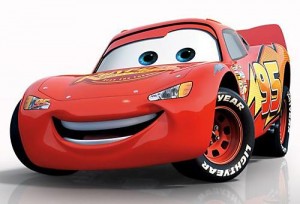 Print out racing flags, or make your own using construction paper for the flags and chop sticks for the holders, then coloring with markers. Cross these and put them up on the walls of the party area.
Cars 2 takes place in England, Italy and Japan, so print out (or make) flags of these countries as well. Hang them up, tape them to the wall or place them in a clear vase filled with confetti as a party table centerpiece.
Don't forget the awesome banner! Kids love these. Create or buy a banner with your child's photo announcing that he or she is the party's guest of honor.

Racing for the Snacks Table: Awesome Party Food Ideas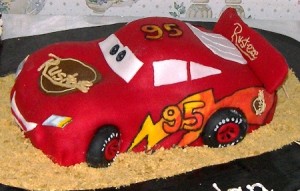 Gorgeous Cars cake by Kay of
Kitchen Scrapbook
Luigi's Leaning Tower of Tires: Make this out of chocolate covered donuts. For school-age children, use toothpicks to keep the donuts slightly askew but upright (tell the kids about the toothpicks so they take them out before digging in). For younger children, don't use toothpicks; they can pose a choking hazard. Make several shorter stacks of "tires" instead.
Racetrack style eats: Serve foods one would buy at the racetrack, like burgers, hot dogs and soft drinks (or juice for little ones). Also serve pop corn and chips; these are grabbable, easy and inexpensive.
Prepare finish-your-own racetrack sundaes. Serve ice cream with a racing flag at the top of the mound, one serving per guest. Put out candies, sprinkles, sundae sauce and whipped cream and let guests finish their own fun treats.
Bake a square, circular or rectangular cake. Cool completely and frost with vanilla icing. Dust the top of the icing with any brown colored cake mix (i.e. chocolate or fudge) to simulate dirt. Draw a race track in icing, having it wind around the cake. Place mini Disney Cars figurines on top.
Cars Party Activities
Get things rolling with these party activity ideas: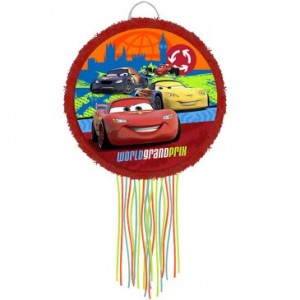 Have a Cars or a Nascar theme pinata. Make sure you leave plenty of space around the pinata so nothing gets broken — and this includes fellow guests! Keep party guests well back, blindfold the first person in line, give him or her a bat, baton or stick and let him have his three swings. Then it's on to the next guest, and so on until the pinata breaks apart, spilling treats and trinkets.
As an alternative to a pinata, try a Treasure Tower game. These are hugely popular right now and are guaranteed to make party guests happy.
Draw a race track in your driveway with chalk. Have a bike, tricycle or scooter race and award the winner with a Cars 2 theme ribbon. Give all runners-up a small prize, such as a piece of candy.
For preschool age children up to about first grade, play car versions of their favorite games. Try Red Light, Green Light–where guests advance on "green light" but have to stop at "red light"; if a guest takes a step forward thinking the light will be "green" but it's not, he or she has to stand in place rather than stepping forward. The first to the finish line is the winner. Also try Musical Pit Stop, played like Musical Chairs; choose fun party music or the Cars or Cars II soundtrack.
Have a beanbag or ball toss through a tire. Use an old tire you have around, or if you're fresh out, make a "tire" out of cardboard but cutting a circle and a hole within the circle and coloring it black with gray or silver treads.
Pass out goody bags at the end of the party. Put them in a cute black and white checkered bag or box or something Cars-themed. How about pencils in this cute pencil case? Add a few pieces of candy, a sticker or two and you've got the perfect thank-you for your party.
Remember, life is a highway — ride it all night long!