Organizing a Fourth of July Block Party
Feel like doing something big this Independence Day? How about a neighborhood Fourth of July block party? This awesome event is ideal for so many reasons.  Everyone is local to home so no driving is necessary, making things safer for everyone, particularly if there will be any alcoholic beverages. You're among friends rather than strangers. You get to know your neighbors more, and give a stronger sense of community. And there's no long walk carrying bulky blankets and chairs to get to a fireworks display from a distant parking spot.
And of course, as I'm typically part of the "after-party cleanup crew," I should point out that cleanup is so much easier on the sidewalk than in your living room or even on your back patio. That means a more relaxing, fun party experience for the organizers too (yay!). It also means you can go a bit wilder with your July 4th decor – so go for it with an awesome setup!
There are logistics to consider. But it's probably easier to organize a neighborhood block party than you think. Have a plan in place and stick with it. Here's what we recommend for Independence Day block party basics:
Planning the Event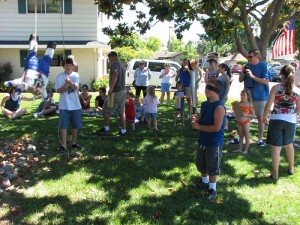 Block Party, by
Todd Dailey
How do you eat an elephant? One bite at a time! Take your block party planning in steps and everything will fall into place:
1. Invite neighbors to be part of the block party committee, if you don't already have one organized.
2. Have the committee over to your house (or an appointed location, but local is easier for everyone, and more personal). Discuss funds you may need for the party, who will call your city to find out about block party regulations, and the date and time for the event. Also discuss the possibility of hiring people to help with the party, including table and chairs setup and take-down, a clown or magician to roam the area and entertain, etc.
3. Decide upon block rules as well (i.e. no rocket fireworks, no underage drinking, block residents only, etc.) — it may seem obvious to you, but particularly if you don't know all your neighbors well yet, you just never know.
4. Make invitations flyer-style. These should include the date and time of the event, block party rules, donations or cost per household, legalities (contact your city or your police department) and any other information that pertains to the party. Mail flyers to all your neighbors (yes, even that grouchy guy who keeps every toy that accidentally falls into his yard). Don't leave anyone out.
Now let's get on to the really fun part — eating, playing and celebrating with the neighbors!

Food and Entertainment for Your July 4th Block Party
Your Table Setup

Decorate your space with Fourth of July flair. If you're at the front of your block, put up a personalized banner welcoming everyone to the fun. If you're placed somewhere in the middle, have a banner up listing your family name. It's a fun and inexpensive touch for your table area.
Hang a little "grandstand"-style bunting from the edges of your table or your house; it's a very traditional and fun look for a patriotic celebration.
Tie a few awesome helium-filled Old Glory balloons, or alternating red, white and blue round balloons, to the corners of your table. You can either advise neighbors to have their own plates ready, or you can ask each table to supply their own table settings. Go disposable, of course — they're easy, unbreakable and July 4th style settings are usually reasonably priced.
Always, always, always practice safety. If you'll be grilling or using anything else that involves either electronic or natural heat, keep these items well back from flammable tableware and decorations. Use tablecloth clamps to hold things down so they don't blow out toward your grill or hibachi.
No matter what your state or county laws are, don't have rocket-style fireworks at your block party. There's too much potential for someone to get hurt. Do go for sparklers for older kids; supervise these, of course. This is perfect if you're having an afternoon-into-evening party so it'll be dusk or full dark when you hand these out.
For the grown-ups, simply mingling with friends and enjoying a well-earned day off is plenty of entertainment, so reach out and be social as neighbors stop by your table. Play your radio or a CD but keep things lower rather than blasting — your neighbors may have the same idea and the conflicting tunes may turn out to be more of a headache than anything else. So be considerate about your table's noise level.
Have a few water toys around the table area and let neighborhood kids borrow them for fun water fights. Direct them to the lawn so they aren't tripping over items in your party table area.
Consider having a group buy of some rented entertainment. A clown or magician out on the street will thrill the kids. Or how about everyone chipping in to have a local band play your gig? Depending upon how many attendees there will be, the individual cost for these types of entertainment can be extremely low — so go for it!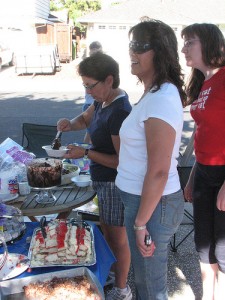 Death by Patriotic Chocolate, by
Todd Dailey
Block Party Food Ideas: Keep it Simple
Choose easy-to-grab eats. Chips, hot dogs and hamburgers are all great choices (and burgers and dogs are oh-so-American, tying in well with the Fourth of July theme).
Make desserts easy, too. Cupcakes are grabbable and neater than dishing out pieces from a sheet cake (though, of course, you can simply cut up the cake beforehand and have serving tongs available.) Individual ice pops are much easier than scooping ice cream. Raw veggies are easier to navigate on a plate than a baked veggie dip with toppings.
If your party will include alcohol, go with beer — nothing heaver. That's our policy and we're sticking to it! The intent is to have relaxed fun; this isn't a rave. If your party is non-alcohol, single serve juices or waters are a perfect choice. Set out a cooler and you're good to go.
Pop corn, peanuts and cotton candy. Rent one or more of these machines from your local party supplier. Your neighbors will love it!
If you have a specialty, by all means, serve it. Yes, even if it's messy. But do stick to just that one specialty. You don't know how many people will be clamoring at your table at one time (particularly if you're an expert chef!).
Last of all, do not be afraid to ask for help. Make sure your committee is equally in on the work that goes behind organizing the party, and ask for donations for the day of tables, chairs and paper plates. It's a group effort that will pay off in bigtime neighborhood fun.