Ariel Little Mermaid Theme Party
A dreamy ocean, hilarious sea creature friends, a scheming witch and a pretty redhead looking for her prince – there's so much that's enchanting about The Little Mermaid. For two decades, curious and determined Ariel has charmed children everywhere, so this Disney princess is the perfect choice for your youngster's birthday.
Here's everything you need to know to put together an Ariel Little Mermaid theme party, including awesome invitations, Under the Sea decor, party food, games and take-home treats.
Great Party Invitations You Can Make
Let your own little mermaid help with these — she'll feel important with this big job and will get to use her creativity.
1. Find Little Mermaid images on the internet that have a reasonable amount of space on the top, bottom or side (you'll need room to place your text).
2. Create your text. Use theme-appropriate wording such as "Party with us under the sea" on the front and "Swim on over to (your address)" on the inside, along with the date and time of the party. TIP: Be sure you're using a template that will fold to create a card, or do this postcard-style (Microsoft and Mac should both have plenty of free templates you can download). Remember to include RSVP information in your text.
3. Print out the invitations on cardstock. Let your little one decorate them with Little Mermaid stickers or peel-and-stick underwater imagery.
4. Place invitations inside envelopes along with a little colored sand (check out your dollar store for this) or a faux or real seashell.
5. Be sure to time the mailing of your invitations so they arrive two weeks before the party date.
Little Mermaid Party Decor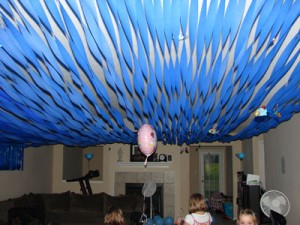 Image by
Luvmy5kiks/Indy MomsLikeMe
Your decorations should have an under-the-sea theme. Incorporate images of Ariel, her friends Flounder and Sebastian, King Triton, Prince Eric and Ursula the Sea Witch.
Choose Little Mermaid colors, especially pink and purple, and include sea hues like aqua and green. For instant under the sea ambiance, hang blue and green streamers from the ceiling, from one side of the room to the other. They will move with the activity of the party and create a dreamy underwater effect.
Place an Ariel standup in one corner of the room and take guests' pictures with her as they arrive. Print them out during the party and include in goody bags.
Check out your local party rental place for rates on a bubble machine. Set the machine to blow "underwater"-style bubbles throughout the party area — guests will love this! Another great bubble idea is to have white, blue and silver round balloons filled with helium. Allow these to float to the ceiling (don't use ribbons). The more balloons the better for a beautiful bubble effect.
Set an awesome Little Mermaid table. Drape netting over a Little Mermaid themed tablecloth, then crumple green paper for seaweed and place in bunches in the center of the table. Set an Ariel doll in the center and surround the centerpiece with seashells and a few handfuls of sand.

Mmmm! Little Mermaid Party Snacks
Assemble a fishwich (a party-size submarine sandwich with American cheese slices sticking out of the bottom and the top for fins). Or make individual fishwiches using hot dog buns and kid-friendly fillers such as peanut butter and jelly or cheese. If you're short on time, pre-order a sub sandwich from your local grocery or deli. Pull cheese out slightly to make the fins, add a black olive for one eye and "draw" on a smile with mustard.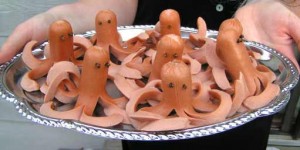 Image by
Tam/Blogspot
Make octopus hot dogs. These are adorable, fun and easy! Begin by slicing each hot dog up the middle but leave about an inch intact at the top (this top portion will be the octopus's head). Slice each half in half, then each of these in half to make eight slices attached to the head. Stand the hot dogs with heads up and slices splayed outward, then steam the hot dogs. The slices will curl up like tentacles. Dot each hot dog with mustard for eyes and serve on a plate of pasta.
Serve pasta shells. Make macaroni and cheese with them or top with marinara sauce and a sprinkling of Parmesan.
Cook up a plate of fish sticks and have dips handy (tartar sauce and ketchup).
Make sea punch by adding blue food coloring to any clear-colored soda to imitate the color of the ocean.
Have the cake made, or make it yourself, with an Ariel cake topper. Little Mermaid cake toppers are easy to buy, or if you're feeling inspired, create your own: place a small Ariel doll atop a blue-frosted cake and fill the rest of the top and the sides of the cake with gummy fish and sea creatures.
Make Jell-O Jigglers using fish and other sea creature shaped cookie cutters.
Party Games and Entertainment
Your party will go along swimmingly if you have plenty to do to entertain the guests. But don't overload them. Allow party guests to pick and choose what they'd like to do and to have plenty of time to socialize in between. Here are some ideas:
Have a makeup and nail polish station to get guests glittery. Make sure to only use nontoxic, kid-friendly materials. Washable is even better!
Give out bubble necklaces and let guests create their own underwater ambiance in the party area.
Have a crab walk race in the back yard — this is hilarious and allows guests to get some of that energy out of their systems.
Magnetic fish: buy a fishing game at the dollar store or make your own buy purchasing inexpensive magnets, cardboard, magic markers, scissors and glue. Cut fish shapes out of cardboard, decorate with markers and glue a magnet onto each. Now tie an opposite pole magnet to a piece of string and hang from a chopstick, small dowel or any object that can double as a fishing rod. Let guests fish out of a dry kiddie pool.
Play your little one's favorite Little Mermaid songs and let guests dance to the famous tunes, or use these to play musical chairs.
Finish up the party with some great goody bags filled with individual serve sizes of goldfish crackers, gummy Swedish fish, Little Mermaid stickers and faux under-the-sea jewelry, like pearls.