It's All British To Me – Hosting an English Theme Party
With the upcoming nuptials of Kate and William, you would think that the whole world has turned British! This is the time where everybody wants a part of this culture and wishes they were part of the royal family. Though people want to visit England year round, the draw to this area of the world has never been more intriguing. Everybody loves a wedding, particularly a royal wedding, and therefore our eyes are tuned into this country. So what better theme to use for a party that you host? Grab some party supplies, some tea, a Manchester jersey and practice your accent. You can pull cues from some old traditions and enjoy them in the theme of a party that everyone will enjoy and find "simply smashing"!
Food Glorious Food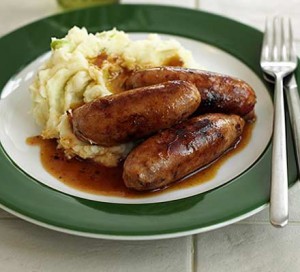 If there is one thing that England is known for it is some very distinct food. There are a couple of things that the British are known for and therefore they absolutely must be on your menu. One thing that is a staple is bangers and mash—this very popular dish is actually quite simple since it's just sausages and mashed potatoes. Simple enough and keep it light on the spice as that's how the British eat it.
Then you want to turn to another staple which is of course fish and chips. They love this dish and it can take many different forms. Be sure that you serve up a good type of fried fish with some fried chips or French fries, and offer up plenty of tartar sauce. You can also get into offering a favorite like Yorkshire pudding as this works well as an addition to any meal. Much of the foods that they enjoy are served at tea time (see below), and that falls into some of the rich traditions of this region.
Celebrating Rich Traditions
You simply can't throw an English theme party without having a spot of tea. This is one of the richest traditions of the Brish, whereby everybody stops in the late afternoon and has their tea and special dishes to go with it. You can serve up special British treats such as scones, crumpets, and special breads and pastries. Having an afternoon tea can either fit into the overall theme of the party or as a standalone tea party.
Another rich tradition that is such a part of this culture is soccer ("football" in England.) This is a great one if you are having a mixed crowd of men and women because this is a game that appeals to everyone. Be sure to have a soccer game on during your party and celebrate it because this is their big sport there. If you really want to throw a bit of adventure into things then get a real soccer game going during the party to get everyone involved and feeling British.
Be sure that no matter what activities you have at your party that you include some good British music such as the Beatles or the Rolling Stones. Or go for The Sex Pistols, The Clash for a more punk-theme 70's party. Duran Duran, Pet Shop Boys and New Order belong to early 80's British New Wave, and if you include the 90's and early 2000's, you have the so-called mope-rock of Radiohead and Coldplay.

Dressing the Part
There are some pretty distinct costume ideas (called fancy dress in England) from this party that you can really get into. You can either dress as one of the rock icons that this region is known for. Try to embrace your inner Mick Jagger or Paul McCartney. You can even go for a pop sensation like the Spice Girls and really have fun. This is so fun to do and you may just suddenly start speaking like Bridget Jones! You can also dress as one of the icons that this region is famous for, which is the British soldier in his red uniform that guards places such as the Tower of London and Buckingham Palace. This is one of the things that people think of when they think of England, and how much fun would it be to dress up in a bright red uniform and with a couple British party props?
In honor of the upcoming royal nuptials, you could even dress up as a member of the royal family. Go for a likeness of William or Kate, put on your big hat and dress as the Queen Mum, or just dress as royalty to carry out the theme. You will feel like a Brit in no time at this fun type of party!