Baby Animal Easter Theme Party
Everyone knows what it means when the flowers start to bloom, the bees start to buzz, and all the baby animals are born – it means springtime is just around the corner! No holiday is more celebrated during spring than Easter. And when it comes to children, Easter is a huge indication to them that summer is coming, school will soon be out, and that fun times are just around the corner! (… Not that school isn't fun!)
For children, Easter means candy, colored eggs, the Easter Bunny, and baby animals such as chicks, ducklings and baby bunnies. All this makes for a fun party with their friends. In this article, I'll share with you a few cute ideas for kids Easter party themes. I'll also offer some suggestions of games and activities to keep the little ones occupied and out of trouble. And, of course, a special baby theme recipe just for Easter, which even the children can help prepare!

Baby Animal Easter Decor
Whether you're throwing a children's Easter party at home, or helping throw one at your child's school for the entire class, you'll definitely want to decorate with pastel colors. Not only have pastel colors come to symbolize spring and Easter, but children tend to like these colors—pink, light blue, lavender, mint green, pale yellow.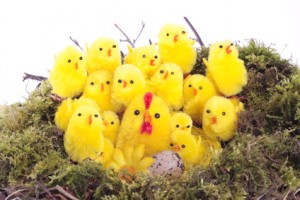 Be sure to have streamers, balloons, wall decals, and other spring and Easter themed decor. It will also be easy to find Easter or spring themed party supply kits, which will include all of your plates, napkins, cups, table cloths, etc. Also, create little nests with decorated eggs or foil-wrapped chocolate eggs and place around the party area. To build a real nest, check this site out. Otherwise, simply take a few wicker baskets, old strawberry pails with the handles cut off, or even cut a milk carton in half. Stuff with shredded paper, old twigs and grass, or multi-colored Easter grass
. Also check out the article on building Easter baskets.
For party supplies, you can find baby animal themes such as barnyard, baby ducks, rabbits or special Easter themes with baby animals. Or, be more specific by choosing The Easter Bunny, Peter Cottontail, the Velveteen Rabbit, Bunnies vs. Chicks (this could be a fun one!), The Amazing Easter Egg Hunt, or, just in time for this Easter, you could theme your party after the new Universal Studios film, Hop.
Of course, no baby animal party is complete without a couple cute rubber duckies! You can find a huge variety of them at Amazon.
Party Activities and Entertainment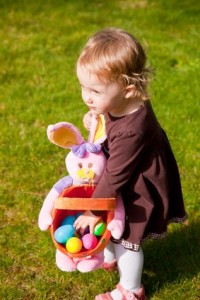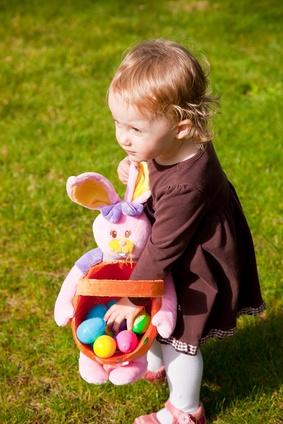 For entertainment, whether indoor our out, an Easter Egg Hunt is a must. I would recommend purchasing plastic eggs which can come apart. That way you can put coins or candy inside of them. If you're brave enough, you can set-up an Easter Egg dying station and all of the children can take turns dying eggs. There are also some very neat decorating kits you can purchase which may make things a bit easier!
Other activities might include "The Easter Bunny Says", a twist on the traditional "Simon Says", except in this rendition, all of the moves are somehow bunny related—hopping, scrunching your nose, cleaning your ears, nibbling on a carrot. Also, "Pin the Tail on Peter Cottontail" is a twist on the traditional "Pin the Tail on the Donkey". And whether the party is indoors or outdoors, at home or in school, as long as hard boiled eggs are used, a spoon/egg race will certainly entertain the kids!

Easter Goodies and Food
Kid-friendly and Easter inspired foods you should definitely include will be cupcakes, jelly beans, Peeps, and (of course) Easter Eggs. Since this is a baby animal theme, here's a unique idea on how to make a plain old cupcake a bit more exciting. If you pre-bake the cupcakes, then it'll be easy for the children to go crazy decorating them!
Baby Chick Cupcakes
Very easy to make cupcakes decorated with dyed coconut and candies. Just be sure to check for allergies!
Here are the ingredients: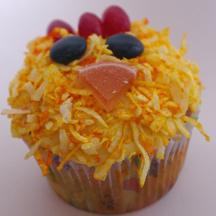 Easter Chick cupcakes, courtesy of
Easy Cupcakes
Cake:
1 box of yellow or devil's food cake mix
However much water, vegetable oil and eggs are called for on cake mix box
Frosting and Decor:
2 1/2 cups of shredded coconut
Yellow food coloring
1 container of vanilla frosting
4 dozen brown miniature candy-coated chocolate baking bits
2 dozen small orange gumdrops
And here are the directions:
Heat oven to 350°F (325°F for dark or nonstick pans). Place paper baking cup in each of 24 regular-size muffin cups. Make cake mix as directed on box, using water, oil and eggs. Divide batter among muffin cups. Bake 17 to 22 minutes or until toothpick inserted in centers comes out clean. Cool in pans 10 minutes; remove from pans to cooling racks. Cool completely, about 30 minutes.
Place coconut in resealable food-storage plastic bag. Add about 8 drops yellow liquid food color; seal bag and shake to mix. Frost cupcakes with white frosting. Top with yellow coconut. For eyes, add brown baking bits. Cut orange gumdrops to resemble beaks; place on cupcakes.
Decorating the cupcakes will be a fun activity for the children in addition to giving them something yummy to eat!
I hope however you decide to celebrate Easter with your children this spring, you all have a wonderful time and enjoy yourselves!