Hosting an Easter Egg Hunt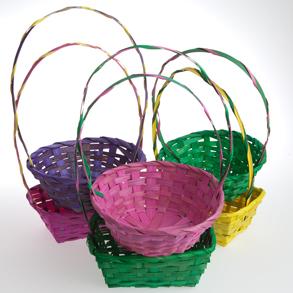 Look for a huge selection of baskets at
Century Novelty
After the winter's long dark nights and chilly winds, spring brings a sense of renewal and joy. It's no wonder that Easter is associated with life, energy, hope and warmth. Drab color turns to pastels, and everybody is back outside. It's no wonder that neighborhood egg hunts are the perfect activity for the spring, as the kids (and adults!) have a lot of fun in this treasure hunt for goodies. Here are some ideas to organize the most well-known Easter party activity – whether it's simply in your basement, your backyard, or the entire neighborhood!
Pre-Planning the Hunt
Decide who the Easter egg hunt party is going to be for, when it should be held, what location is the best for your purposes, and where it should take place. All ages of kids – from six to sixty – can have fun at an Easter egg hunt. What group is your party intended for? If the range of ages is going to be very wide, you'll need to find a way to separate the youngsters from the older children. The last thing you want is for the older kids to find all the eggs before the younger kids can grasp how to find them!
Knowing the age of your participants will also help you decide what sorts of prizes you need for each group and the level of difficulty you want for each.
As for the date, consider that many families will be at church on Easter Sunday or heading to other celebrations – a day or two before may be better. If you do decide on Easter Sunday, remember people will be coming from church and may want time to go home and change into something more casual – an after-lunch hunt may be best. That way, with everybody full, kids won't be as tempted to dive into their chocolate goodies right away.
Since kids have such short attention spans, don't plan on it being any longer than an hour or two. The afternoon is probably a good time of day, perhaps from 1:00 to 3:00 p.m.
Decide where to have the event. Indoors? Outdoors? (Decide early enough and you can put this information on your invitations.)
Inside: Inside is generally easier because you won't need to worry about inclement weather. You'll need to use several rooms for the hunt. You can rent a hall or community center if your entire neighborhood will be participating. Otherwise, the basement of your house will do nicely.
Outside: So much depends on the weather – and the type of party – so if you choose to have the party outside, you'll need to be prepared to move it indoors in case of rain or unseasonable cold. Neighborhood parties can be held in your backyard, in several of your neighbor's backyards, or at a park.
Decorations and Egg Baskets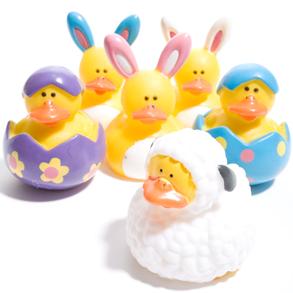 If you're having the party at your home, decorate with seasonal spring flowers. Use plenty of crepe paper streamers, position Easter baskets everywhere, and place colorful towels and soap in the bathroom. Place an Easter wreath on the door and, if you're serving food, place a spring-themed centerpiece on the table. Colorful balloons are great for kids who are older than four.
If kids don't have their baskets, it's easy to make this into a craft before the big hunt! You can either create your own from household materials, or take an existing wicker basket and decorate it. Check out a great way to make a basket from an egg carton. Another neat idea is decorating an ice cream pail.
Some ideas on decorating a plain wicker basket for younger children:
Ribbons – display several different patterns of ribbons, and have the kids tie them to their baskets.
Colors – Using felt markers or water paints, have them color their baskets. Wait until dry.
Bunny Rabbit face – Beforehand, cut out shapes that would make ears, face, nose and eyes (or buy some googly eyes.) Have the children use these shapes to assemble an Easter bunny face, where they can then color the eyes, mouth, and whiskers. Then, each parent can glue the face onto their basket.
Food and Treats
Have an Easter-themed buffet table set up with cups of water, punch, juice, or sodas. Snacks should also be prominent: foil-wrapped chocolate Easter eggs, marshmallow peeps, bunny cookies, and deviled eggs. For more substantial fare, consider a spiral-cut ham, cheeses, cold cuts, vegetable plate, assorted mini-sandwiches, and possibly a sliced tenderloin with rolls with which to make sandwiches.
For an outside hunt, have a table set up by your house to denote the "start" location. As the hunt commences, some of the adults may wish to congregate in the area and socialize while their older kids go hunting. Have assorted drinks, coffee, chocolate Easter eggs and cookies handy. If the day is colder, have a big crock-pot full of hot chocolate handy. Yum!

The Easter Egg Hunt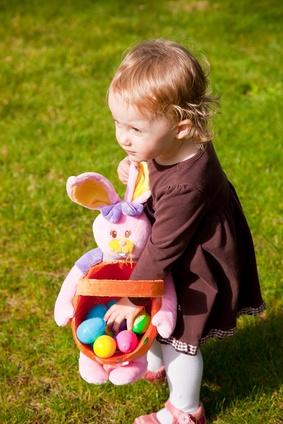 You'll need Easter "eggs" for the hunt – which can be the real item or plastic containers in the shape of eggs. If using plastic eggs, fill them with various fun items such as jelly beans, small beads, coins, popcorn, tiny toys or charms, stickers, and the like. (Check here for some great trinkets.)
Label each package with the name of the child, so that everybody gets the same number of prizes. For more competitive hunts with older kids, set a limit on how many eggs they can find (there's nothing more sour than that one aggressive kid who will grab them all!)
I wouldn't recommend hiding small, foil-wrapped chocolate eggs, because many will inevitably go missing – and will eventually be eaten by neighborhood animals or pets (note that chocolate is poisonous for dogs.) If using real eggs, note where they are placed, or you'll have some interesting smells in a couple weeks!
If you decide to use real eggs, they'll need to be colored (perfect excuse for an egg decorating party!). This involves hard-boiling the eggs beforehand and  decorating them. Plan on decorating the eggs a day or two prior to the actual event. Simply dipping them in bright pastels will give the hunt a more cheerful atmosphere, as well as make them easier to find (after all, you do want them all to be found!) Click here for more Easter egg hunt ideas.
For the hunt, and if you have a variety of age groups of kids, distinguish different areas on the playing field (if outside: a lawn; if inside, various rooms) according to various age groups. You might want one area for kids up to age five; another for five to ten; and one for teens.
Hide different colors of eggs in the areas you choose for each group. Remember not to make it too difficult for the youngsters – hide eggs in fairly obvious places or even in full view. Each area should have a cheerful adult supervisor to encourage the children to keep hunting. Of course, keep track of where you placed all the Easter booty!
When all groups are ready to begin, start the activity with the blow of a whistle.
Happy Easter egg hunting!