Justin Bieber Theme Party
There are no two ways about it: singing star Justin Bieber is a sensation among tweens and teens everywhere. And to give this youngster credit, he truly is a success story. First seen and heard on Youtube, Justin sang to popular tunes and was spotted by Scooter Braun, who became Justin's manager in 2008. Island Records quickly signed him, and since then, accolades have followed. So have fans, male and female alike, in numbers that are pretty much staggering.
Justin has not only been noticed by young fans but was also recognized with a Best New Artist nomination at the 53rd Grammy Awards, was named 2010's Artist of the Year and even attended the White House's infamous Easter egg roll that same year. He's also been seen hanging out with big music names like Usher, Kayne West and Miley Cyrus.
Justin is everywhere right now, and we'll bet your little girl loves him. So why not make her day (and her year!) with a Justin Bieber theme party? Her friends will love it, too. Here are some awesome ways to be the best parent on the block by throwing a Justin Bieber birthday or "just because!" theme party.

Invitations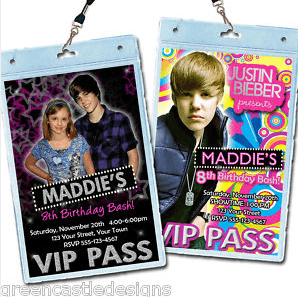 Your best bet for the party invitations is to make them in the style of concert tickets or VIP passes. Ebay is actually a great marketplace to find custom-made invites
in the form of tickets. Either that, or Google "Justin Bieber party invitations template" to find printables (they're definitely out there and are uber-easy to use – fill in the party information, click print, and voila).
If you've particularly creative and have some extra time, you can pull together your own ticket-style invitation. Import a full-color Justin image onto a Word or other document, print the party information in the rectangle where seating info typically goes, and print it all out on glossy paper.
If you're short on time, of course, you can buy the party invitations. Trust us — as parents, we know what it's like to have a big project and only a little time. So go for this option if you need to; the guests will love it.

Party Activities
You already know what your teen likes, but you don't usually let her do all of it at the same time. Now's your big chance to treat your special girl to an all-out party experience with as much food, playtime, singing, secret-sharing and giggles as she can handle!
Offer lots of play options, such as:
Set up the X-Box, Wii or other game console. Make sure you and your child decide ahead of time what games to have out and that they're all two or more player accessible so guests waiting to play the game can get there faster. Put a time limit on each game so everyone gets a turn.
Rent or buy a karaoke machine and have a karaoke contest. Mix it up with various pop artist options or have it a "Justin song only" contest.

Play "Pin the Kiss on Justin." This is SURE to get giggles. Print out an oversize image of Justin's face or buy a poster; tape this to the wall. Each guest in turn is blindfolded; then you put red lipstick on her lips. Spin her around three times (a la "Pin the Tail on the Donkey") and head her toward the poster. See who lands the closest to Justin's lips.
Play "Name That Justin Tune." You man the controls for this one; play a snippet — perhaps two to three seconds worth — of a song off a playlist you've compiled.  Guests then call out their guesses. Keep track of who makes correct guesses the quickest, then give everyone a small prize, with a larger prize (perhaps a Justin poster or CD) for the grand winner.
Play "Justin Trivia." Compile as many factoids as you can find (remember, the internet is your friend) about Justin's career, early life, etc. and print them off on sheets of cardstock. Cut them into individual questions. Let one guest ask the questions while the guests attempt to answer, one at a time. Go around the circle like this until all the questions are done; the winner, or winning team, receives a special prize.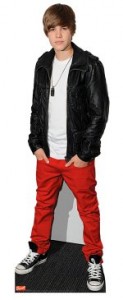 Party Decorations
Two words: Justin Standup! Yes, you can buy this, and the guest of honor will LOVE it. Let guests stand next to the standup in whatever silly poses they'd like and take pictures. This fun party prop is sure to earn a place of honor in the birthday girl's room after the party is over – or in your living room if you can't convince her otherwise!
Be sure to deck the place out in awesome rock-star decor. Rent a helium tank and fill tons of Justin and music-theme balloons; let them float all around the party area for a dreamy effect. Buy a party tablecloth, plastic forks and spoons, cups and napkins that match the colors you've chosen, and/or simply have Justin's face or a reference to Justin on them.
You can also print out, on shiny paper, images of Justin's albums or singles, such as My World and My World 2.0 and the songs Baby, Never Say Never, Somebody to Love, One Time, U Smile, Love Me and One Less Lonely Girl (I can hear my cousin saying "squee!" right now!)

Food – and More Food!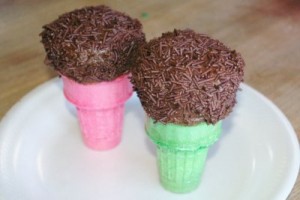 Music, giggling and rocking out is a certain recipe for making young girls hungry. So be prepared with lots of sweet eats and treats. Mix it up with easy, grabbable snacks, like chips (see below), along with one or two truly awesome snacks. Two of our favorites are pizza on a stick and microphone cupcakes.
For quick and easy snacks, put out bowls of potato and corn chips, Crunch 'n Munch popcorn (mmmmmm), mac and cheese, popcorn chicken bites, mild jalapeno poppers or anything junk-food-y that guests will love. Remember – it's just one night and it's your child's night to party! Actually, I once read about Justin's eating habits – lots of pizza pops and junk food between concerts! But keep things within reason; for your own sake, leave super-messy items like barbecue sauce off the menu – you can still serve buffalo wings, sans the extra sauce. So be sensible about your choices.

Wrapping it All Up
At the end of the party, be sure to hand out goody bags to guests with fun jewelry, temporary tatooos and a handful of candy for younger guests, or makeup items for teens – check out your local dollar store for plenty of choices. Or if it's a smaller party, pick up some Justin Bieber CDs and hand them out as guests leave. By the way, these are also great ideas for party game prizes.
Your teen will love you for your efforts, and you'll be the real rock star, at least in her eyes! So go for it.