Thanksgiving / Fall Harvest Party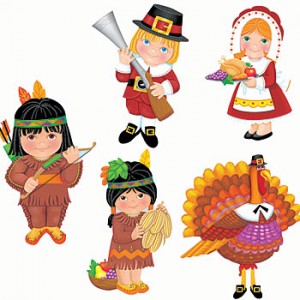 Thanksgiving party supplies, available at
Shindigz
Ah, beautiful autumn! The delightful colors of the season, along with fun associations such as Halloween, Thanksgiving and fall harvest festivals, make autumn a pure joy — especially for kids, who see it all as one big splash of magic.
Of course, fall won't last forever, so make this season really shine for your child with a fun and memorable Thanksgiving/fall harvest party. Her guests will love the sights, sounds and yummy smells (and tastes!) of these awesome fall shindig ideas. Hint: These ideas for decor, food and games are great for birthday parties, too! Read on.
Decorating For Your Party: Autumn Colors
When it comes to a children's party, there's really no such thing as too much color, so take advantage of autumn's pretty hues and natural beauty for the party decor. Leaf party decorations are a must, of course; let your child cut leaf shapes out of red, yellow, orange and brown construction paper, then help her to hang them on the walls with removable double-sided tape.
Another fun idea for autumn leaf decorating is to hang your child's creations from the ceiling by ribbons in coordinating colors. They'll flutter as guests brush by the party area as if in a crisp breeze. Also choose great autumn-themed balloons; have them filled with helium at your local party store, or rent a helium tank. If the balloons manage to survive the party, send one home with each guest!
Choose child-friendly pilgrim, Native American, turkey, pumpkin and Indian corn paper cutouts and hang these on the walls, too. Or line them up at the rear edge of the table facing outward (bend the bottoms inward to make them stand up).
For a finishing touch, set out disposable brown, orange, yellow or red tableware including plates, cups, forks and spoons. You can find a wide variety of autumn party supplies here.

Awesome Autumn Party Activities
Now it's time to get the party started! Here are some fun party games to set up for your child and her guests: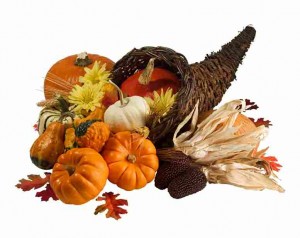 How Many Candy Corns are In the Cornucopia? (Or, How Candies are In the Jar?): Pick up a cornucopia (the hollow horn-shaped basket that is a symbol of "plenty" and Thanksgiving) at your local crafts store. If you can't find one, use an emptied, cleaned glass food jar instead. Fill the jar or cornucopia with candies and have guests eyeball them and guess the number as they enter the party. At the end of the party, announce one winner — he or she gets a special prize.
Pin the Wattle on the Turkey: Somehow, turkey wattles are naturally funny to kids, so simply being involved in the game will be fun for your child's guests. Draw and color a large turkey on construction paper using crayons or magic markers. Don't draw in the wattle (the hanging part underneath the beak), however.
Cut out the turkey shape and hang it on a wall. Now cut wattles out of red construction paper. Put double-sided tape on the back of each, and write a number of the front with a black magic marker. Blindfold children and play as you would Pin the Tail on the Donkey.
Pumpkin Ring Toss: Buy a large, fresh pumpkin from your local farm. Make sure it has a fairly long stem. Have party guests stand a short distance away and toss embroidery hoops or other circular shapes toward the stem. The guest who gets the most hoops around the stem wins.

Creative Party Crafts
Get guests busy with these fun ideas:
Leaf Sponge-Painting: Cut dry kitchen sponges into leaf shapes. Set out trays of red, yellow, brown, orange and green paint and pieces of heavy paper. Roll up everyone's sleeves and dive in to make fantastic and fun leaf shapes on the paper. Allow guests to take their individual creations home.
Indian Corn Napkin Holders: Make these adorable holders for kids to take with them in their goody bags. Print out instructions and place them inside your guests' goody bags so they can make more at home. Encourage them to create as many as they wish for their own Thanksgiving table settings.
Turkey Handprints: You probably remember this activity from your own school days, and undoubtedly your child has brought home a few masterpieces made with his own hands and some paint. Place brown, orange, red and other washable, non-toxic paint colors into disposable pie plates or small dishes. Have the children make prints of their palms only on paper, using the brown paint. Now let kids dip each of the fingers of the same hand into different colored paints, then stamp the colors directly above the brown palm print. The palm print is the turkey's body, the ring through pinky fingers are its feathers and the thumb is the turkey's head. To finish, draw the turkey's beak and feet with crayons.

Fun Fall Eats
Try these yummy fall foods for your Thanksgiving party:
popcorn (cheese or caramel flavor are delicious)
autumn-shaped cookies (use your favorite sugar or butter cookie recipe and cookie cutters in turkey, leaf, pumpkin, Native American feather, apple and other shapes)
apple cider (or apple juice) and donuts
grape juice
cut up grapes and apples
apples with caramel dip
apple crisp with ice cream
pumpkin bread or zucchini bread
Bon appetite — you're guaranteed to have as much fun as your child and her guests (especially when you taste your delicious creations).