Backyard Bonfire Party Treats
A Backyard Bonfire Party calls for Backyard Bonfire Treats!  Here are some ooey-gooey and fun snacks to serve at your next cookout party.
Campfire Sweets
S'mores Buffet
Traditional s'mores are made from two graham crackers, a piece of chocolate, and a toasted marshmallow.  What we do is build our s'mores complete and place on a pie iron.
Then just hover it over the fire.
You can also spice up your s'mores by adding some different things to melt, and different "sandwich" ingredients.
Instead of plain graham crackers, try these:  cinnamon crackers, vanilla wafers, shortbread cookies, chocolate grahams
Add some different fillings, in addition to chocolate: peanut butter, nutella spread, strawberry jelly, kit-kat bars, peanut butter cups, chocolate frosting, cream cheese
In addition to marshmallows, toast and add: apple slices, pineapple slices, apricots, strawberries
Banana Split
If you make this at home, you can add a scoop of ice cream when the banana is done.  Simply put one peeled banana (you can slice it up or not) in a foil "boat" with four or five marshmallows, a TEENY bit of butter, and a sprinkle of chocolate chips.  Roast over the fire 'till the marshmallows are gooey and chocolate is melted.
Apple Pie in a Pouch
Start by toasting apples on sticks until they begin to soften.  Then, remove from head and CAREFULLY remove the skin with a fork.  Then, dip the apple in a cinnamon and sugar mix to coat, and wrap in roll-out pie crust.  Return to the heat, and turn until the crust is evenly brown. Enjoy!
Savory Dinners and Snacks
Hobo Dinners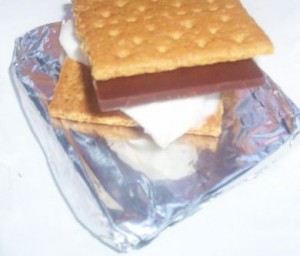 A fun dinner that folks can assemble from a menu of choices.  Set out the following "fixins":
Thick hamburger patties (raw)
Hot Dogs
Frozen corn
Chopped onions
Chopped carrots
Diced potatoes
Frozen peas
Ketchup
Mustard
Brown Sugar
Barbecue sauce
Provide foil sheets. Spread butter or olive oil on the inside of the foil. Let people fill their foil packets with goodies. Wait for your fire to turn into a pile of hot embers. Using bbq tools, bury them in the hot coals to bake.  Allow about one hour for packets with potatoes and carrots to fully cook. I had these in Boy Scouts – I still remember how delicious it was!
Pigs in Blankets
Wrap pieces of hot dogs or mini-franks in biscuit dough.  Then, layer on grilling forks and toast until biscuit dough is cooked.
Bacon-Wrapped Shrimp
Clean and peel the shrimp, and wrap in bacon.  Layer several on a stick and toast until the shrimp turn pink, and the bacon is cooked.
Tomato Basil Kebabs
If you MUST eat healthy, this snack will do the trick.  Simply alternate cherry tomatoes with basil leaves on a grilling fork.  Brush a little olive oil on the tomatoes.  Then, toast over the fire until the tomatoes become juicy, and start to turn black.  They will just BURST with flavor.
The main rule for Backyard Bonfire Party Food is: make it fun and make it delicious!