What theme is more adorable for your little girl than a ladybug theme party? This can also make for a perfect theme for a bridal shower or baby shower as well if this happens to be a love of hers. Though they are bugs, they happen to be dainty and cute, (not to mention quite fashionable) therefore making them a nice little theme for a party.
Many people wonder though what they can serve to their guests as this very specific type of theme party? If you keep with the color theme and serve up dainty and delicious foods, you will set the tone right away.
Keep with the Color Themes
What's the most distinguishing feature about ladybugs? Besides the fact that they are the daintiest beetle and that they are considered to be lucky, the fact that they are red with black spots definitely comes to mind. You can serve up foods with this color theme such as black and red licorice, jelly beans and hard candies. You could even have some customized black and red M&M's special ordered
and put the guest of honor's name and occasion on them. You can go for chocolate covered strawberries that represent the black and red just perfectly. Try to serve up foods that are only in either of these colors and it helps to carry off the palette a bit better.
The Main Fare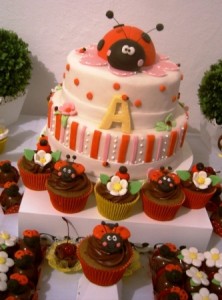 Ladybug Party cake by
Ana Fuji/Flickr
So how can you serve a delicious meal that keeps with the ladybug theme? Try incorporating the colors into a favorite dish such as a giant salad that has ripe red tomatoes with black pumpernickel croutons piled on high. You could create personal pizzas for each guest that has tomatoes, pepperoni, and black olives on them for that nice little ladybug touch. Another idea is hollowing out bright red tomatoes and stuffing them with a chicken or tuna salad. For the accent, line with black olives for the right effect.
The All Important Desserts
You can really carry out the theme with the dessert course and have fun with it too. Cupcakes are so popular these days and what a better way to serve dessert and keep with a ladybug theme than these! Ice with chocolate frosting and then incorporate red hot candies or sprinkles to carry forth the colors.
If you want to create a mud pie you can use Oreos to set the scene in chocolate pudding, then incorporate red accents wherever possible such as red candies or frosting squirts. You can also serve up something a bit more sophisticated if the party is for an adult such as chocolate mousse with fresh raspberries on top. So long as you carry out the red and black color theme, the guests will love the party and the food you serve!