Ooo-la-la! If you have your own little "Fancy Nancy," then these party ideas are for you! Bring out the feather boas, ruby shoes, tiaras and old dresses for your birthday girl and posh guests to dress up in.
Fancy Nancy is a glamorous little girl (around kindergarten age) who has a distinctly un-fancy family. It's a series of books
written by Jane O'Connor and illustrated by Robin Preiss Glasser. She likes to live every minute to the fullest and to "glam up" all of her events and happenings. She has a doll named Marabelle Lavinia Chandelier, and loves anything French and exotic. She uses fancy words and helps bring "iridescent" sparkle to every occasion.  That makes "Fancy Nancy" a great birthday party … urr … soirée theme. Let's dive right in!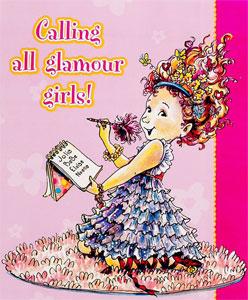 Fancy Invitations
You can go several different ways with the invitations.  You can send licensed "Fancy Nancy" party invitations.  You would get these from a party store, they will likely have one of the beautiful watercolor/ Pen & Ink drawings from the Fancy Nancy books.  They'll give your guests ideas for how to dress and what to expect.
You can also make your own "Fancy" party invitations.  Here are some ideas:
Send a feather boa to each invited guest.  Attach a "fancy" (read: glittery or shiny) piece of paper with the event details on it.  Encourage your guests to dress up, including wearing their feather boa to the party.
Make invitations in the shapes of butterflies or hats, two of Fancy Nancy's other favorite things.
Include some sparkly confetti in your envelope when sending paper invitations.  This will make the invitation fancier.
J'adore Décoré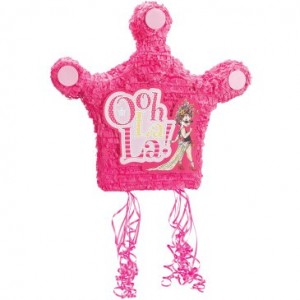 To decorate for a party filled with panache for your chic little fashionistas, you'll need lots of the following, in Pink and Purple colors:
Crepe paper
Tulle
Ribbons
Balloons (both latex and mylar)
Artificial flowers
Decorating with pink and purple (Fancy Nancy's favorite colors) and a variety of materials will take your party from drab to fab.  Here are some ideas for where and how you can use the pink and purple to "pretty up" your party area:
Decorate the chair backs: Use white tableclothes or white sheets to cover the chairs.  Then use pink or purple ribbons or tulle to tie around the chair backs (like they do at weddings).  Anchor with a big fuschia bow or a bouquet of flowers in the back.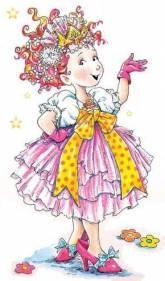 Decorate the table: Use a pink or purple tablecloth and tablecloth weights that match the scheme: hats, hearts or anything else "fancy."  If you have a pretty cake or tiers of cupcakes, put those in the center of the table for centerpieces.
Light fixtures: Shiny ribbon and crystals can turn any ordinary light fixture into a chandelier.
Doorways, windows: Fancy Nancy loves butterflies.  Buy butterfly magnets, butterfly decals, and delicate butterfly decorations and let them "fly" through the house.  Stick them on windows and attach them to doors and windows to add a fluttery fancy effect to your decor.
Pinata:  Use a ribbon-pull pinata as one of your party decorations.  The ribbons will add to the decor, and then the pinata becomes a party activity.
Fancy Nancy is so natural for a party, the creators and Harper Collins (publisher of the books) created an entire party central section of the website. You can check it out here to download PDFs, coloring pages and party recipes.
Fabulous Feasts
One way to make your party fancier is to serve food and drinks on "fancy" plastic-ware.  You can find "crystal" (plastic) punch cups and plates, silverware and parfait glasses.  The presentation will make a difference to make your party fancier.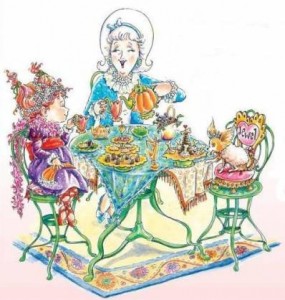 Also, when plating the food, use edible flowers or a pretty napkin or doily between two clear plates to make the dishes fancier.
Here are some must-have menu items for a Fancy Nancy party:
Punch: Make a punch from sprite, raspberry sherbert and cranberry/apple juice.  It will be fizzy and foamy and fun.
Heart and star shaped sandwiches (use a cookie cutter to cut out the shapes)
Fruit and yogurt parfaits-a healthy snack and a "fancy" one, too. Layer brightly colored fruit and vanilla-flavored yogurt into parfait glasses.  Serve with a long pink plastic spoon.
Cupcakes: these are sometimes easier for fancy little fingers to handle.  Remember to decorate with sparkly sprinkles!
Another neat idea is to go all out with a princess tea party.
Bon Appetit!
Activities
Almost any game can be adapted for a Fancy Nancy party.  These will definitely add to your party atmosphere:
Hat decorating:  Give each child a hat.  Have glue, features, glitter, foam shape cutouts, stars and more for them to glue on their hats.
Fashion Show: Remember to invite all of the guests to dress up for the party.  Then, about halfway through, have a fashion show with fun music.  Give each participant a prize.
Pin the jewel on the tiara: A new twist on an old favorite game.
Charm school: Tres Posh girls know how to be charming.  Practice teaching them to walk with books on their head,  How to sip tea properly, say please and thank you, cross their legs at their ankles, etc.  (They'll find manners to be fun if they're part of a party.)
Visit to the Salon:  Do the girls' hair, put on lip gloss and little stickers on their nails!

Vintage Favors
Anything fancy will be a great addition to a Fancy Nancy goodie bag.  Here are some of our favorites:
Lip gloss
Fancy hat
Plastic tiara
Fancy Nancy Books
Coloring books
Butterfly stickers
Plan your Fancy Nancy party as a no-holds-barred glamor event, and your guests will simply be charmed!