A garden baby shower theme is a fun and feminine way to celebrate the impending arrival of a new bundle of joy.  This theme is especially easy to organize during the spring and summer, when fresh flowers and potted plants are available and at their peak.  With fresh flower accessories and a pretty in pink garden baby shower party pack, you'll host a baby shower for your friend, sister or co-worker that she'll remember forever! Here are some ideas on how to plan one.
Tiptoe through the Tulips: Invitations
Create baby shower invitations that reflect your garden theme.  Here are a few ideas for cute shower invitations:
Butterflies and Bows
Make invitations from craft paper.  Shape them like butterflies.  Make the wings two layers of paper, secured at the outer edges of the wings.  Those will open up to reveal the shower details.
Flowers and Fun
Create a fun floral invitation.  You'll need white, yellow and green paper.  Make large daisies the size of your hand. Cut yellow circles for the center, and petals to glue along the outside.  A stem and two leaves will give you additional places to write event details.  (example: http://www.creativeweddingfavors.com/CCTAN4435-107-daisy-petal-save-the-dates.html)

A Garden of Joy: Decorations
Decorating for a garden party themed baby shower offers lots of creative and fun ideas.
Balloons: Latex and mylar.  Fun shapes like flowers, lady bugs, and butterflies.  Get more out of your balloon bouquets by mixing one mylar and two or three latex balloons.  Scatter three to five balloon bunches around the house for maximum impact.
Crepe Paper: Crepe paper is your best friend! It is inexpensive, and really adds a festive air to a party.
Pots of annual flowers: These can double as favors.  Get small terra-cotta pots or little galvanized buckets.  (Make sure you use a hammer and nail to poke holes in the bottom of the buckets for drainage.)  Fill them with potting soil, and pot up petunias, gerber daisies, and other flowering plants.  Do this about two weeks before the baby shower to let the plants grow and fill out.
Set a Festive Table
Your table for lunch or treats can be the centerpiece of your decorations.  A fun birthday cake, flower arrangements, and festively colored tableclothes will set the scene.   Roll up tablewear (forks, knives and spoons) in napkins and secure them with ribbon.
A pretty cake, or even better, cupcakes stacked on tea trays can be dessert and decorations.  Make your own cupcakes, frost with pink icing, and decorate with slices of jellied fruits for a bit of color.

Butterfly Nectar: Food & Drink Ideas
You can use your food to do double-duty as decorations.  Make your treats as pretty as possible, and they'll help you decorate.  Here are some menu ideas for your garden party baby shower:
Vegetable pizza (Bake a crescent roll tube in the shape of a pizza and let it cool.  Spread cream cheese over it and top with chopped onions, broccoli, and crumbled bacon.  Serve chilled.)
Raspberry Lemonade (Serve this in clear glass pitchers with floating raspberries and lemon slices.)

Foods courtesy of

Kim Valée

Veggie bouquets & Dill dip (see recipe below)
Fruit kabobs
Cupcakes
DILL DIP
| | |
| --- | --- |
| Ingredients: | |
| 2/3 cup sour cream | 2/3 cup mayonnaise |
| 1 T parsley | 1 T instant minced onion |
| 1T dill | ¼ t. dry mustard |
Mix all ingredients, and serve.

Hide and Seek:  Party Games
For your shower games that require writing, hand out "flower pens
".  They can double as favors.
Most of these games are typical baby shower games, but they're always fun.
Guess Mommy's Size
As each guest arrives, give her a roll of ribbon, and ask her to cut the length that she thinks would measure the baby mamma all the way around.  Give a prize to the person who gets the closest to the actual size.
Baby Gift Bingo
Make bingo cards with gifts that mom's to be usually get at baby showers.  (Each card needs to be different, and include some different items.)  Here are some items to include on the bingo cards: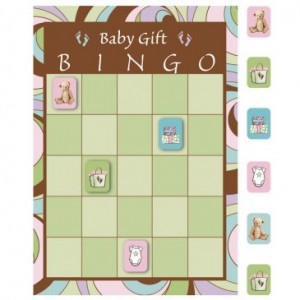 Changing pad
Baby blanket
Bottle
Diapers
Stroller
Crib
Changing table
Onesies
Outfits
Shoes
Socks
Burp cloths
Bottles
Pacifier
Nose aspirator
Bath care
Stuffed animal
Baby wipes
Baby clothes hangers
Baby swing
Photo album
Video camera
Still camera
Picture frame
Rattle
People can mark off items as gifts are opened.  This makes the gift opening section more interactive for the guests.  The first person to get bingo, wins a prize!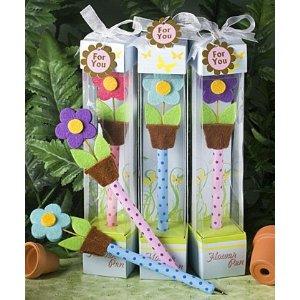 Pocket full of Posies: Baby Shower Favors
In addition to the flower power pens you use during the games portion of the shower, and/or your flowerpot centerpieces, here are some other ideas for garden party baby shower favors:
Seed packets with personalized labels like: "Cutie pie flowers" and "Brand new baby's breath" and "Hearts a burstin' with love"
Lollipop bouquets (Tie these up with colorful bows.  You could even incorporate a few silk leaves and wrap the bunch with floral tape to make a "real" bouquet.)
Brightly colored, personalized watering cans
Flower-shaped floating candles
Cookie cutters in the shape of flowers
Your guest of honor is "growing" a little bundle of joy.  Plan a garden party baby shower to celebrate this special event!