Surf's Up Party Food Ideas
Your party food can do double duty as sustenance for your guests and as part of the party theme.  Here are some food ideas for a Surf's Up party, or any bbq, summer or luau-themed party.  These treats will keep your groms and wahines well-fed to enjoy their surfing activities!
Grom Guacamole
This is an easy guacamole recipe that will keep even the hungriest surfers satisfied.
Ingredients:
3 Avocados, mashed
Juice from 1 lime
One ripe, but firm tomato cubed
1/2 onion, diced
1 clove of garlic, mashed
Directions:  Mix together and serve with tortilla chips!
Virgin Margaritas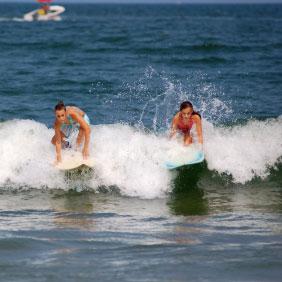 Add tequila to make them "real," but this version is good for the kiddos.
Ingredients:
Ice
High-quality sour mix
Juice from three limes
Fresh strawberries.
Directions:  Put everything in a blender and blend.  Serve with a sugared rim (if making virgin margaritas) or a salted rim (if you're using tequila).  Garnish with a slice of lime and some cherries on a sword pick.
Baja Shrimp Tacos
Ingredients:
Corn tortillas
Grilled Shrimp
Shredded cabbage
Shredded cheddar cheese
Fresh tomato salsa
Directions: Steam the tortillas by microwaving in a wet paper towel for 30 seconds.  Then, fill with shrimp, cabbage, cheese and salsa.  Serve!
Fruit Kabobs
Nothing is more tropical than fresh fruits!  Get some bamboo skewers from the grocery and create your own fruit kabobs with cantaloupe, grapes, strawberries, pineapple, apples and bananas.  (Dip in fresh-squeezed lime or lemon juice to keep the fruit from turning.)
Frozen Bananas dipped in Chocolate
A fun surf party food is a frozen banana that's dipped in chocolate.  First, put a popsicle stick into the banana.  Then, freeze on a cookie sheet.  Next, heat some chocolate in a double boiler (over hot water-be careful not to get any water in the chocolate) and dip the bananas in.  Set on waxed paper on the cookie sheet and put back in the freezer. Take them out RIGHT before serving.