Neat (and Weird) Alice in Wonderland Party Invitations
One of the most fun aspects of hosting an Alice in Wonderland party is that there are so many opportunities to create weird and wonderful party invitations, decorations and costumes.  To start the party off on the right note, go all-out with your Alice in Wonderland party invitations.  You can even incorporate items that the guests will bring with them to the party and use for different themed activities.  Here are some ideas to let your guests know that your party is NOT one to be missed.
Contemporary Invitations
The Alice in Wonderland books offer plenty of interesting quotes and quips that can be deployed as the fronts of invitations.  Try some saying like:
"Have you thought of at least six impossible things before breakfast?"
"Eat Me" or "Drink Me"
"Who are You?"
"Don't be Late, Don't be late for a very important date!"
would all be right at home on an Alice in Wonderland party invitation.
Print these sayings on square cards, using only red or black ink.  On the inside (or the back of the square) include the party details.
Props as Invitations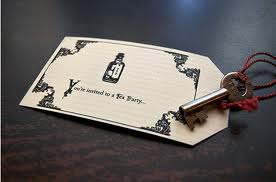 Invite courtesy of
Boksomdaais
The lucky few invited to the Queen's croquet match play croquet with pink flamingos.  What fun would it be to attach an invitation card to the neck of a pink flamingo and deliver it to your party guests?  Be sure to include all of the important details on the invitation!
Costume-Inspired Invitations
Have a little bit of fun with your guests before the party!  Ask each guest to dress up for the party as a different character from Alice in Wonderland.  As part of their invitation, send the party details as a prop.  For the person dressed up as the White Rabbit, include a pocket watch.  The Mad Hatter will, naturally, get a hat.  Playing cards will get playing cards.
Yes, this invitation type would be best for parties where everyone is going "all out," but they would kick up the action a notch.
More Conventional Alice in Wonderland Invitations
These invitations are just as fun, if not a little bit more conventional than other ideas.
Playing Card Cookies: Decorate a cookie like a playing card.  Include a tag that says "eat me" on the front, and details about the party on the back.  Wrap the cookies in clear cellophane bags and tie up with red and white ribbons.
A Cardboard Mad-Hatter Hat: Make a mad-hatter hat out of construction paper or cardboard.  On the inside of the hat, write the party details.
Queen of Hearts:  On large, red construction-paper hearts, write all of the details of your Alice in Wonderland party.
These are just a few ideas to help your wheels turn to think of fun and interesting Alice in Wonderland party invitation ideas.
I've found that a lot of creative people offer their services at Ebay
, Etsy and Zazzle. Below I created a listing of current services for Alice in Wonderland invitations at Ebay: