How to Make a Sue Sylvester Costume from Glee
One of the most fun characters on the show "Glee" is the cheerleading instructor Sue Sylvester.  She is both funny and terrifying.  That makes her a perfect character to dress up as for Halloween, or for a costume party.  Luckily, Sue's fashion choices are pretty consistent, so it is also pretty easy to come up with a costume that says "Sue".  Here's what you need, and here's how to put it all together:
Costume Clothes & Accessories
To transform yourself into Sue Sylvester, you will need the following items:
Pulling the look together
The colors of all of the accessories and items should match.  Blue/white, red/white, black/gold, etc.  Then, in order to really get into character, you'll want to make sure that you have your stopwatch, clipboard and megaphone ready to go when you walk into your party.  Sue likes to shout cutting one-liners into her megaphone.  She also likes to whisper snidely into people's ears.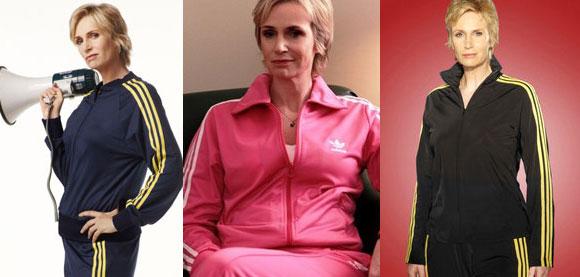 Extra Credit
You'll get extra credit for your Sue Sylvester costume if you channel her stint as music-video star with Olivia Newton-John.  You'll need terrycloth sweatbands (for your head and wrists) to complete the look.