Mickey Mouse 1st Birthday Party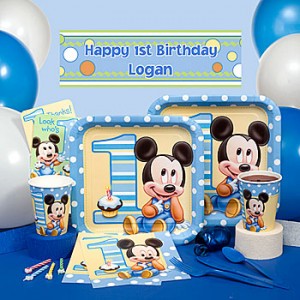 Mickey Mouse 1st birthday party kit, available at
Shindigz
Come inside – it's fun inside! Mickey Mouse (and his Clubhouse) makes the perfect 1st birthday party for your little one. Here's how to put together the decorations, set up a menu, create some fun games and send invitations for your child's Mickey Mouse 1st birthday party.
Mickey Mouse Party Invitations
Choose pre-made Mickey Mouse/Mickey Mouse Clubhouse party invitations to save time. The theme is popular for kids five and under, so your guests are sure to give a little squeal when they see a paper invite in the mail just for them.
Add a little Disney magic by dropping half a teaspoon or so of glitter into the envelope before sealing it.
Your little one can help decorate her own invitations using stickers, stamps or magic markers. At this age, she'll need a lot of help, but a card "signed" by the birthday boy or girl for her very first birthday will become a keepsake for your guests.

Party Decorations
Décor should match the Mickey Mouse theme, of course. Try Disney or Mickey Mouse Clubhouse cups, plates, forks and spoons; napkins; a tablecloth; streamers and helium-filled "mouse ear" balloons. Place the balloons high enough so the little ones can't reach them – else there will be a lot of popping and possible tears!
Whether or not you follow the Mickey Mouse theme exactly, do decorate in primary colors (red, yellow and blue) as well as other bright colors kids will find appealing, like bright green or purple.
A Mickey Mouse airwalker balloon will put a grin on every guest's face as he or she enters the party. Have one blown up and standing by the party table, "waving" hello to guests.

Fun Mouse Party Games
Chances are a first birthday party will include other little ones – from daycare, from extended family or perhaps your neighbors who have a child, too. Have a few age-appropriate activities ready.
Try easy childhood games like "Duck, Duck, Goose" and "Red Light, Green Light" (have an older child be the "traffic officer" who calls out "Green light!" to allow children to rush forward, then "Red light!" when they must freeze in place, often with hilarious results).
Also try easy board games, such as matching games or memory games, where guests must remember where one turned-over card was (turn it back over so they have to guess) to match with another they've just chosen.
Other fun for little ones include bubbles – every child loves blowing bubbles or having an adult help! — and, for the Disney theme, wearing Mickey Mouse ears
or a Mickey T-shirt.

Foods For Your Mickey Mouse Party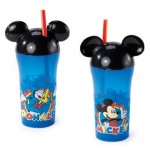 For very young guests, choose soft foods that kids won't choke on. That may seem obvious, but you'd be surprised how many babies' parties I've been invited to where there were M&Ms or chewing gum out on the table for tiny hands to grab.
Instead, opt for soft bakery cookies or cookies made specifically for toddlers; cooked and cut up veggies; cut-up fruit (cut very small fruits, like grapes, in half or quarters); pasta with butter or with tomato sauce; and fruit drinks.
Preschool-age children will do better than very little guests with such traditional party snack items as chips and candy. They will also enjoy sandwiches – cut out fanciful shapes in the prepared sandwiches with cookie cutters to make them cute and appealing. A mouse is ears is an obvious cut-out choice!
Give out Mickey Mouse drink tumblers for children age one and up; they'll love to have their drinks this way, and the cups double as goody bag stuffers when it's time to go home.

Goody Bags
And speaking of goody bags – these are a must for any child's party. For infants or children 12 months and under, enclose small rubber bath toys and yummy foods into a Mickey Mouse box; check the infant aisle in your grocery store for prepackaged infant-friendly goodies.
For older kids, choose candy, stickers with a Mickey Mouse theme, Mickey Mouse "ears" to wear, and Mickey and Minnie Crazy Straws. You'll send all your guests home with smiles.