C3P0 Star Wars Birthday Party
Fretful but loyal and surprisingly brave when the chips are down, C3P0 is one of Star Wars' most beloved characters. And it's not just his ultra-cool gold-colored body … it's the way he adds an element of surprise risk-taking (and sometimes humor) to all the Star Wars releases.
So if your little one is begging for a C3P0 Star Wars birthday party this year, I have to say I'm not surprised … nor am I a stranger to arranging this awesome theme. After the third year in a row that my youngest son requested a Star Wars party and reminded me to include "3P0", I've found a whole host of ways to celebrate this fun character and stellar 30-year-old series.
So let's get started on your child's fabulous C3P0 party. Not long from now, in a galaxy right in your living room…
Prequels and Sequels and 'Toons, Oh My
One plus to this party idea is that whether your little Jedi loves the sequel trilogy, the prequels or The Clone Wars
in either cartoon or CGA, C3P0 is in all of them! This means you can mix and match different 3P0s (for instance, his half-finished form from The Phantom Menace and his snazzy gold-plated physique two movies later).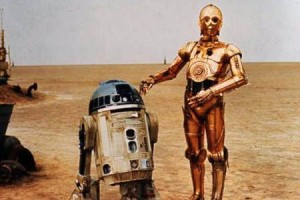 So if you're unable to find a full set of plates, cups, tablecloths, centerpieces and decorations from one particular Star Wars movie, you'll still be fine (unless your youngster is VERY particular – be sure to ask ahead of time which movies he likes best, just in case).
But do make the decorations Star Wars themed, and do have 3P0 be the star of the show. Consider buying a cardboard standup of 3P0 and taking pictures of the party guests alongside the famous droid. Your youngster and all her friends will love it.
Eats That Are Out of This World
Of course, it's all about the cake (and the other goodies), so have some eats that will send the party guests right into orbit.
Star Wars battle scene cake. Your local bakery may already have an edible Star Wars cake creation; be sure to order well ahead of time so it's ready on the big day. Or, if you want to get creative, make a Star Wars battle scene cake. Buy plastic Star Wars figures and stand them up in the cake icing, facing one another as if in battle. (The figures can double as party favors after the cake has been served.)
Star Wars cupcakes. Cupcakes are a great alternative to cake and keep portion sizes down to a dull roar. Use Star Wars cake toppers to dress up the cupcakes.
Space ice cream. "Space" ice cream – a dehydrated form of every child's favorite treat – is popular and is an inexpensive buy. Serve it up at the party or enclose it in the guests' goody bags for take-home.
Pop Rocks. Another old time favorite, kids have been enjoying this fizzy, "popping" candy for more than 30 years.
Easy eats. For the lunch or dinner, serve up something super-simple, like takeout pizza or macaroni and cheese. Candy is great, but you'll want something in the little one's stomachs that doesn't involve sugar and is "grab-and-go."
Party Fun
Star Wars piñata. Try a Star Wars, outer-space, planet or C3P0 pinata. Have the guests collect the treats that fall out and put them in their goody bags.
Star Wars trivia. Depending upon the age of the party guests, collect a set of questions about any/all of the Star Wars releases. Go around in a circle, asking questions in order. The last person to be "out" is the winner.
Space jump. Consider renting a space-theme inflatable jumper or water slide if the party will be outdoors and the weather is expected to be warm.
Movie marathon. Show the series your child likes best during the party.
Hope your little one's party is out of this world!