If the Force is strong with your young one, treat him (or her!) to a Star Wars birthday party. The possibilities are out of this world, and his reaction will send you into orbit. Star Wars is the perfect theme for grown-up "kids," too. Here's how to get started.
The Party Invitations
When creating or purchasing Star Wars party invitations, you may want to have one particular set of movies or TV shows in mind. (See our reference guide below, "Who's Who in the Star Wars Galaxy," for help—or just ask your own little Jedi.)
No matter what theme you choose, you can give your invitations a Star Wars feel. For instance, if you will be having a Death Star pinata, your invitations can reflect this:
THE ALLIANCE NEEDS YOUR HELP!
Strong is the Force in you. On (date) the Death Star will be approaching, and we need your Jedi skills to help (name of the birthday boy or girl) defeat Darth Vader and rescue Princess Leia.
Please park your speeder at: (party location)
On: (date)
The party blasts off at: (time)
We'll be serving Yoda's special swamp water and Luke's galactic snacks to help in your quest.
STAR WARS COSTUME CONTEST: Come dressed as your favorite character and win a light saber!
For an adult, movie-theme party, try:
Coming soon…to a suburb near you!
STAR WARS MOVIE MARATHON
The showing starts at: (time)
There will be plenty to eat, but let us know any food restrictions and we'll accommodate you. Bring your best costume, your lightsaber…and an appetite for fun!
Decorating Your Galaxy
Decorations definitely make this party theme, and you really can't overdo it, so have fun! Certain colors go with certain themes (for instance, dark blue, black and silver for The Clone Wars series). Cut out paper stars, planets and photos of Star Wars space craft and hang them from the ceiling. Always include one Death Star in the corner, looming with menace! Of course, you can have the Death Star as a pinata as well! Check out how to make one here.
Hang streamers, have plenty of balloons and consider a wall mural for a real galactic feel. Check out the full range of decorations at Celebrate Express or Amazon.com.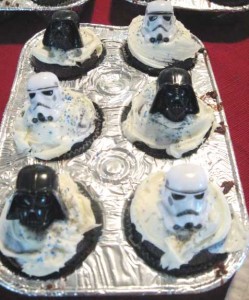 Put centerpieces on the gift and food tables; premade centerpieces are perfect (and easy), as are helium-filled balloons (consider renting or buying a disposable tank to make things easier on the morning of the party).

Stellar Games and Food
Your guests will come ready for fun, so give it to them! Here are a few ideas:
Have a pinata. Making this a "bad guy" is perfect—try a Darth Vader pinata filled with goodies and let the kids swing. (For younger children, try a "safety pinata" with pull strings instead.) Or, create a Death Star pinata! If you can't find one, simply buy a pinata with a spherical shape, and paint it grey, white and black.
Act out. Have the kids reenact a favorite Star Wars scene (be sure to stress safety here!). Inflatable light sabers are a softer but still fun choice—tell guests to hit sabers only; never each other.
Get in character. Have masks or helmets available so kids who didn't already come dressed up can join in the fun. Masks are also a great idea for goody bags.
Play (movie) favorites. Have a Star Wars DVD playing in the background during the festivities.
Have a Sith Lord Invade the party. For older kids, an adult could dress as Darth Vader, the Emperor or Darth Maul, and challenge your young jedi to dueling light sabres!
Be sweet. Top your little padawan's cake with Star Wars themed candles.
Make galactic soda. Add three drops of yellow food coloring and one drop of blue food coloring to a liter of lemon-lime flavored soda or ginger ale to get an eerily green color effect. FOR GALACTIC PUNCH: Add pineapple juice to the blend.
Party bags. Once Darth Vader is defeated and the Death Star destroyed (or whatever Jedi mission your party-goers accomplish), give everyone treat bags. Your local dollar store should have Star-Wars themed bags, where you can add stickers, little light sabers, a Star Wars figure and Pop Rocks candy (I always thought Pop Rocks had an interplanetary quality to it!)
Who's Who in the Star Wars Galaxy
If your child has requested a specific "time period" or character cast for his or her party, choose from among the following:
The original classics: Episodes 4-6. With the first of this series released in 1977, these movies feature the familiar characters Luke Skywalker, Princess Leia, Han Solo, Yoda and the mature-aged Obi Wan Kenobi, as well as the evil Darth Vader and the Emperor. Droids R2D2 and C3PO and fuzzy Chewbacca lend a hand aboard the Millennium Falcon.
Back in time: Episodes 1-3. These more recent releases tell the story before the 1970s and 80s releases. They include the young Anakin Skywalker, Queen Amadala/Padme, Jar Jar Binks, Yoda, Mace Windu, Qui-Gon Jinn, a young adult Obi-Wan and bad guys such as Darth Maul and the Emperor/Senator Palpatine. Droids R2D2 and C3PO help the fight.
Star Wars: The Clone Wars series: This TV series is shown in ultra-awesome CGI. Chronologically, it takes place after Episode 2 and before Episode 3. There is also a Star Wars: The Clone Wars movie in 3D GCI. Heroine Ahsoka Tanu makes her appearance as Anakin's young apprentice.
Star Wars: Clone Wars cartoon series: This Cartoon Network series was produced in cartoon form beginning in 2003. Yoda, Mace Windu, Obi-Wan, Anakin, Kit Fisto and others battle it out with the evil Empire-in-the-making.
Check out the Wikipedia article to catch up on your Star Wars knowledge.
Have fun—and may the Force be with you!