Alice in Wonderland Cookie and Dessert Ideas
What better to serve as the theme for your next get together than Alice in Wonderland! You can center the party around a tea party and serve up the wildest desserts for all of the guests. One of the things a tea party is known for is of course the desserts, and therefore you need to be sure that you have the very best to serve up.
Playing Card Cookies
These are simple to make and yet so delightful to serve. Guests will get a kick out of the playing card cookies, and they are delicious and perfect in keeping with the theme. Here's all you need:
Graham Crackers, single
Cream Cheese Frosting
Candy Pieces
Icing, Black and Red Only
Use the cream cheese frosting to frost each graham cracker piece. Then use candy pieces to create the designs on the cards (spade, diamond, etc.). Finally, use the icing to draw on the numbers. Voila—you have adorable playing card cookies that are easy to create and keep with the theme in a very special way!
Eat Me Cupcakes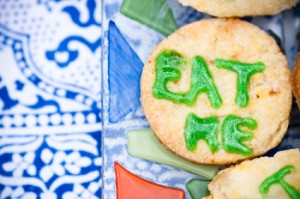 As the phrase and the wording "eat me" is a famous part of the movie and the book, you simply must have some dessert that reads as such. The perfect way to pull this off is to make your own cupcakes (or even buy them in the store if you are pressed for time).
Create cute little tags that you can put onto each cupcake that reads "eat me". All of the guests will get a kick out of this delicious treat that carries out the Alice in Wonderland theme just perfectly.
Cute, Fun, and Of Course Delicious
Even if you don't have any fancy recipes, you can turn any dessert into a Wonderland theme. A tea party is all about a wide offering of fun desserts, so you want to be sure that you offer just that.
Be sure that you have the perfect sweet treats such as scones, muffins, cookies, dessert breads, and any other finger desserts that you can come up with. To make it more wacky, name each one after a character or use inspiration from the movie: A scone with a smile can be a Cheshire cat scone. Cupcakes with top hats can be "Mad Hatter Cupcakes" – simply place a flat cookie and glue a marshmallow on top with icing, then cover with black icing.
Make sure to set the time to around 5:55 with an alarm for 6:00, and when it rings, everybody has to move to the left – or just mix yourselves all up. Also, a great time for musical chairs. Have fun!