Hosting a Mad Hatter Tea Party
He's one of the most recognizable yet difficult to understand characters of all times. The Mad Hatter from Alice in Wonderland has evolved into a beloved character through time, though he is truly mad and downright eccentric. To those who have seen the (many) movies, they embrace him as a pivotal character in the storyline. It can be a lot of fun to center a party around him and bring in cues from the movie to create that perfect ambiance.
The story behind the Mad Hatter is that he was sentenced to death by the Queen of Hearts for "murdering time" with his horrible singing – he and the March Hare managed to escape because the hands of time became stuck at 6:00 (because, you know, it was murdered.)
When Alice meets him, he is engaged in a nonsensical and never-ending 6:00 tea party – guests swap chairs and begin anew when the dishes get dirty. (The Hatter conveniently changes the subject when Alice asks what happens if they completely rotate around the table to the first of the dirty dishes.)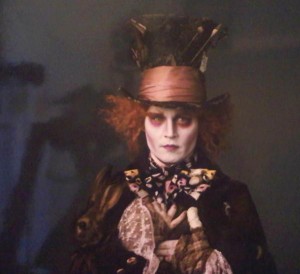 Creating a Mad Tea Party
Why not turn his strange misfortune into your own Mad Hatter tea party theme? Be sure to make it eccentric and lopsided in nature. Bring in bright and vibrant colors, just as the Mad Hatter wears. Set up a tea party but introduce unusual foods or at least give them unusual names to keep with his character and the story line.
Have desert first, followed by snacks. You can even go so far as to have people dress up as characters from the book, though you may just find that everyone is interested in portraying the Mad Hatter himself!
Riddle Me This
One of the main traits that people remember about the Mad Hatter is the fact that he speaks in riddles and rhymes all the time. This can be a fun way to hold a party, and you can almost come up with your own little language.
Have guests write a part to a story or a silly little riddle that can be read aloud. Then go around the table at your tea party and have them read aloud—they will make no sense but keep with the Mad Hatter's theme and presence. This can be a lot of fun for kids to come up with nonsensical rhymes and see what sort of story or antics are created in the end.
Show Him First Hand
What made so many people love the Mad Hatter was the way in which he was depicted in the movie. Amidst the fun tea party, crazy antics, riddles, and bright colors, be sure that you also have the DVD playing for all to see. A good choice is the newest version where the Mad Hatter is played by Johnny Depp. This can not only win people over but give them good ideas to act out at their own little Alice in Wonderland tea party.