Avatar Movie Party Invitation ideas
Avatar is one of the hottest movies to ever hit the screens. The lush 3-D world of Pandora and the realistic Na'vi natives has gripped the imaginations of nearly everybody who has seen it. With success comes Avatar movie theme parties! Though you may not go so far as to put dress in a skin-tight Avatar costume, you can certainly have a fun and creative theme party for it, either as a movie party or birthday.
To set the tone of this exciting theme, send out some spectacular Avatar invitations. Here's a couple ideas to get you going, plus some official invitations you can buy.
Think Blue and Green For Your Avatar Invitations
As the main characters in the movie are blue, and the surrounding forest is, of course, green, use these colors as the base for your invitations. Look for envelopes in an allusive shade of blue to draw in the interest.
Pick your favorite character and then feature them on your invitation – stickers are available, or download screenshots and glue them to your invite. Use green stock paper (to contrast with the blue envelope and characters), and add all the party details. If you have a color scanner, you can the scan the finished invitation, then add each name individually. Finally, take some with glow-in-the-dark paint and, carefully with a small paintbrush, use your thumb to fleck paint specks over the invitation and envelope. This will recreate the "bio-luminescence" inherent of Pandora's flora and fauna.
Avatar Movie Ticket Invite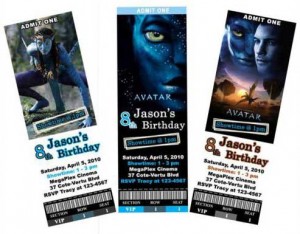 An Avatar community site has a great article on how to build your own Avatar movie ticket invites.
Also, there are a variety of people on Ebay who can custom-make any movie invitation tickets
for you.
If you decide to do it yourself, you can find ready-made movie ticket templates on the web. Download one you like into your graphics program, and change the colors to a variety of Avatar's blue colors – light blue is RGB 37, 202, 248, and the darker blue is RGB 0, 66, 142. The closest font used for the Avatar logo is called "Papyrus," which you can get free here (called Parchment – very close) or buy the actual font here
for less than $30.
(Home)Tree House
As much of the movie was centered around trees, such as Hometree, use this as a basis for your invitation. This doesn't have to be fancy, but you do want to take some time to cut out a nice tree shape. This can be easily accomplished using a stencil and then cutting out the shape using blue or green stock paper.
Another idea is to fold your paper in half, then trace and cut out a half tree, just like you would do a heart. It would have the effect of "entering" Hometree, where inside you can add little Na'vi characters and decorate with your glow-in-the-dark paint. If you know your guests will be huge Avatar fans, you can even add a small branch, saying they have earned a bow from a branch of Hometree.
Warrior Theme
As so much of the movie is centered around the battle for the trees and the territory itself, you can use some sort of warrior cues or theme to carry the invitation off. Consider cutting out the shapes of horses (excuse me, direhorses), the fiery Great Leonopteryx (aka Toruk, aka Last Shadow), the AMP Suit (that huge one-person walking war machine used by the humans) or some other cue as the main focus of the invitation.
Within the invitation, be sure you incorporate other aspects of the movie such as the trees, the characters, and the the blue color, or the characters so that guests are clear on what the actual theme is.
You can even come up with clever ways to deliver your invitations – for instance, one idea is to wrap it around a "Hometree" bough or in a jungle-like palm-leaf (speckled with glow-in-the-dark paint) and drop it off at a guest's house rather than mailing them in an envelope.
It's all about the creativity and other-worldliness with a theme like this, and the universe is the limit!