French Poodle Party Ideas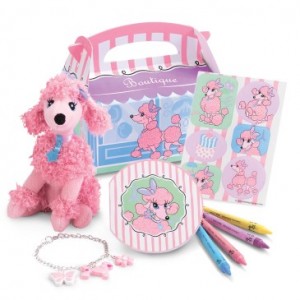 Ooh la la, a
French poodle favor kit
!
Ooh la la! French poodle party, anyone? I adore this idea – and I've recommended it many times for little girls of all ages. Here are some French poodle party ideas for a soire with savoir faire.
It's All About the Ambiance
What you'll want to keep in mind for this party theme is that the decorations and general "feel" of the party are everything. Make sure your little guests feel they've stepped into Paris itself when they enter the party room.
This is much easier than you may think. Here's my favorite trick for creating a party background without spending a bundle: Buy some butcher's paper (a large-width type of paper on a roll). Roll out a section that's as large as one side of your wall or, if you're more comfortable handling smaller pieces, do this in sections.
Now print Parisian and poodle imagery from an internet search and glue the images to the paper. One truly elegant idea is to make the background continuous – i.e., the Paris skyline, then a French park, a beach and so on. Have silhouettes of chic women and men walking poodles on leashes as well.
Enticing Invitations
Create beautiful but playful invitations to set the theme for the party. Pink is always perfect when it comes to a French poodle party. If you're super-creative, draw a picture of a groomed poodle with her paws around a pink-and-white-striped gift. Then put together your party invitation on a Word document and run the pages through a color copier. Volia – your invitations are done!
Other fun ideas for a French poodle party invitation include gluing white pom-poms around the outside in imitation of a poodle's fur, adding beautiful glitter (silver, pink and white are great choices) and including a bit of French in the text (for instance, you can write out "Respondez, Sil Vous Plait" rather than the abbreviation, RSVP).
Dog Food
The theme of this party is tres elegante, but you can serve foods that put smiles (and giggles) on your guests' faces with these fun ideas.
Buy plastic pink dog dishes from your local dollar store. Although you already know this, I really must stress it again: always choose new, unused dishes for this purpose. Place the dishes on the party table and fill them with snacks the guests can grab on the go.
Find a dog biscuit-shaped cookie cutter online or at your local crafts store and make "dog biscuit" cookies using any sugar cookie recipe. Decorate the cookies with glittery candy sugar. A biscuit-shaped cutter is also great for making sandwiches; fill the two pieces of bread and then cut the entire sandwich out.
The Party Cake
For the cake, buy a cylinder-shaped cake pan. Bake a strawberry flavored cake inside. Remove carefully; then decorate with white frosting. About an inch and a half below the top rim, use a pastry bag to draw a line in order to separate the top of the "hat box" from the bottom. Then, with another pastry bag, draw pink stripes down the sides of the cake.
Volia! You're done. Bon Appetit and have a great party!