Pink Poodle Birthday Party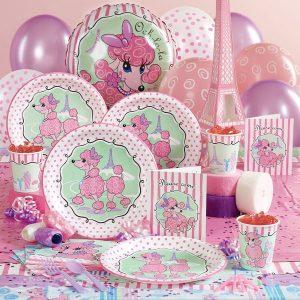 Pink Poodle party pack, available at
Birthday Express
It's fun, it's French and it's simple to create: host a pink poodle birthday party! Your little cheri will be the toast of Paris – or at least the party! – with this stylish theme. And her friends will love being pretty in pink and celebrating along with her.
Inviting the Party Guests
Invitations should reflect your pink poodle theme.  Plain pink invitations are fine, or choose invites with an image of a poodle or other dog. (Or have your little artiste create her own.)
Other ideas for the look of your invitations include lace, playful Parisian pink-and-white stripes and pom-pom balls glued to the paper in imitation of a groomed poodle's fur.
If you'd like guests to dress in pink, make sure you state this on the invitations. Try something like this:
Venez a un parti (come to a party)
For (party girl)
at Chez (party girl's last name and address)
On (date and time)
~Please note: This is a "pink poodle party". Wear something pink!~
In order to avoid hurt feelings, mail the invitations rather than having your little belle hand them out during class, unless everyone in the class is invited.
Party Decorations: City of Lights
Lead the way to the party area by drawing pink paw prints on white butcher paper and unrolling it from the front door to the party table.
You can recreate the city of lights in your very own home by printing images of famous Parisian locales (such as, naturally, the Eiffel Tower and the Louvre), cutting them out, coloring them and taping them on the walls with removable tape.
For the ultimate Paris look, recreate the city's skyline along one or more walls; enlarge the print size if necessary.
More on Decorations: Think Pink!
You can add to the beautiful pink theme with complimenting colors. Lavender works well with almost all pastels, as does pale spring green. Add visual interest by incorporating these colors with balloons, streamers and matching tablecloth.
Make sure there are plenty of pink poodle images throughout the party area to keep with your theme.
Un Bon Moment (A Good Time)
Have plenty of activities lined up for the partygoers. Here are a few ideas:
Have a makeup station. Let the guests and party girl make one another up with pink lip gloss, pale blush and other colors appropriate for her age group. (Make sure you acquire makeup that's easy to remove and doesn't contain allergens.) Also have fancy barrettes and ponytail holders available, as well as easily removable nail polish.
Play "Keep Away From Fifi". You'll need a stuffed pink (or other color) poodle for this. Play music while guests toss the poodle back and forth. With your back turned toward them, turn off the music at a random moment. The guest holding the pink poodle is "out". The winner can receive a trinket such as a piece of costume jewelry. Have something pink and fabulous for the other players, too.
Have a pink pinata. Watch your guests go from glam to determined with a cool poodle-shaped pinata!
Send guests home with party favors fit for the occasion, and your party is set! Suggestions include enclosing in a box or bag a pink notepad, a sticker sheet of poodles, crayons and a charm bracelet.