Memorial Day. Don't you love it? Originally created to honor the Civil War fallen, this May day traditionally kicks off the summer season, with the day full of park picnics, barbecues and family gatherings. Public and home-owned pools open and parties abound on this favorite holiday. No doubt you're considering a little soire of your own. Here's how to celebrate!
Mark the Date
Memorial Day falls on the last Monday of May. Canadians celebrate around this time too, as Victoria Day. It takes place the Monday before.
Get invitations out at least two weeks in advance, as plans tend to fill up fast for these two summery occasions!
Simple Summer Dishes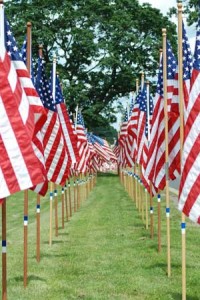 Summer food favorites include barbecue, chili, strawberry or rhubarb pie (yum!), corn on the cob and pasta or potato salads. For dessert, red, white and blue cupcakes are easy to make (and can be found pre-made at any grocery bakery).
Make sure you keep cool drinks flowing. Iced tea is a summer tradition, but why not try a new twist? Serve peach or raspberry tea or cranberry lemonade. A cool, fruity summer sangria is also great (if you're serving alcohol). And of course, beer takes top priority on many a Memorial Day celebration menu.
For kids, have juice boxes or pouches available. These are portable, spill less and can be taken wherever the action is – something kids love.
Got your dishes ready? Great. Now read the following special ideas for added spice on Memorial Day:
Memorial Day Karaoke
Yes, we're serious. Have a Memorial Day karaoke party in your back yard. String up lights and set up a stage area, then get the party started. This incredibly simple, very fun idea will have guests rocking in no time.
Barbecue Contest Party
BYOB – as in, bring your own barbecue! On your party invitations, ask guests to bring one grilled or 'cued dish each. Have a silly gift ready for the dish voted tastiest or most original.
Special Veterans, Special Dishes
The main point of Memorial Day, of course, is to remember the service of veterans. Serve your grandfather's, brother's or daughter's favorite dish to honor him or her on this special day. If a veteran you love is no longer with you, prepare a dish in memory of that person.
Another respectful option is to send a care package to a solider. There's thousands of brave servicemen overseas, so send them your support with a donation or care package to Operation Gratitude or Adopt a Platoon.
Cool Fun for Kids
If the weather promises to be hot where you are, specify on your invitations that younger guests should bring swim gear. Then set up a sprinkler or rent a water slide (it's cheaper than you might think! Check out local party rental suppliers). Hint: make sure the wet festivities are a reasonable distance from the food tables – the two definitely don't combine!
You'll be the coolest party on the block with these hot summer ideas, so get going on your planning – and don't forget to let us know what great ideas you come up with. We love to hear from you!