Peace out, dude! Have a fun tie-dye or psychedelic 60's theme birthday party for your next celebration. This theme is for adults specifically, but with a few tweaks and activities, would be fun for teens, too.
The 1960s were alternately fun, lighthearted, and ridiculous.  Long hair and beads, peace signs and free love, shapeless clothes in psychedelic colors, daisies and tie-dye.  The music lives on, as the endless summer soundtrack for backyard barbeques everywhere.
Take this theme and turn it into your next party!
Funky Food
Fans of Better Homes and Gardens will recall a certain Blender Cookbook, which detailed how to many any manner of completely weird recipes using a blender.  Blender gravy? Blech. Thankfully, when you plan your tie-dye party, you're going for the spirit of the 60s rather than re-enacting the era down to the last letter. There's some wiggle room with your menu choices.
The big food trend of the 60's was the buffet.  Combine this with cocktail party munchies, and you've got a winning combination.  Here are some surefire snacks for the party:
Pigs in blankets
Fondue  (chocolate with things like marshmallows, strawberries, pretzels, etc. for dipping)
Mini meatloaf bites on Melba toast
Jello mold (bonus points if you include fruit pieces)
Velveeta heated with Ro-tel, and served with corn chips (salsa con queso)
Swedish meatballs
Gherkins (Little sweet pickles)
Veggies and dip
Fruit kabobs
Rainbow Swirl Birthday Cake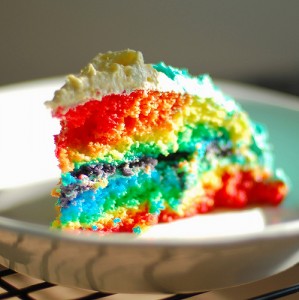 Credit:
Aleta Meadowlark
To complete the tie-dye look of the birthday party, make a rainbow-colored cake.  You can do this by dividing white cake batter into different bowls, and coloring the batter with gel food colors.  Then, pour the colors as into separate cake pans.
There's an entire cake tutorial, over 800 comments and great pictures about how to make this cake, which will undoubtedly be one of the centerpieces of the party food.
Psychedelic Drinks
A grown-up birthday party means fun and fruity drinks.  Here are some beverages that look as cool as they taste.
Nuclear Rainbow
1/2 ounce grenadine
1/2 ounce amaretto
1/2 ounce Jagermeister
1/2 ounce Midori
1/2 ounce Rumplemintz
1/2 ounce whiskey
1/2 ounce rum
Layer in the order given, starting with the grenadine. Note: A champagne flute can be awkward to work with because of the height, making the initial layers difficult, but the larger layers of this drink may be easier to accommodate in the flute.
Red, White & Blue (also called the American Flag)
1/3 ounce grenadine
1/3 ounce peach schnapps
1/3 ounce blue curacao
Layer in a shot glass in the order given, starting with the grenadine.
AstroPop
1/4 ounce grenadine
1/4 ounce creme de banana
1/4ounce melon liqueur
1/4 ounce vodka
1/4 ounce high proof rum
Layer in the order given, starting with the grenadine. This can be served as a flaming drink – allow the flames to go out before drinking!
Disco Decor
Complement your party spread with disco decor. (Okay, disco is 1970's, but whatever!) Here are some ideas for your Tie dye party decorations:
Disco ball
VW Bug Pinata
Bead Curtain
Bouquets of daisies
Peace sign decals
Tie dye tablecloths
Shimmering mylar strips hanging from the ceiling
Totally Tubular Tunes
Your Tie-Dye, Peace & Love birthday party will be complete only with appropriate tunes on the hi-fi (er, iPod).
(Love Is Like A) Heat Wave – Martha &  the Vandellas
Lion Sleeps Tonight – The Tokens
Daydream Believer – Monkees
Build Me Up to Buttercup – The Foundations
Surfer Girl – The Beach Boys
Lover's Concerto – The Toys
Loco-Motion – Little Eva
Johnny Angel – Shelley Fabares
More Today Than Yesterday – Spiral Starecase
(Just Like) Romeo and Juliet – Reflections
Oh, Pretty Woman – Roy Orbison
Stop! In the Name of Love – The Supremes
Breaking Up Is Hard to Do – Neil Sedaka
Travelin' Man – Rick Nelson
Mony Mony – Tommy James & the Shondells
Theme from "A Summer Place" – Percy Faith
All Day and All of the Night – The Kinks
Somebody to Love – Jefferson Airplane
Summer in the City – The Lovin' Spoonful
Turn! Turn! Turn! (To Everything There Is a Season) – The Byrds
Twist and Shout – The Isley Brothers
Monday, Monday – The Mamas & the Papas
Get Together – The Youngbloods
Time of the Season – The Zombies
Born to Be Wild – Steppenwolf     Listen
Young Girl – Gary Puckett & the Union Gap
Louie, Louie – The Kingsmen
Do You Love Me – The Contours
Tossin' and Turnin' – Bobby Lewis
Five O'Clock World – The Vogues
Little Old Lady from Pasadena – Jan & Dean
In addition to party tunes, you could play the movies "Taking Woodstock," "Pirate Radio," or "Hairspray" during the party.
Party Props
Props are the icing on the cake of your tie dye party. Stock up on these props for the party:
Wigs!  Long, straight hair or teased, big hair (for men, in particular), Beatle style wigs
Bandannas
Headbands
Giant peace sign necklaces
Go Go Boots
Lava Lamps
Tie-dye shirts
Bongo drums
Maracas
Activities for Teens
If you are creating this party as part of a teen's birthday party, a fabulous idea would be to make tie dye tee-shirts! It's messy, but fun, and makes a great shirt! You can read the instructions for various patterns here.
The main idea to keep in mind with a Tie-dye theme is to carry it throughout the party decor, food and props–and have fun while creating the party.  If you have fun, the guest of honor will, too.