Using Party Props Effectively
Party props can take a halfhearted gathering from drab to fab in mere seconds.  Party props help set the scene, and carry the theme beyond traditional decorations, paper goods, and menu items.  Here are some ideas for choosing and using party props effectively to pump up the fun!
Setting the Scene
Decorations are an integral part of the party theme.  You can go beyond crepe paper and balloons to use props that really make the party pop.  Set pieces are, essentially, three dimensional decorations that turn your living room into a horse barn, a race course, a jungle, the moon, Capote's Black and White party, the inside of a luxury cruise ship, and more.  Here are some party props that instantly conjure a real setting or place, and set the mood.
Large (plastic) anchor
Sections of white fence
Hay bales
Giant, silver moon and stars
Potted palm trees
Wanted poster
Tiki Torches
Gravestones
Inflatable pirate chest cooler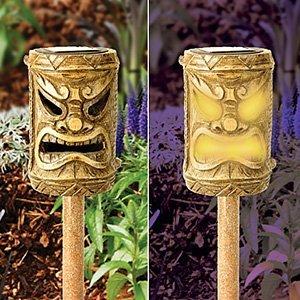 Each of those props instantly transports the party from "something happening in someone's living room" to an enchanted evening.
In addition to large, real, set- pieces, there are also fun "theme scenes" available for purchase from many party stores.  These are generally large images on a rolled up plastic banner.  You can roll out the scene and affix it to an interior or exterior wall or fence.  Bring Bourbon Street, the desert southwest, or a tropical island to your party with these simple party scenes.
Props that Encourage Interaction
Some props are not large set-pieces, but are, instead, items geared toward guest participation and interaction.  For example, noisemakers handed out to guests before the start of a race, or during a football game party encourage participation when the finish line is crossed or a touchdown is made.  Mardi Gras beads encourage, well, you know.  (This is a family blog. I won't elaborate.)  Here are some fun prop ideas for all kinds of parties.
Pinatas:  these are ideal for almost every party.  (Except, maybe, for a party that entirely revolves around animals.  Something about beating a horse pinata is just wrong.)
Costume pieces:  feather boas, fedoras, spectacles, and suit vests are fun for a 1920s themed party. Grass skirts, coconut bras, and leis are fun for luau parties.  Give everyone tiaras and pirate hats for a pirate and princesses party.
Games:  games can make fun props.  If you're having a western themed party, let your inflatable cacti serve double-duty as ring-toss targets.  Card decks and poke chips can be decorations and props for a casino night party.
Adding props to your party decorations will give your party that extra push, and encourages all of your guests to jump in, participate, and have fun at your party!